"I Was the Luckiest Unlucky Person": Comedian Tig Notaro on How Cancer Revived Her Sense of Humor
At Sundance for the premiere of her new documentary, the standup sits down for a chat with Marie Claire.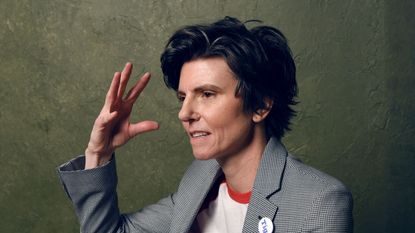 (Image credit: Archive)
It's no surprise that comedian Tig Notaro received a standing ovation at this week's Sundance premiere of Tig, the documentary her longtime friend Kristina Goolsby and co-director Ashley York shot after Notaro underwent a double mastectomy for breast cancer. Not only has she been gaining ground as a whip-smart, boundary-pushing comic, but she's been through hell—and made it funny.
Exactly one day after being diagnosed with bilateral breast cancer in August 2012, Notaro took the stage for a standup routine in Los Angeles and told the audience point-blank, "I have cancer." It became one of the most poignant, riveting, hilarious shows in recent comedy memory, described by fellow standups with reverent terms like "masterful" and "transcendent." It brought Louis C.K. to tears.
That set was later released as part of her Grammy-nominated standup album, Live, which sold 75,000+ copies the week it debuted. Notaro, who contributes to This American Life and hosts the weekly Professor Blastoff podcast, will also publish a book next year. More good news: on New Year's Day, Notaro became engaged to girlfriend Stephanie Allyne, her co-star in the 2013 film In a World…, and they plan to wed this fall.
With Allyne next to her, Notaro spoke to Marie Claire about her wild, dark, redemptive ride.
Marie Claire: What was it like finally seeing Tig in front of a huge audience at the premiere?
Tig Notaro: I had a tiny bit of nerves but I was more than anything very excited to share the movie with everyone because I really feel like [Goolsby and York] did a really excellent job. But it was interesting to watch it in a room full of complete strangers and hear people laughing really hard—I wasn't expecting that. Because a lot of it's old stand-up that I can't stand. That shocked me and then hearing people crying in the theater. That was intense.
In the movie you say that after your cancer diagnosis, you suddenly found everything kind of hilarious. Can you talk more about that?
Well before that, when I had a C-Diff infection and I was losing about half a pound a day, I was becoming a skeleton and I had lost my mother, I really did not have a sense of humor. I was so gutted and devastated that my mother was gone. I also couldn't eat food so I just, I was so busy crying, and it was really dark. And I went through my break-up which even though we weren't meant for each other, it's still like [sighs], I am alone. I mean I had friends of course and family members but when your mother and your partner are removed immediately and then you have these things to go through, it's really tough. And so I think when the cancer happened it seemed like a joke. It seemed like, Okay, somebody's playing a joke on me because I have a list of hell that I've been through. So it's probably just kind of like going crazy. Do you know the actress Jenny Slate? Jenny and I have been friends forever. She lived in New York, she was moving to Los Angeles, and she texted me saying, "Hey, I'm moving to LA. Can't wait to see you." And I say, "Oh yeah, I'd love to see you, but I'm in bed. I have pneumonia." And she'd like, "Oh my God. Well I'll talk to you later." And she texts again, "Just checking in. How you feeling? Want to grab lunch?" and I was like [chuckles], "I'm in the hospital, I've contracted this thing called C-Diff." And she was going off to her wedding in Boston and she said, "Well I'm going to check on you when I get back." When she checked on me I said, "Jenny my mother tripped and hit her head and died." And she was like, "Tig. Oh my God."
It starts to sound like fiction.
Yeah. "I'm going through a break-up right now though. We split," and then she checked in again and I had cancer. And it was the craziest, I mean that truly—somebody could dig up our exchange—every time Jenny checked in and wanted to see me it got worse and worse and worse. It became so ridiculous.
Are you a spiritual person? How did you will yourself through so many successive calamities?
You know it's funny because I'm so known for my life falling apart in 2012, but I did not have the easiest ride in life before that, which I've never gone into and I haven't felt the need to but I think there's a survivalist in me . I'm also endlessly hopeful, and that's very helpful. The comedian Andy Kindler told me a couple of months ago, "I've been hearing you in interviews and it really is so upsetting to me that you say you're not a spiritual person. But you are and I don't think you get it. And I just wish you would stop saying that." And I said, "Okay." Stephanie says the same thing to me. But Andy just is the last person you would think would be so sensitive about that.
In November, while performing at the New York Comedy Festival, you took off your shirt onstage to show the audience your mastectomy scars. What was it like to see them for the first time after surgery?
It was so dreadful to me because when they were pushing me down the hall in the gurney, I always describe it as when you're at an amusement park and the seat locks in, and you're going. That's what a lot of this chunk of time was: the seat locked and I had to go through something I didn't want to go through. And the surgery was one of those things, and so it took me weeks to look down at my body. I realized on the way to surgery that I actually liked my body and I didn't want it to change. It took me several weeks and then I finally looked down and, it just, it's a process to just see yourself differently. Luckily my girlfriend thinks I'm hot.
In the movie, you undergo hormone injections to harvest your eggs. You were told that the hormone treatments could have been akin to putting gasoline on the flame of your cancer. Do you still have to worry about any health complications from the hormones, or are you now in the clear?
You know what I probably should have checked. A couple months ago I had a health scare—I had a cyst burst on a blood vessel and I was hemorrhaging internally for a few days, and they found something in my liver in the surgery and I had to have that checked out which ended up being benign. But when they found that it was, we were [locks eyes with Stephanie] very scared. And when the doctors told me that, I felt, [groans] It got me. So you would think that I would have asked my oncologist—but no, I think about it then I forget. I was just seeing her the other day but I haven't followed up to say, "Is it going to affect me down the road?" It might be a wait and see thing. I don't know, but my oncologist did work with the fertility doctor to do it the safest possible way since I was determined to do it.
I imagine so many people are coming to you and sharing stories of their own personal traumas. How does that make you feel?
I always think about how lucky I was. I was raised up by the world, by strangers, when I was going through what I went through, and I had health insurance and money in the bank and friends and family. And some people don't have anything, and I'm keenly aware that I was the luckiest unlucky person. In general, they just tell me their story, and then they move on and it's typically in a hopeful way. What they're coming at me with is, "You inspired me, and I have Stage 4 cancer," or "I'm dying" or "I lost my husband" or "I lost my child, and your album gave me courage." And it's emotional and it's a lot but also I feel very lucky to have that.
What's next for the film?
I guess there's several people interested in distributing it, and so I'm sure it'll find its way into the right hands. But right now, there are some very exciting prospects.
For more of Marie Claire's Sundance exploits, check out our coverage here—everything from movie sneak peeks to fascinating interviews to celebs' on-point cold-weather style to a photo diary of what it's really like to be there.