Politicians and Prostitutes: Dianna Agron's New Sundance Movie GOES There
Politicians and Prostitutes: Dianna Agron's New Sundance Movie GOES There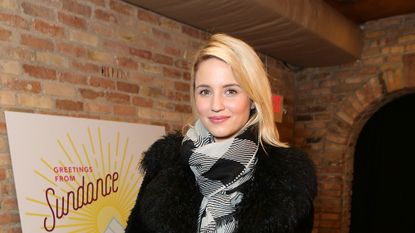 (Image credit: Archive)
During our weekend at Sundance, we had a chance to catch up with Dianna Agron at the the Birchbox pop-up boutique. After picking the actress's beauty brain—we're all officially obsessed with W3LL PEOPLE's Bio Brightener Stick and Jurlique Rose Balm—we learned more about her role in political sex-scandal drama Zipper, which premiered at the festival today and sounds like a doozy of a nail-biter.
In the film, she plays the romantic counterpoint to Patrick Wilson's character—an on-the-rise politician...who's gone rogue with professional escorts. It's a story that's all too familiar (ahem Eliot Spitzer ahem)—and all the more relevant.
Here, we chat with Agron about Zipper's underlying message, the dark side of fame these days, and a hot-button topic at Sundance: the need for more real women on-screen.
Marie Claire: There's been a lot of buzz about your new film Zipper–tell us about your role.
Dianna Agron: My character is an integral part of why [Wilson's character] is going down this dark path. What we're exploring with this movie is that good people also do bad things. So, he's this really stand-up guy, a lawyer who's going to go into politics, and everyone thinks he's this hero, which he kind of is. But he has this moment of crossing the line with my character, an intern at his company who's in love with him. In order to not do that again with me, he then seeks out an escort and goes deeper, and deeper, and deeper.
MC: Eesh, sounds familiar enough. What would you say the film's overarching message is?
DA: It's a question of 'What does it take for you to step out on—name your price—your family, or everything you've done? We've seen this with politicians and people in prominent places. Now, we live in a big brother society where the second there's a picture or anything, it can just rip everything you've built from you.
MC: So, do you think everyone has a dark side?
DA: I think so–I think it's a degree of that. It's matter of where it comes out and what you do. Do you run away from it or do you engage it? How far do you go and what're you willing to lose?
MC: As someone in the spotlight, how do you relate to that?
DA: Today, we're very much in this mindset of being out to get people, which I think is kind of devastating. There are things on the more innocent side, like a sneaky picture at a restaurant, and then there's the hacking, releasing private material to the world. It makes you feel like you have to be a lot more protective of yourself and what you do. In some ways, I do think you should be mindful that things, especially that of a malicious nature, can have repercussions like what happened with a certain studio. But it's unfortunate that things that should be private, with no malicious intent, are being displayed like that.
MC: A buzzy topic at this year's festival is female characters and how gender roles are changing. What're your thoughts?
DA: I'm 28 years old and from my teens to now, when I think about what was possible for my own self and other actresses, I wouldn't say that much has changed over the years—and that's kind of strange. We still have a large gap that needs to be nurtured. But what I like about what's happening now is that people don't perceive it as 'Oh, crazy feminists,' it's much more coming from a place of support and encouragement.
You should also check out:
Marie Claire's Official Guide to Sundance
The State of Women on TV: Lena Dunham, Mindy Kaling, and Kristen Wiig Get Candid at Sundance
Celebrity news, beauty, fashion advice, and fascinating features, delivered straight to your inbox!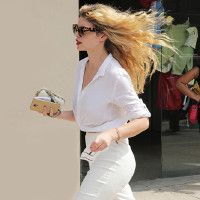 Lauren is the former beauty editor at Marie Claire. She love to while away the hours at coffee shops, hunt for vintage clothes, and bask in the rough-and-tumble beauty of NYC. She firmly believes that solitude can be a luxury if you've got the right soundtrack—that being the Rolling Stones, of course.