The Funniest Sketches from 'SNL's Funniest Women
Our favorite moments in honor of tomorrow's 40th anniversary show.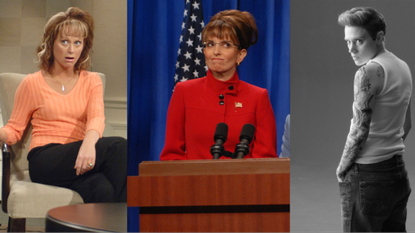 (Image credit: Getty Images)
Marie Claire Newsletter
Celebrity news, beauty, fashion advice, and fascinating features, delivered straight to your inbox!
Thank you for signing up to Marie Claire. You will receive a verification email shortly.
There was a problem. Please refresh the page and try again.
Since its inception 40 years ago, Saturday Night Live has been a platform for women to break boundaries, gender stereotypes, and the glass ceiling. Female comedians are dominating the comedy world thanks to the show—Amy Poehler is still killing it on Parks and Recreation, Tina Fey's producing a new comedy, and Kate McKinnon, Kristen Wiig, and Leslie Jones are retooling Ghostbusters. Basically, the women of SNL are unstoppable—and these top 20 moments are why.
Kate McKinnon: "Justin Bieber for Calvin Klein"
We'll never be able to look at this earnest man-child again without thinking of Kate grooming her imaginary facial hair and grabbing at her crotch.
Amy Poehler and Maya Rudolph ft. Jake Gyllenhaal: "Bronx Beat"
Bronx Beat is one of the most classic aughts SNL skits, and features Poehler and Rudolph interviewing guests about their excessive good looks. Each sketch is better than the next, but nothing beats them asking Jake Gyllenhaal if he's a Mohican.
Abby Elliott ft. Zooey Deschanel, Taran Killam, and Kristen Wiig: "Being Quirky"
Zooey Deschanel stars as Mary Kate Olsen (favorite quote: "I would get up and hug you, but it would break every bone in my body"), while Kristen Wiig does an unbeatable impression of Bjork.
Tina Fey and Amy Poehler: Katie Couric Interviews Sarah Palin
Tina Fey's Sarah Palin impression is part of our cultural mythos, and she's at her very best in this interview with Amy Poehler.
Betty White ft. Literally Everyone: Lawrence Welk Cold Open
Betty White kicked off a Mother's Day episode of SNL by singing with a fleet of famous female cast members including Tina Fey, Kristen Wiig, Amy Poehler, Ana Gasteyer, Molly Shannon, Maya Rudolph, and Rachel Dratch. Who run the world?
Rachel Dratch ft. Lindsay Lohan: "Debbie Downer"
This sketch has gone down in the books not only because the character is hilarious, but also because it's maybe the worst (i.e. best) case of actors "breaking" on air. They cannot keep it together.
Nasim Pedrad, Kristen Wiig, Vanessa Bayer, and Abby Elliott: "Kim's Fairytale Divorce"
It's time to take a trip down memory lane to the harrowing moment in pop culture history when Kim Kardashian divorced Kris Humphries. An event so traumatic to the American public that SNL had no choice but to make fun of it. Come for the mockery, stay for Kristen Wiig's Kris Jenner impression.
Maya Rudolph, Amy Poehler and Kristen Wiig ft. Drew Barrymore: "Body Fuzion"
This '80s-style workout video is everything—Barrymore and her perm lead the pack while Poehler stares vacantly into space and Wiig insanely wiggles her hips. Remember, everyone, exercising in spandex leotards can help align our chakras!
Cecily Strong: "The Girl You Wish You Hadn't Started a Conversation with at the Party"
This painfully spot-on character is known for her completely deranged musings, her aggressively misguided opinions, and her obsessive phone-checking. We all know one.
Noël Wells, Tina Fey, Kate McKinnon, Cecily Strong, and Vanessa Bayer: "Girls"
SNL's parody of Girls is pure perfection, and it's all thanks to Tina Fey as Blerta, a downcast Albanian refugee who spends her time scowling and offering nuggets of wisdom like "I have old cow disease." Please hire her to appear on actual Girls, Lena Dunham. Thanks.
Gilda Radner and Jane Curtin: "Nerd Prom"
Gilda Radner was an original SNL cast member/total comedy legend, and "Nerd Prom" is one of her many skits that's still funny 30+ years later.
Sasheer Zamata: Black Jeopardy
Welcome to "Black Jeopardy," which –– to the dismay of Mark (played by Louis C.K.) –– is not about African American history. Sasheer Zamata in this sketch = SNL at its best.
Kristen Wiig, Vanessa Bayer, Nasim Pedrad, and Jenny Slate ft. Lindsay Lohan: "Real Housewives of Disney"
SNL skewered Bravo's Real Housewives series by serving up a Disney Princess version, complete with a sassy Snow White and a drunk Cinderella. To quote Cindy herself, "Never marry a guy who's really into shoes."
Ana Gasteyer and Molly Shannon ft. Alec Baldwin: "Schweddy Balls"
This SNL skit has to be one of the best of all time, and frankly we could listen to Ana and Molly talk about Alec's irresistible schweddy balls all day. '90s gem to be sure.
Molly Shannon: St Monica's Talent Auditions
Ah, such a classic: Mary Katherine Gallagher nervously smells her armpit sweat and performs a flawless and panty-exposing rendition of "Sometimes When We Touch." Superstar!
Jane Curtin: Weekend Update Flasher
Jane Curtin took over Weekend Update from Chevy Chase, and apparently received some criticism for not being quite as sexy as Chevy. Her solution? To flash the camera her bra, which is the '70s equivalent of a mic drop.
Rachel Dratch, Tina Fey, Amy Poehler, and Maya Rudolph: "Mom Jeans"
We'll take five pairs in "capri" length, please.
Gilda Radner: "The Judy Miller Show"
In what's probably Gilda Radner's most recognizable skit, she plays an obnoxious child named Judy Miller who's completely self-obsessed. Anyone else reminded of "Ew!" with Jimmy Fallon?
Kate McKinnon ft. Jim Carrey: "Chandelier" Dance-Off
There are no words for the amazingness that is this sketch. Just watch it.
Aidy Bryant: "The Worst Lady on an Airplane"
Aidy Bryant captures the very essence of the obnoxious person sitting across the aisle from you—right down to the stinky Chinese food in the inexplicably crinkly plastic bags.
You should also check out:
Watch: a Funny Take on NYFW Street Style
If You Missed 'SNL,' Do Yourself a Favor and Watch This "Justin Bieber for Calvin Klein" Parody
Laverne Cox Cast as Smart, Funny Lawyer in CBS Legal Drama
Celebrity news, beauty, fashion advice, and fascinating features, delivered straight to your inbox!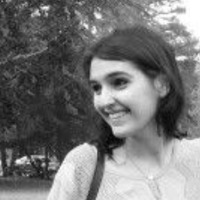 Mehera Bonner is a celebrity and entertainment news writer who enjoys Bravo and Antiques Roadshow with equal enthusiasm. She was previously entertainment editor at Marie Claire and has covered pop culture for over a decade.