The Best Behind-the-Scenes Instagrams from the Oscars
All the insider stuff you don't usually see.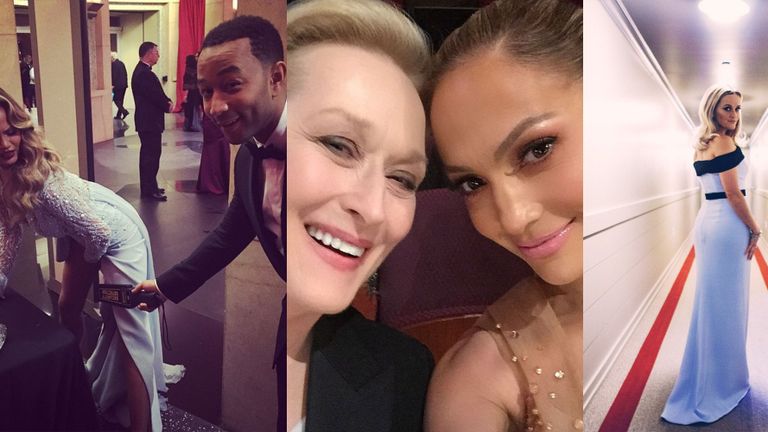 (Image credit: Archives)
Happy Academy Awards, everyone! Are your gowns steamed and your tuxes pressed? Just kidding: We know you're in your PJs with a bowl of popcorn. But while you're busy chilling with your friends playing drinking games, there's fun behind-the-scenes-y stuff happening at the Dolby Theatre in Hollywood, and your favorite stars are serving as correspondents. Isn't social media the best?
Here's what's been happening:
Lady Gaga enjoys a well-deserved dirty martini.
A Jennifer Aniston photobomb is the best kind of photobomb.
Newly-minted BFFs J. Lo and Meryl Streep take a very necessary #selfie.
Uh, yeah we want to drink brown liquor with Anna Kendrick and Jack Black.
J. Lo getting ready in her dressing room, making sure that she's got #haironfleek before anything else.
Kerry Washington serving up smiles with her glam squad.
Chrissy Teigen and John Legend are working security backstage... so no funny business!
Reese Witherspoon (looking divine in Tom Ford) slinking around backstage before presenting.
Jared Leto takes a silly #selfie en route to the Oscars.
#RelationshipGoals courtesy of Zoe Saldana
Gwyneth says it takes a village, but we think she's just being modest. #Flawless.
Gaga, can we borrow your good luck charms? Pretty please?!
Marie Claire senior fashion editor Zanna Roberts Rassi is almost done primping before she hits the E! red carpet.
Oprah reminds us she's human too as she preps for the big day.
Good Morning America's rehearsing their carpet interviews—behold Channing Tatum's stand-in. See how he plays against type?
Reese Witherspoon apparently woke up this morning and decided to eat a statuette for breakfast. Maybe it'll work.
Here's what the auditorium looks like before people actually fill it:
A sneak peek of Chef Wolfgang Puck's fare for the Governor's Ball—check the cute little salmon Oscars.
The carpet's being rolled out and stapled (?) into place:
You should also check out:
9 Surprising Things You Never Knew About the Oscars
How to Throw the Coolest Oscar Party