Sasha Spielberg (Daughter of Steven) Has Made Snapchat History
She and friend/collaborator Emily Goldwyn talk new series Literally Can't Even.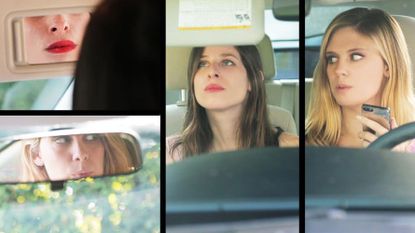 (Image credit: Snapchat)
Sasha Spielberg (daughter of Steven) and Emily Goldwyn (granddaughter of Samuel) first struck up a friendship when they were just six years old. Now, nearly twenty years later, the life-long pals and newfound writing partners have taken their special bond to the screen—and by that we mean your iPhone screen. They're the brains behind Literally Can't Even, Snapchat's first foray into scripted video content.
Having long shed its image as an app solely used for sexting, the revolutionary tech startup, now worth $19 billion, is trying its hand at Netflix-style content. Literally Can't Even, which premiered on Snapchat's new Discover channel last month, appeals to fans of Girls or Broad City, or, when you get right down to it, much of the app's under-25 audience. As of January, Snapchat had close to 200 million users. By comparison, HBO has about a quarter of that.
Spielberg's and Goldwyn's harmonious partnership with Snapchat came about in a pretty haphazard way. "In high school, we were carpool buddies and we would write things together," Goldwyn says. "When Sasha was still in college, we decided to write a pilot about our experience at Marlborough, our all-girls high school. That was the first we officially collaborated." Rashida Jones signed on as an executive producer, and ABC backed the project. In the end, though, it didn't get picked up.
But that didn't deter them. Soon after, they began working on writing full-length films. "During our feature-writing, we would take a million breaks and we'd make Vines," said Spielberg. "We'd make these six-second videos, and we started linking them to Twitter and Facebook. Then Rylee [Epsen], the director of video content at Snapchat, approached us."
The novelty and newness of the project was immediately appealing, especially since the girls were still getting over the disappointment of a failed TV pilot. "That's what drew us to the series—there's nothing like it," says Spielberg. On one hand, it's a lot of pressure, because it's truly the first of its kind. On the other, the episodes evaporate within 24 hours. "What's really nice is that we're perfectionists, but when you have to put something up each week, you don't have time to obsess," said Goldwyn. "When it disappears, you can't worry about it as much. It forces you to get out of your head and try different things."
Spielberg and Goldwyn play dramatized versions of themselves, and occasionally the storylines delve into truly off-the-wall territory. Each under-five-minute episode focuses on a misadventure that's entirely, and sometimes uncomfortably, relatable to 20-somethings—probably because many of the scenarios are based on things that have happened to them in real life. (An early episode about trying to have fun at a party without succumbing to the siren song of alcohol got a bit of a backlash among the tech community...apparently the tech community doesn't watch Girls as often as they should.)
"We love self-deprecating humor," says Goldwyn. "I do not think I'm the cool girl in the room. I relate to the girls who feel a little awkward and when I put myself out there as someone who feels awkward, it feels good." To wit, the title of the show might well have been Everything I've Ever Done Makes Me Want to Die, but it was vetoed because it didn't fit on the title card.
Snapchat isn't just the corporation signing Spielberg's and Goldwyn's paychecks; it's also how they communicate these days. Spielberg is currently touring America with her brother, Theo, who's the other half of her indie-rock duo Wardell. Goldwyn is in Atlanta working on an HBO show. When they're not in the same city—which seems to be a lot lately—they keep in touch largely through snaps. Though Spielberg doesn't recall the last photo she sent ("Finger on the trigger. I send so many things, it's almost like I blackout-snap," she explained), Goldwyn doesn't hesitate: "I'm literally obsessed Snap stories, because they're like mini-movies," she said. "I'm almost all alone in Atlanta, and I was just at the Atlanta aquarium. I did a 10-minute Snap story."
That doesn't mean their famous families get it. "My older siblings and my parents are like, 'I don't understand this,' but my little sister, who's 18, is very into it," said Spielberg.
Goldwyn's father, on the other hand, has already come around. "My dad is awesome," she said. "He thinks it's so cool and exciting and one of the next forms of entertainment."
"My dad is very serious," Spielberg adds. "He gives, like, A.O. Scott reviews of the episodes."
We'd expect nothing less.
You should also check out:
Celebrity news, beauty, fashion advice, and fascinating features, delivered straight to your inbox!