A New U.N. Study Reveals "Alarming" Levels of Violence Against Women
This needs to change.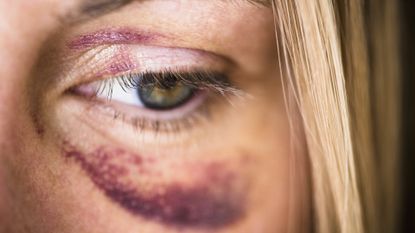 (Image credit: Getty Images)
Marie Claire Newsletter
Celebrity news, beauty, fashion advice, and fascinating features, delivered straight to your inbox!
Thank you for signing up to Marie Claire. You will receive a verification email shortly.
There was a problem. Please refresh the page and try again.
We may only be a few months in, but so far 2015 has been a big year for women's issues across the globe (we, ahem, kind of predicted this early on). The spotlight has shone on major achievements and strides the no-longer-second-place sex has made since women's lib took hold—but it has also highlighted many of the ways in which the world remains a dangerous place if you happen to have a vagina.
Case in point: Following International Women's Day on Sunday, the United Nations communed to discuss the current state of female affairs and how they compare with statistics from a generation ago. At the historic 1995 Beijing World Conference on Women—a meeting which marked a significant turning point in the global conversation about gender equality—189 countries pledged to achieve gender equality by 2005 (also known as the Beijing Declaration and Platform for Action), and every five years since, the U.N. has met to review progress on the pledge. But according to recent analyses, we're running way behind in some very important areas—particularly when it comes to violence against women. Some especially frightening stats from Monday's U.N. presentation include:
About 35% of women across the world (more than one in three) have experienced physical violence in their lifetime
One in 10 girls under the age of 18 has been forced into sex
38% of women who are murdered are killed by their partner
35% of women globally have experienced sexual or physical violence at the hands of an intimate partner, or sexual violence from a non-partner
The report cited studies that also revealed disappointing stats about the chronic under-reporting of sexual and physical abuse against women, as well as the economic impact of domestic abuse against women and children: The cost to the global economy is $4,000,000,000 (yep, four trillion dollars).
The findings aren't all bad (for more uplifting statistics, check out the graphic below). Literacy rates continue to improve, as does the wage gap and the presence of women in leadership roles. But—as U.N. Secretary General Ban Ki-Moon said yesterday—progress has been "uneven" and "unexpectedly slow," and there are more ways than ever before to threaten women, courtesy of the Digital Age. So if we're going to make it to a completely gender equal planet by 2030, we'd better start to step it up.
You should also check out:
Angelina Jolie Is Opening an Academic Center to Combat Violence Against Women in War Zones
College Guys Think They're Held Too Accountable for Sexual Violence
Not a Single Country Has Achieved Gender Equality, Says the UN
Celebrity news, beauty, fashion advice, and fascinating features, delivered straight to your inbox!
Elizabeth Kiefer is a features editor at Cosmopolitan, where she focuses on enterprise stories, narrative reporting, and cultural coverage for the magazine's print and digital platforms.