How Periscope Could End Up Saving Women's Lives
The app brings a lot more than real-time voyeurism to the table.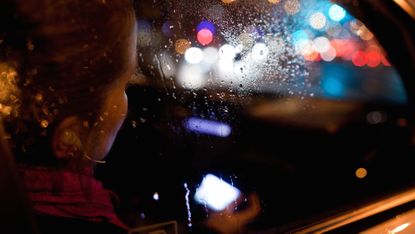 (Image credit: Getty Images)
Periscope, for those of you who haven't played with it yet, is a lot of fun. It's interactive and silly and insightful and all the things an exciting new app launch is.
But it's also potentially life-saving.
Lofty claims for an app most early adopters are using to broadcast their coffee runs and dog walks, I know, but there's a real, serious application here. Imagine you're one of the thousands of women who feel unsafe every day, whether walking home at night or sitting in the back of an Uber or at a rowdy frat party. As the news reminds us on an almost daily basis, women are constantly abused, assaulted, and taken advantage of in situations like these. Usually at the hands of an aggressive, power-tripping man. One who chooses to believe he deserves control—and takes it.
In livestreaming apps like Periscope, I see an opportunity for us to take it back. Perhaps it's preventative—if your driver starts veering into territory that makes you nervous, and you're starting to fear what he might do, a geotagged broadcast could flag emergency response to find you and get you out. Or maybe it's defensive—the frat guy starts to get physical and you put him live, on camera, on the spot.
It's too soon for there to be any proof of this at work in the real world, and I truly hope there never is. But if it makes women feel just a tiny bit safer knowing they've got this in their pocket, we're one step closer to the world we all want to live in.
You should also check out:
A New U.N. Study Reveals "Alarming" Levels of Violence Against Women
A Step Forward in the Fight Against Rape: New York Police Open a Sexual Assault Hotline for Students
Infuriating News of the Day: Women with Disabilities Are More Likely to Be Raped
Marie Claire email subscribers get intel on fashion and beauty trends, hot-off-the-press celebrity news, and more. Sign up here.
As the editor of Cosmopolitan, Jess oversees the editorial for all of Cosmo's efforts across print, digital, video, and emerging platforms. Previously she served as the digital director of Marie Claire, where she tripled the readership, and she's held print and hybrid posts at Glamour and Teen Vogue. In 2013 she launched an interactive e-commerce platform for a fashion-tech startup, and in a former life she was a ballet dancer and NYU film student. She lives in Manhattan with her scruffy dog George.