"Facebook for Stoners" Will Become One of the First Marijuana Companies to Go Public
MassRoots plans its IPO.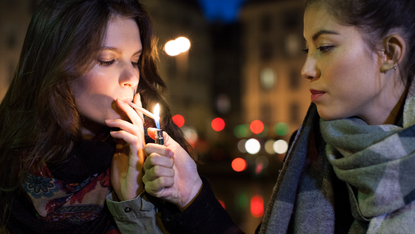 (Image credit: Archives)
Whether medical or recreational, legal marijuana is spreading like wildfire across the country. So it's no surprise that businesses are attempting to cash in. One stoner-specific social network is even about to hit the stock market.
According to The Daily Beast (opens in new tab), MassRoots (opens in new tab), an app that is known as "Facebook for stoners," is going public, allowing anyone a chance to buy shares in their company. It's reportedly one of the first marijuana businesses to be publicly traded.
The stock will begin trading on April 9 under the ticker symbol MSRT. Though it must be said: They really missed an opportunity to start trading on 4/20.
MassRoots was dreamed up almost exactly two years ago (opens in new tab), when co-founders Isaac Dietrich and Tyler Knight were smoking in a college apartment. They put tens of thousands of dollars on credit cards to get the business started, and it's now grown to have 275,000 regular users, all in states that have legalized medical cannabis.
On the app, you can share photos, connect with dispensaries, and chat with other smokers. They're aiming to get one million users, and have recently developed a version of their app for dispensaries.
MassRoots hit a stumbling block in November, though, when Apple banned it from the App Store, along with any other marijuana social networks. But in January, they encouraged users to send emails to Apple asking to reverse the ban—and it worked.
They now predict the cannabis industry could be a $10 billion business by 2018, if initiatives keep passing across the country to legalize the drug. And they think they'll have a business model strong enough to last—because even if weed becomes legal, you don't want everyone to see you using it. CEO Isaac Dietrich put it this way (opens in new tab): "I don't want my mom to see a picture of me taking a bong rip every time she logs on to Facebook, you know?"
You should also check out:
Another Day, Another Marijuana Legalization: You Can Now Smoke Pot in Washington, D.C. (opens in new tab)
It Is Now Legal to Smoke Weed Recreationally in Alaska (opens in new tab)
7 Things That Happen to Your Body When You Smoke Pot (opens in new tab)
A New Study Finds That Marijuana May Help Treat Depression (opens in new tab)
Megan Friedman is the former managing editor of the Newsroom at Hearst. She's worked at NBC and Time, and is a graduate of Northwestern's Medill School of Journalism.