The Supreme Court Rules in Favor of Obamacare
And more news you need to know.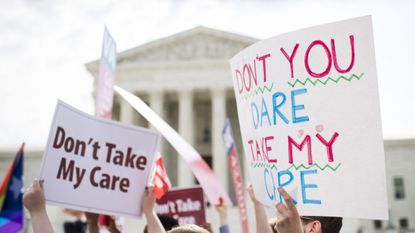 (Image credit: Archives)
Update, 10:30 a.m.: The Supreme Court just handed down its ruling on the Affordable Care Act, and has effectively saved it. The 6-3 decision will allow 6 million people to keep their Obamacare coverage. (Mother Jones (opens in new tab))
Original news roundup, 9 a.m.:
—Ezra Miller, formerly of Perks of Being a Wallflower and We Need to Talk About Kevin, is reportedly in early negotiations to star in the new Harry Potter spinoff Fantastic Beasts and Where to Find Them. (Variety (opens in new tab))
—Quick-on-his-feet-comeback-thinker-upper (opens in new tab) President Obama scolded a heckler at a gay pride event yesterday, saying, "Hey. Listen. You're in my house." (AP (opens in new tab))
—...which is kind of ironic considering news broke yesterday that the U.S. has been spying on the past three French presidents. France is, expectedly, irked. (Time (opens in new tab))
—Transparent just got renewed for a third season with Amazon, and creator Jill Soloway has inked a deal to develop more shows for the platform. (The Hollywood Reporter (opens in new tab))
—The Supreme Court is expected to rule on six major cases in the coming days, and they're biggies: lethal injection, Obamacare, and same-sex marriage are all on the docket. (Time (opens in new tab)) In a joint NBC News/Wall Street Journal poll, 57% of Americans want SCOTUS to rule in favor of same-sex marriage. (NBC (opens in new tab))
—The Vanderbilt football players who were accused of raping an unconscious classmate have been released from jail following the judge's declaration of a mistrial due to juror misconduct. (AP (opens in new tab))
—At his sentencing yesterday, where he was given six death sentences and 20 sentences of life in prison, Dzhokhar Tsarnaev apologized for the Boston marathon bombing. (New York Times (opens in new tab))
As the editor of Cosmopolitan, Jess oversees the editorial for all of Cosmo's efforts across print, digital, video, and emerging platforms. Previously she served as the digital director of Marie Claire, where she tripled the readership, and she's held print and hybrid posts at Glamour and Teen Vogue. In 2013 she launched an interactive e-commerce platform for a fashion-tech startup, and in a former life she was a ballet dancer and NYU film student. She lives in Manhattan with her scruffy dog George.