Please Don't Dress Up as Me for Halloween
A trans woman responds to the Caitlyn Jenner costume.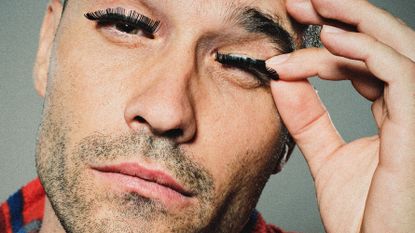 (Image credit: ARCHIVES)
There's a new Caitlyn Jenner costume making its way to shelves for Halloween—you may have heard about it. And you may have seen the backlash. As a trans woman, I can attest that it's truly terrifying.
A whopping $75 gets you polyester white short-shorts, a padded bustier, a name-bearing sash, and an auburn wig that simultaneously sets a new low in commercial creativity and endangers the credibility of real transgender people everywhere. Being trans—or non-binary, or intersex—is neither a costume nor a joke.
For all the progress our culture has made to protect and empower those of us whose identities clash with the majority narrative, a vocal few—like the makers of this costume, and the people who will inevitably wear it—remind us that all they can (or choose to) see is a man playing dress-up. Ascribing gender to grooming choices is, of course, problematic, but it should be noted that the real Caitlyn expresses herself sans stubble or leg hair. And the effort one places in being her is a gauge for how well they understand me.
[pullquote align='C']A vocal few—like the makers of this costume, and the people who will inevitably wear it—remind us that all they can (or choose to) see is a man playing dress-up.[/pullquote]
Halloween can be huge for the truly gender-questioning; it was for me. October 31st was my "Plausible Deniability Day." My urge to be and dress as a female could be written off amid the festivity, even if the truth dug much deeper. I couldn't be questioned or outed, a brief recess from the other 364 days a year I lived in repression. Long before I even knew queer-community safe spaces existed, I had Halloween to hang onto.
Which is to say, the burly adult man-in-a-dress Halloween schtick is out—blackface-level out. After 20 reported trans murders and 11 teen suicides thus far in 2015 alone—numbers likely to rise by Halloween, two months away—our country is finally waking up to a reality that's more haunting than funny. And we should respect it.
Sentimental me does still see Halloween's infinite potential for pushing boundaries, though. And as someone who did it for years, I know there are ways to explore gender fulfillingly but not offensively.
For one, attention to detail matters. With a prefab get-up, you miss out on "getting ready" as a woman, as we do every day. Style your hair, try makeup and nail polish, pick out a dress consistent with the persona you chose. And this is where the intention of a Caitlyn Jenner costume-wearer becomes clear: Not willing to put in all that work? Then your take is less tribute than insult.
One of my most profound realizations over the years has been that everything I learned going out as a female, even in my earliest "crossdressing" nights, would have made me a better, more empathetic man, had transition not been my destiny. They say you learn most about someone by walking in their shoes—try heels. Standing taller is nice, but it's hard to simply run away when situations get uncomfortable. Carry a purse, now wonder who's thumbing through it when you leave your money and keys under a chair.
Caitlyn Jenner's journey—and my own—can't be reduced to a bustier in a bag. And being trans shouldn't make any of us the butt of a joke. But maybe all it'll take is a few hours in stilettos for the guys who buy this costume to realize their mistake.
Marie Claire email subscribers get intel on fashion and beauty trends, hot-off-the-press celebrity news, and more. Sign up here.