The Top 10 Feminist Quotes of 2015
Boss-ay.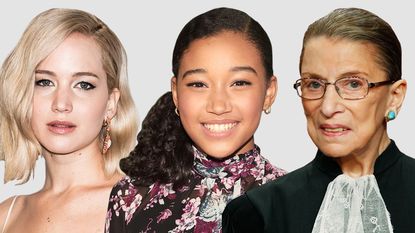 (Image credit: Katja Cho)
We know what you're thinking—jeez, I hope 2016 is a better year than 2015 was for women, for the abortion debate, for politicians' rhetoric, etc. We hear you. Things got a little rough and terrible this year (*shakes fist*). BUT let's not forget all the kickass ladies who made their voices—and our voices—heard. Below, the most compelling feminist quotes from 2015 to remind you that we never go down without a fight.
1. "People ask me sometimes, when—when do you think it will it be enough? When will there be enough women on the court? And my answer is when there are nine." — the Notorious RBG, speaking at Georgetown University in February
2. "End the 'angry black girl' narrative. It's just another attempt to undermine certain perspectives. I have strong opinions. I am not angry." — Amandla Stenberg, on Twitter in July
3. "I'm over trying to find the 'adorable' way to state my opinion and still be likable! Fuck that. I don't think I've ever worked for a man in charge who spent time contemplating what angle he should use to have his voice heard. It's just heard." — Jennifer Lawrence in an essay on the Hollywood wage gap
4. "No, I'm not going to apologize for who I am and I'm going to actually love the skin that I'm in. I'm not gonna be striving for some other version of myself."—Amy Schumer at the 2015 Glamour Women of the Year Awards
5. "I want to be strong for girls. I just want them to know that there is an option of standing up for yourself." — Selena Gomez to Refinery29
6. "If you want to be great, you must first believe that you can be." — Serena Williams on Twitter
7. "Become an engineer." — Emma Watson, in the best Twitter response of all time
8. "When I joined journalism in 1979, harass was two words instead of one." — Katie Couric at Fortune's Most Powerful Women Summit
9. "There's nothing wrong by calling yourself a feminist. So I'm a feminist and we all should be feminists because feminism is another word for equality." — Malala Yousafzei in a conversation with Emma Watson
10. "When educated girls become healthy, financially secure, empowered women, they're far better equipped to advocate for their needs and aspirations, and challenge unjust laws and harmful practices and beliefs. So really, this can be a virtuous cycle." — First Lady Michelle Obama, in an essay for The Atlantic
Follow Marie Claire on Instagram for the latest celeb news, pretty pics, funny stuff, and an insider POV.
Celebrity news, beauty, fashion advice, and fascinating features, delivered straight to your inbox!
As Cosmopolitan's deputy editor, Rosa Heyman oversees a team of whip-smart editors and hilarious writers who bring you some of the best investigations on the internet, from dissecting the latest Kardashian drama to uncovering the link between white supremacy and misogyny. She currently manages the news and social teams and develops the strategy for how the brand best distributes content. You can usually find Rosa glued to her phone workshopping a cheeky caption for Cosmo's Instagram account.