The 10 Best Things That Happened to Women in 2015
Let's hear it for the ladies.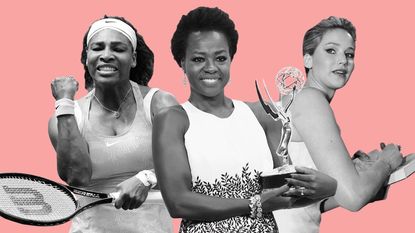 (Image credit: Getty Images / Katja Cho)
Ah, 2015—it was the best of times, it was the worst of times. We didn't win the abortion debate, things weren't exactly peachy for Planned Parenthood, and Trump couldn't help but insult women everywhere. But it wasn't all bad—in fact, women made some serious strides this year.
1. Angela Merkel was named TIME Person of the Year
The German Chancellor earned the title for many reasons, including opening Germany's borders to thousands of refugees, controlling the world's fourth largest economy, and managing Europe's economic crisis, to name just a few. But importantly, she was the first woman in 29 years (!!) to be named TIME's Person of the Year. About time, TIME!
2. Serena Williams was Sports Illustrated's Sportsperson of the Year
With 21 Grand Slam titles under her belt, Williams was the first female athlete to earn the title since track star Mary Decker won in 1983—meaning it's been a whole 32 years. (An aside: the internet thought that American Pharaoh—a horse!—was more deserving of the title, but that just warrants a big ol' SMH from us). Women also straight up dominated the Team USA Awards list of honorees this year, so yeah, that rocked, too.
3. Jennifer Lawrence wrote an amazing essay about the pay gap
Sure, life in Hollywood isn't *really* relatable, but J-Law's candid thoughts on the gender wage gap are still worth applauding."I'm over trying to find the 'adorable' way to state my opinion and still be likable! Fuck that," she wrote. "I don't think I've ever worked for a man in charge who spent time contemplating what angle he should use to have his voice heard. It's just heard." Preach.
4. Women voted for the first time ever in Saudi Arabia
In a historic moment, 130,000 Saudi Arabian women registered to vote and elected 21 female candidates. Saudi Arabia was the very last nation in the world to open ballots to women, but as the saying goes, better late than never.
5. Viola Davis made history at the Emmys
When Viola Davis made history as the first black woman to ever win an Emmy for best lead actress in a drama, she also made the best speech of the night: "The only thing that separates women of color from anyone else, is opportunity. You cannot win an Emmy for roles that are simply not there." Her moving acceptance speech did not *not* make us tear up, you know?
6. Same-sex marriage was legalized
Marriage equality was a win for everyone—men and women, straight, gay or otherwise. The traditional notion of marriage clung to old-fashioned ideas of separate societal roles for men and women. Legalizing same-sex marriage meant a change in cultural attitude and steps towards acknowledging women's lives outside marriage altogether.
7. Two women made Army Ranger School history
Capt. Kristen Griest and 1st Lt. Shaye Haver graduated from the U.S. Army's elite Ranger School, breaking a major—and grueling—glass ceiling. But of course, no victory of this nature is complete without some dingbat politician trying to thwart it: Rep. Steve Russell, R-Okla., suggested the women "got special treatment and played by different rules."
8. Amber Rose hosted a SlutWalk
Changing the way the world thinks about female sexuality, Amber Rose led a march in L.A. to end the victim-blaming and gender inequality that clouds how people understand sexual violence. Participants held signs that read, "Don't tell me how to dress! Tell them not to rape!!" Annnnnd *mic drop*.
9. Hillary Clinton, in all her glory
Where to begin with trailblazing Hillary? She *won* the Benghazi hearings, she's running for President, and she kills it every damn day up against He-Who-Must-Not-Be-Named.
10. The #ThisGirlCan movement
You remember #YesAllWomen and #HeForShe, don't you? Important movements in 2014. This year, Sport England launched #ThisGirlCan to celebrate active women and to encourage young girls to pursue exercise and sports without fear of being labeled unfeminine. Hell yeah.
Follow Marie Claire on Instagram for the latest celeb news, pretty pics, funny stuff, and an insider POV.
As Cosmopolitan's deputy editor, Rosa Heyman oversees a team of whip-smart editors and hilarious writers who bring you some of the best investigations on the internet, from dissecting the latest Kardashian drama to uncovering the link between white supremacy and misogyny. She currently manages the news and social teams and develops the strategy for how the brand best distributes content. You can usually find Rosa glued to her phone workshopping a cheeky caption for Cosmo's Instagram account.