Exclusive: Beyoncé's 17-Year-Old Protégé Sophie Beem on Having the Most Famous Mentor in the World
This girl's about to blow up.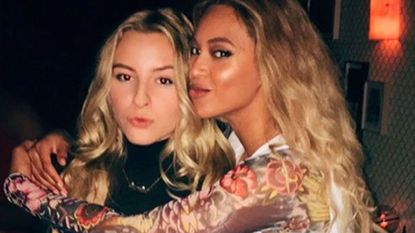 (Image credit: Instagram)
You've heard the whole she's-not-your-average-teenager narrative before. But no, really, Sophie Beem is not like other teens: She's Beyoncé's protégé.
A born-and-raised New Yorker, 17-year-old Beem cut her teeth on The X Factor in 2012, where she made it to the Top 40 out of 250,000 contestants and was told by Simon Cowell, "Some people are born to do this, and you're one of them."
Queen Bey, clearly cosigning on his assessment, hand-picked and signed Beem to her company Parkwood Entertainment's music label in 2015. And since then, Beem has had Yoncé as her mentor, opened a string of shows for Charlie Puth, performed on the VFILES runway at fashion week, collaborated with Fetty Wap, and even has a track on the Bad Moms soundtrack. Oh, and did we mention she just got back from opening the Formation World Tour in Milan?
An endorsement from Beyoncé is enough reason for you to drop everything and download Beem's eponymous EP, but kudos aside, her R&B-infused rhythmic pop sound will give you chills—plain and simple. And fun fact: Her single "Skyline" can often be found playing pre-show on the Formation World Tour. Yes, it's that song.
With the next year poised to be a big one for Beem, we talk to the up-and-coming artist on her journey, having Bey as her industry sensei, and what's next.
Marie Claire: You began your career on The X Factor. What was that experience like?
Sophie Beem: I've been singing my entire life. My mom signed me up for The X Factor when I had just turned 13. I auditioned and made the cut of 40 out of 250,000 people. There I go to perform in front of Simon Cowell, Demi Lovato, and Britney Spears. It was such a cool experience and when I got on stage, I just felt so comfortable. And it's pretty crazy, because I literally went from singing in my room to on a stage in front of over a thousand people. After X Factor, I was kind of sick of singing cover songs and I wanted to start writing my own music. Songwriting became like an outlet for me—a kind of therapy for what I was going through with my family and friends at school. Songwriting became a big part of why I love being an artist.
MC: How did Beyoncé discover you?
SB: From there, I was playing gigs around NYC at The Bitter End and other open mic nights just trying to get myself out there. One night, Beyoncé's general manager came to one of my shows. I thought she was just there to listen to music. I didn't think she came as an opportunity. I just thought 'I'm glad she's here and I hope she enjoys it.' I really just wanted advice at the time because I wanted to know how I could further grow as an artist.
But after that, Beyoncé's manager asked me to come into the office at Parkwood Entertainment, which was her label. I sang a couple songs and ater that she asked me to put together a package for Beyoncé with a personal letter explaining why I wanted to be an artist and what music I wanted to create. She actually hand-delivered the package to Beyoncé while she was on tour.
Within a week, I got a call saying that she was willing to sign me as one of her first artists and develop me. It was a mentoring kind of thing. I was so excited and then from there, I went to Nashville to write songs and really dig deep into what I wanted to say and what I wanted to sound like. In Nashville, L.A., and New York I really formulated my EP, which was released last March. Then I went on tour with Charlie Puth and it was amazing. It was my first tour ever and it was so cool to hear people responding in such a positive way to my music. Like, surreal.
MC: Speaking of surreal, you just got back from Milan where you opened for Beyoncé's Formation World Tour. What was that like?
SB: It was my first stadium performance, and again, it was surreal. Getting on stage and performing in front of 30,000 people was just crazy. A moment that I am never going to forget. Between having her as my mentor and just the fact that I got to perform in a stadium when I'm not even known yet is just crazy.
MC: So what's Beyoncé like as a mentor?
SB: A dream. It's just crazy to think that I have someone like her guiding me through this path and teaching me all the things I need to know. And I get to learn it early on from somebody who has experienced it all. She has given me such great advice, from stage presence to just being true to who I am as an artist. Something funny she always tells me to do is sing on the treadmill and run at the same time for stage stamina, because I dance and sing at the same time too. And it literally just saves me so much energy on stage when you have that stamina.
MC: And she gave you the necklace you're wearing, right?
SB: Yes! On the Charlie Puth tour she came to my show in L.A. with Jay Z—it was cool because Charlie got to meet Bey and Jay—which I was so happy about because he's a huge fan. And she gave me this necklace that says "City Kid," which is one of the songs on my EP. I haven't taken it off since.
MC: You're coming up in the industry at a time where equal treatment for male and female artists is such a hot-button topic. And Beyoncé is such a feminist icon. How does that inspire you?
SB: I think every woman should have a choice. Like Beyoncé says: "There is no such thing as a weak woman. We are born strong." I just always believed in myself. I don't care what other people think because if something is your dream and what you really love to do, then you should do it. That's just always how I've thought.
My song "Girls Will Be Girls," which is on my EP and the Bad Moms soundtrack, is all about female empowerment—girls being true to who they are and not giving up. For me growing up a lot of other parents and adults would be like, "I can't believe you're doing this. You're too young. You should be going to college and in school and blah blah blah." But I ignored it and followed my dream.
MC: You're so young, so we have to ask: What's your earliest memory of Beyoncé?
SB: "Single Ladies" is my earliest memory and has definitely had the biggest impact. All of it—the singing and dancing. I was born in 1999, so I didn't really get to grow up with her like other generations, but I am such a big fan of her music. Once I got to be really involved with her and received her advice, I just fell in love with her music more.
MC: You're 17 and have already accomplished so much. What are your hopes for the next few years?
SB: I hope to still be on tour. One of my biggest dreams is to perform or headline at Madison Square Garden. I've seen so many iconic idols perform there, so to headline would be one of my biggest dreams.
Listen to the 12-track playlist Beem curated (minus Beyoncé's "Hold Up") for us below:
Follow Marie Claire on Facebook for the latest celeb news, beauty tips, fascinating reads, livestream video, and more.
Celebrity news, beauty, fashion advice, and fascinating features, delivered straight to your inbox!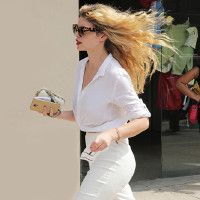 Lauren is the former beauty editor at Marie Claire. She love to while away the hours at coffee shops, hunt for vintage clothes, and bask in the rough-and-tumble beauty of NYC. She firmly believes that solitude can be a luxury if you've got the right soundtrack—that being the Rolling Stones, of course.