Jane's Finally Losing Her Virginity on 'Jane the Virgin,' and Here's Why It Should Be the Opposite of Magical
Anything else would feel inauthentic to the show. Not to mention real life.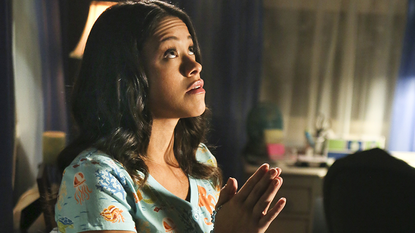 (Image credit: The CW)
Jane the Virgin fans, get ready. I'm about to make a bold claim. Are you ready? Jane Gloriana Villanueva's first time should be mediocre. There. I've said it.
Jane the Virgin has more plot points than the number of times you've avoided doing laundry, but in anticipation of tonight's premiere, both the fans and the think pieces only have one thing on their minds: Jane's virginity. Since the show's debut in 2014, viewers have been anxiously waiting for the moment when "the Virgin" gets proverbially crossed out of the show's title, and it's *finally* about to happen.
For those in need of a refresher, Jane's understanding of virginity began at 10-years-old, when her grandmother (AKA Alba) gave her a flower, noted its perfection, told her to crumple it, and instructed her to put it back together. When Jane failed—as even the best gardeners do—Alba replied, "That's right. You can never go back. And that's what happens when you lose your virginity. You can never go back. Never forget that, Jane." Who wouldn't be impacted by this level of real talk?
The series has made it clear that Jane's virginity and her idealistic conception of romance are strongly tied to her sense of self. Originally, her rose-colored glasses were prescribed by the love portrayed in telenovelas, but the beginnings of her relationship with her now-husband Michael only encouraged her naiveté, as he showed nothing but support for her decision to wait on sex. That being said, Jane's views regarding sex are just as feminist and progressive as the show itself. It's not a moral issue. Her virginity is more like a very sticky "Hello my name is..." label—a way for others to identify her, and for her to see herself. When she loses it, viewers can expect a definite shift in her attitude.
"Losing her virginity almost opens her up to move forward in terms of how she sees herself and is identified," showrunner Jennie Urman tells me. "She realizes how much of her identity was caught up with being a virgin, and that's a surprise to Jane...So she has to have a bit of a shift...She's so much more than that one thing."
So, how does Jane un-romanticize her views on virginity and realize sex isn't always aroma therapy candles, a Miguel album, and a pair of 500 thread-count bed sheets? By having a blasé first time. It's exactly what she needs to evolve as a character. Throughout the last two seasons, Jane's been forced to reconcile her idealism with the pesky and often painful realities of life, and as Urman says, "She needs to learn that happily ever after is an evolving notion and it's not a definite finite thing. She needs to have a little more flexibility in terms of what her idea of happiness is and what it looks like."
To her credit, Jane's modified her life timeline, switched partners, formed a relationship with her father, and accomplished an array of other milestones. Yet even after Jane and Michael got engaged, and Alba confessed that she'd had sex before getting married—a secret that I personally believed would have changed Jane's attitude toward virginity—the show's titular character has maintained her self-imposed promise to remain a virgin. "Jane's a very goal oriented person," says Urman. "It had become a goal of hers to wait until she got married. I think it was important for the character to wait, because it was something she wanted...even if the reason behind it changed."
Since Jane's identity is so tied to her virginity, the loss of that virginity will effect other areas of her life—and not necessarily in a bad way. Look at her writing: as a romance novelist with no actual sexual experience, her manuscript lacks "the nuances of reality and the moments of uncomfortableness and moments of comfortableness," says Urman. "It's all based on conjecture. So once she does have sex, certainly as a romance writer, there are things that change for her...her writing becomes a little bit less idealized and more realistic. Still romantic, but realistic."
Speaking of realistic, here's my proposal. For Jane to really come into her own as a woman, she should do what I did. Drink cheap Trader Joe's wine, turn on a cheesy horror film (I suggest Scream), and make it official with her fall-back "if I still haven't had sex by the time I'm however old..." guy. Basically, she needs to cure her romanticism by joining ranks with those of us who've had a less-than-thrilling first sexual encounter. And by rest of us, I mean most of us.
Or, she could make it official with someone she loves. But maybe sans the rose petals, expensive champagne, and a guitarist gently strumming from behind a closed door. Either way, get ready. Because it's time.
Follow Marie Claire on Facebook for the latest celeb news, beauty tips, fascinating reads, livestream video, and more.
Celebrity news, beauty, fashion advice, and fascinating features, delivered straight to your inbox!
Sonia Weiser is a Brooklyn-based journalist. She's previously written for The New York Times, The Boston Globe, TIME, New York Magazine, among others. Follow her at @weischoice and see her work at soniaweiser.wordpress.com.