3 Cool Jobs You Didn't Even Know Existed
And the women who do them.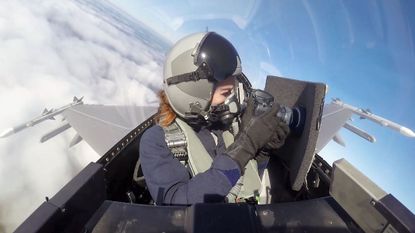 (Image credit: Getty)
How do you pursue a line of work you didn't even know was possible? These women shunned desk jobs to build careers in the trees, the kitchen, and the sky.
High Flier: Liz Lutz
Aerial Photographer, Lockheed Martin
[image id='ff2436ff-7ae0-40f7-9220-fcda98f07c9b' mediaId='3f90a75b-62d8-4e6f-ac6e-bf803495503a' caption='' loc='C' share='true' expand='true' size='M'][/image]
Last year, Liz Lutz strapped herself inside a high-G training centrifuge. Fans of space movies know the machine: It spins would- be aviators and astronauts round and round while they pray they don't pass out from the nine Gs of pressure crushing their bodies. (For perspective, roller coasters typically unleash less than four Gs on riders.) "It feels like an elephant is sitting on you," Lutz says. She left the capsule dizzy, queasy, and more prepared than ever to ride shot- gun in an F-16 jet.
Such Top Gun–style training is required for Lutz's job: aerial photographer at aerospace company Lockheed Martin, where she helps secure government contracts and document flight tests by taking pictures of the company's most impressive jets. To capture the planes surfing the clouds, Lutz also has asked pilots ferrying her to fly upside down, climb the sky vertically at over 550 miles per hour, and travel as far as Dubai—all to get the perfect shot.
But Lutz, 35, who's based in Fort Worth, Texas, is quick to tell you that she's not an adrenaline junkie, though she does love roller coasters. "I have no desire to jump out of a perfectly good airplane," she says of sky- diving. She stumbled into aerial photography as a multimedia intern at Lockheed. "I didn't know this job existed," she explains. "I was young, 21, and it sounded exciting."
That was 14 years ago. Of Lockheed's nine aerial photographers, Lutz is the only woman. "Honestly, I don't feel that being a woman makes it harder or easier," she says. There are physical challenges—the plane's g-force can make Lutz's camera feel like it weighs 25 pounds, and she regularly carries a sick bag ("as a safety blanket," she says)—but Lutz says the greatest challenge was "learning and understanding the military culture, the pilot speak, and being able to hold my own in that environment." When she first started, she had countless meetings with pilots who spoke in acronyms while describing their flight plans. "It felt like a foreign language," she recalls.
Today, Lutz still can't believe she landed such an ideal gig. The F-16's bubble canopy offers unobstructed views of her awe- inspiring surroundings. Citing a trip to Hawaii's Molokai coast, she says she found herself "taking a moment to put the camera down and take in the beauty of flight." She adds: "I'm in 1 percent of 1 percent: Not a lot of people get to see and experience what I do."
Magic Maker: Flo Kentish
Interior Designer, Blue Forest
On any given workday, Flo Kentish, 29, can be found out- doors whizzing down a slide, wandering through a wooden maze, or floating from point A to point B via zip line. Kentish isn't slacking. She gets paid to play: As luxury tree-house company Blue Forest's interior designer, Kentish is simply testing her team's creations.
That sort of merriment is encouraged, and reliving her childhood is a big part of Kentish's job (she cites Pete's Dragon, a 1977 Disney movie about an orphan raised by a dragon, as a film that sparks her creative juices). "It's about nostalgia. It's remembering what we, as a design team, would really love if we were kids," she says. "Like, Oh, we loved Nerf guns, so why don't we make a Nerf gun secret room with secret hatches and fingerprint entry?"
The Magic Home, a recent Blue Forest project, encapsulates such whims. Kentish gets giddy as she details some of her favorite additions to the multifloor tree house: the marble-countered kitchenette, the book- case that doubles as the entrance to a spiral staircase lined with cedar shingles, the Narnia-inspired armoire that hides a slide—all complemented by cozy custom furniture. "There's not much we can't make," Kentish says of her five-person design team. "The client will say they want a slide, and we'll say, 'OK, let's hide it.'"
Kentish doesn't have to dig too deep to find inspiration. Growing up in Hampshire, England, she says her older brother tricked out the plank platform in their backyard with a homemade zip wire. "My sisters and I looked at him in awe," she remembers.
Memories of that simplistic tree house crept back into her head when she found job listings for Blue Forest—which counts J.K. Rowling as a client— in 2014. "I kind of did a double take. What was this job? This can't be real," she says. Kentish had spent the previous two years designing lumber-heavy inte- riors for English restaurant chain Bill's, and she was looking for a change: "I felt it was my dream job."
As much as Kentish enjoys the brainstorming, the sketching, and the testing, nothing beats seeing the client's face when the finished product is unveiled. "Even now, after nearly three years, it still takes my breath away," she says.
Flavor Master: Eleanor Freeman
Chief Taste Expert, Graze
Eleanor Freeman's taste buds are insured for $3.7 million. As a kid, Freeman and her mom, who trained as a chef before staying home full-time, used to spend hours creating healthy family dinners from scratch. "She'd have all this weird food in the fridge, like kombucha, before it was a thing," Freeman says with a laugh. "I tried quinoa for the first time with her." The duo was unknowingly fine-tuning Freeman's superpower.
Graze, the London-based snack company Freeman joined six years ago, insured her taste buds in 2011. Freeman, 32, oversees product development there, and her sensory powers are famous in the office (she's known as "The Taste"). Despite her mastery of the four key taste regions—previous employer Innocent Drinks had her buds tested; she's able to thoroughly identify sweet, salty, sour, and bitter flavors (many people are "blind" to a category)—freeman was shocked when Graze's cofounders said they wanted to insure her tongue. "I was like, 'Really, are you sure?'" she says. Freeman now must keep her taste buds in tip-top shape: She's forbidden from eating super-hot chilies or licking a knife.
Being a professional taster is as fun as it sounds. During "creative days," Freeman's team of four brainstorms ideas for holiday or seasonal snack packages, shops, meets with potential ingredient suppliers, and messes around in the kitchen. And there was the day that involved chocolate. Lots and lots of chocolate. Freeman and her team brought in prospective suppliers and tested some 20 types of cocoa. "Everyone in the office was very jealous," she says. But Freeman adds that snacking for multiple hours does have a downside, noting that her team "felt slightly sick at the end."
Freeman has sampled more than 10,000 ingredients and approved 1,000 for the company. She's concocted around 1,600 original snacks, which helped Graze recently expand to the United States. For salt lovers, her team invented Spicy Thai Sriracha Crunch, which combines sriracha peas, popcorn kernels, and salted corn. Prefer something sweet? There's Eleanor's Apple Crumble, a trail mix combination of soft apple pieces, caramelized honey, cinnamon almonds, and raisins.
The one food group her current team continues to avoid: bugs. "There was one member of the team who was really into insects," she says, "but it's a hard sell." On this one, we'll trust the woman with the multimillion-dollar taste buds.
This article appears in the January issue of Marie Claire, on newsstands now.
Celebrity news, beauty, fashion advice, and fascinating features, delivered straight to your inbox!