The 7 'Sex and the City' Guys You'll Meet on Tinder
Swipes right for Mr. Big, gets Berger-ed.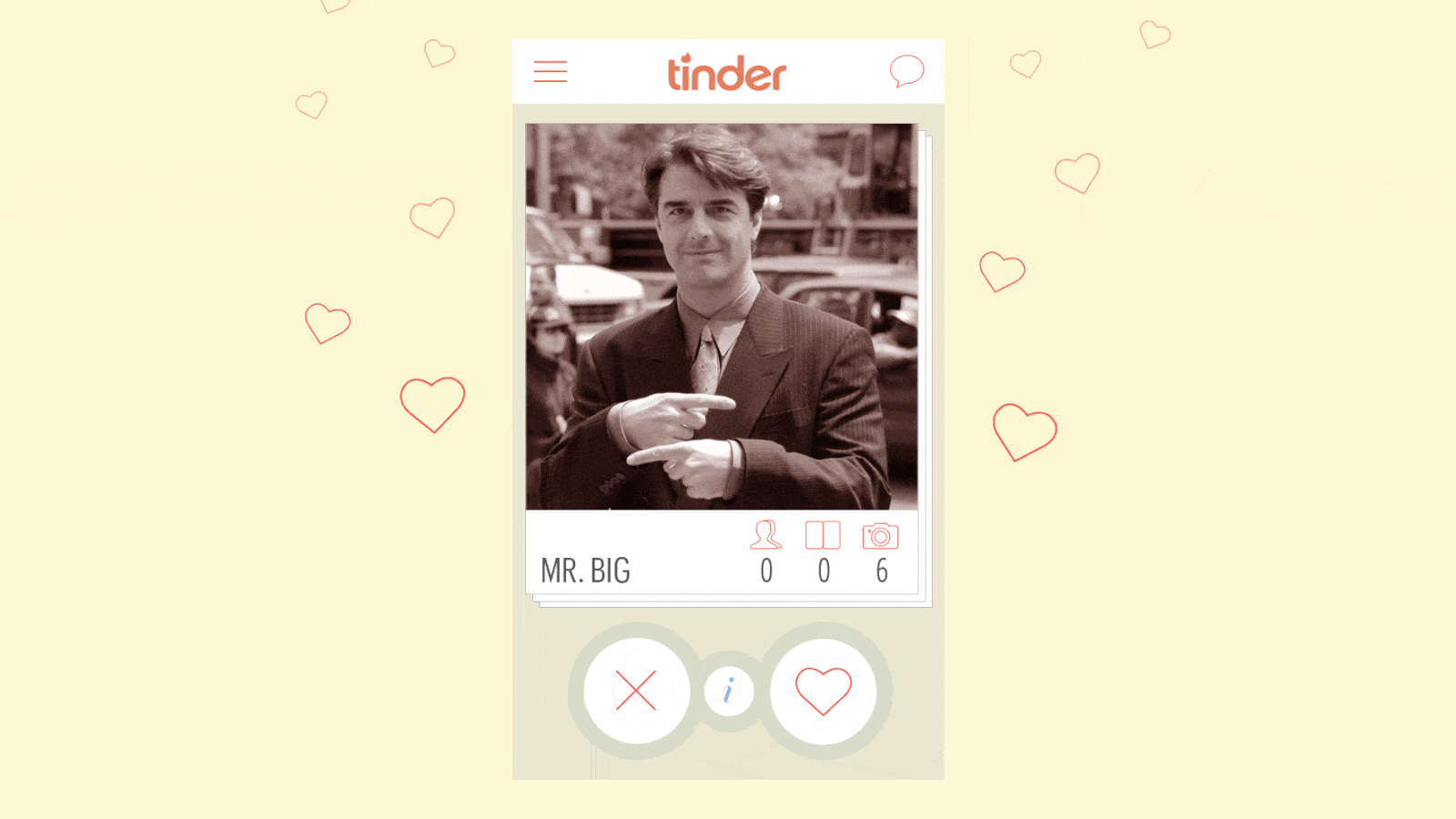 (Image credit: Design by Betsy Farrell)
Marie Claire Newsletter
Celebrity news, beauty, fashion advice, and fascinating features, delivered straight to your inbox!
Thank you for signing up to Marie Claire. You will receive a verification email shortly.
There was a problem. Please refresh the page and try again.
One of the many reasons Sex And The City stands the test of time is because it tells the universal truth about what it's like searching for love. And, with the vast number of men available on dating apps, the odds are pretty good that you'll come across eligible bachelors who are similar to the show's iconic characters. Naturally, most of us are hoping for a Mr. Big, but let's be honest—many of us get Berger-ed, or worse—Mr. Funky Spunked.
On that note, here are seven iconic Sex And The City guys you'll meet on Tinder—plus real women's experiences dating them.
The Richard Wright
He's good looking, he's successful, and he's constantly on the prowl. No, really, constantly. So, even if you mind-blowing sex like a true Samantha, you can best believe he'll be swiping when you go to the bathroom at dinner.
"I met the guy of my dreams. He was handsome, wealthy, and slick. I desperately wanted to believe he was as into me as I was into him. But I had a nagging suspicion...I checked his phone. He was on Tinder and Bumble...and the messages. Let's just say he was parking his penis in at least five other ports." — Larissa, 26
"My friend and I were at brunch catching up on our dating lives, and we both were so happy to have met guys we liked. When my friend showed me her guy's picture, I thought I was slipped something in my avocado toast. We were dating the same man. I was like, 'WTF?!' I'd like to say we did some girl power trick to teach him a lesson, but instead we both were so weirded out. It was competitive for a hot minute, and then we realized there were probably many other women. We both decided to ghost him." — Maggie, 29
The Jack Berger
He's cool, he's cute, and he's boyish. He's struggling to find himself and his success. At first, he's in awe of you. Then, he feels small with you. Out of nowhere, he disappears and finally pulls the ultimate boy-in-a-man's-body move: he sends a break up note via Snapchat.
"I met this guy on Bumble and we were together for two months. I started to relax with him and thought we were going the distance. And then poof—he was gone. He didn't answer texts or emails, he blocked me on Insta, and then he went silent on Facebook. I contacted one of his friends to make sure he was okay. He told me that I just got hit by 'The Two-Month Pro.' He's all in for two months, get freaked out, and moves on. I got Berger-ed." — Amanda, 32
"Ugh. A guy broke up with me on Snapchat. He's seen my vagina and he couldn't even send me a permanent message?" — Heather, 24.
The Trey MacDougal
This is the guy who thinks he should have a girlfriend, but doesn't really want one. He texts, and texts, and texts...only to never follow through. Every time you think you'll finally grab that drink, well, he flakes and then blames it on you. Also, he has Mommy issues.
"We broke up because of his mother. She kept meddling and shading me. When he suggested I stop eating so many carbs, I knew where it was coming from. I told him it was me or her. You know how that ended." — Carrie, 33
"We were great while messaging in the app. After like two weeks, I was anxious to meet. He vaguely suggested we meet for a drink but put off coming up with a plan. He just wanted to keep messaging. I had to stop because I don't need a pen pal, you know?" — Melissa, 36
The Aleksandr Petrovsky
He's handsome, he's dashing, and he's got a busy life. You need to bend your schedule around to see him. He doesn't want to meet your friends—actually he doesn't want you to have friends. Or pick your own outfits. It's just him and his control.
"It started when he bought me outfits. I was like, 'score!' but he had to control what I wore on dates and then it got worse from there. When he tried to check my phone, I told him he had to go. I kept the clothes." — Jaclyn, 27
"I wanted him to like me so much that I let him take the lead. But it was all about what he wanted...his food, movies, and shows. We had a fight about girls night and I lost it. I went out with my girls, drank my face off, and made out with a bunch of guys. I posted them to Snapchat and that was it." — Dani, 30
The Bill Kelley, AKA Roger Sterling from Mad Men, AKA the Guy Who Wanted to Pee on Carrie During Sex
You all know him...he's the guy that tells you his foot fetish upfront because he's looking for a "foot goddess" and doesn't want to waste anyone's time. Fair, but weird.
"I was messaging with this guy and he wrote me that he had a secret. I was equally afraid and curious. He loves small feet. Since I'm short, he was hoping I'd be under a size seven. Turns out I am, but I was not into what he was proposing. It involved toe sucking. I wished him the best of luck." — Taylor, 23
"He told me what he was into, and I explained the only gold I want to be showered with is 14 karat." — Sarah, 31
The Harry Goldenblatt
He's got a lot going for him and you like him—except for a few notable exceptions...the back hair...the baldness...the naked sitting on white furniture. But once you get past the superficial, the guy's got a heart of gold.
"I like eye candy. If he's not hot, I swipe left. My therapist urged me to have broader parameters. When I met James in person, I wasn't attracted to him. At all. But I didn't want shade from my doctor so I gave him a chance. It's been six months and I think he's totally handsome." — Bridget, 38
"He was meh looking, a little overweight, and Mormon. I swiped right because I knew it would piss off the family at Thanksgiving. But he turned out to be a great guy. We didn't last, but he drove for 30 minutes to help me fix my car last weekend. Who knows, he may just end up being the one." — Kirsten, 34
The Aidan Shaw
He's handsome and has a dog + a job (the ultimate combo), but there are no sparks. You keep trying, because duh, but it's just not there. Like a contestant in the sudden death fire challenge on Survivor, you try your hardest to make it happen, but really you need to let him go.
"There's 'Resume Guy' and then the guy you text late at night because the sex is just oh-so good. He has the degree, the job and just seems like he'd be the best hire for my vagina. I totally wanted to like him, but I ended up texting my booty call. He's a total dirtbag but the sex is too good. Maybe he could give Resume Guy a few pointers." — Christina, 28
"Everyone said we were perfect. They made us tell the fairy tale story of how we met. But we just didn't have any sparks. We both wanted it so bad, but at the end of the day, we weren't each other's forever. I just went to his wedding. He seemed happy. Happier than with me anyway." — Susan, 34
The Steve Brady
He may not have the riches or the best job, but he's got a heart of gold. He loves his mom (but not in a weird way), stands up for your honor, and admits his mistakes. You end up with him because there's much more good than bad.
"I had a million reasons for not really committing. I just didn't want to settle. Maybe there would be someone in a year that would be The One? He cheated, I found out and we were through. A funny thing happened. I missed him so deeply. It took losing him for me to see I had My Guy all along." — Lisa, 37
"My sex buddy asked me out on a date and I told him that wasn't what we were doing. He wore me down and we graduated from sex only to dates, exclusivity, and engagement. It can happen." — Rory, 25
And Finally, The Mr. Big
He's elusive. He's hard to catch. He's got a high profile job. He's more into quips and keeping you on your toes than commitment. But in your heart, you think he's The One. He may be, but it's going to be a loooooonnnnnggggg road.
"I've met a lot of toads online. And then there was this one guy. He had to travel a lot for work and then had an assignment abroad for three months. We kept in touch, Facetiming and sexting. He's elusive so I've kept my eyes open but no one else has our sparks. I guess I'm in it until I'm not." — Kate, 30
"We're not good together. We're not happy apart. I compare everyone to him. And then I saw him come up on my Bumble and I almost lost it. I texted him immediately. If I can't have him, no one else can either. At least not without him having me in the back of his mind, too." — Liz, 26
Follow Marie Claire on Facebook for the latest celeb news, beauty tips, fascinating reads, livestream video, and more.
Celebrity news, beauty, fashion advice, and fascinating features, delivered straight to your inbox!