What Happens When You Go to a 'Mad Men' Cast Party and Bring Up Trump
Deep conversations and semi-awkward diversions.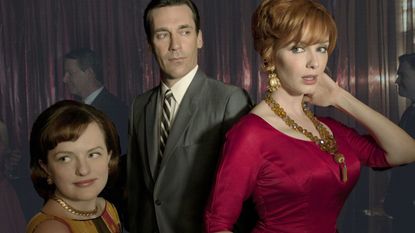 (Image credit: AMC)
Marie Claire Newsletter
Celebrity news, beauty, fashion advice, and fascinating features, delivered straight to your inbox!
Thank you for signing up to Marie Claire. You will receive a verification email shortly.
There was a problem. Please refresh the page and try again.
Despite all the beautiful people wearing beautiful clothes and saying beautiful things, the world of Mad Men is lush with racism, sexism, and pretty much every other ism. To quote series creator Matthew Weiner, "there's a drop of poison in the beauty." And although Mad Men went off the air in 2015, Weiner tells MarieClaire.com that his period drama about Madison Avenue ad execs may be even more pertinent to today's viewers than it was a couple years ago. Why? Trump.
"The show looks like it could be on the news right now—the dialogue, everything," he told us while celebrating the launch of his two-volume Mad Men companion book. "It's a lot harder in a world of micro-aggressions and triggers to make people comfortable with what you're doing. But part of the beauty of writing a period piece is you can get away with a lot—that's how art is created in totalitarian countries. It's always under the guise of something like this."
So, are we living in a totalitarian country now? While Mad Men star Jon Hamm told MarieClaire.com that he didn't "want to talk about Donald Trump" (note: we asked if the current president could have been influenced by his deeply troubled character), Weiner was more verbose, saying he never understood why "conservatives like Mad Men" when it's very clear that "the show was a criticism of conservatism and soul-crushing capitalism."
Meanwhile Mad Men writer's room alum Erin Levy (who's now working on Starz's upcoming Counterpart) points to the obvious parallels in today's politics: "Part of the success of the show is that you have this façade of the '60s, but it relates so well to today," she says. "That's why people were interested and were watching—but unfortunately women still aren't getting equal pay. We have #BlackLivesMatter because racism is still an issue. The racism that went on the '60s was really intense and terrible—it's different now, but it exists."
The lack of equal pay and diversity in Hollywood alone is a clear indication that racism and sexism are indeed still "a thing," and actress Kiernan Shipka (who played Don Draper's daughter) says Mad Men formed her understanding of feminism because "I was growing up with a really interesting perspective on it"—that perspective being a man's world prime with sexism.
It's alarming to realize that the -isms threaded throughout Mad Men are still be so prevalent today, but if—as Weiner says—totalitarianism is best defeated through art, here's to hoping he gets back at it soon.
Follow Marie Claire on Facebook for the latest celeb news, beauty tips, fascinating reads, livestream video, and more.
Celebrity news, beauty, fashion advice, and fascinating features, delivered straight to your inbox!