If You Buy Tickets for 'I, Tonya' Expecting Nancy Kerrigan Drama, Sell Them
That's not what this movie is about.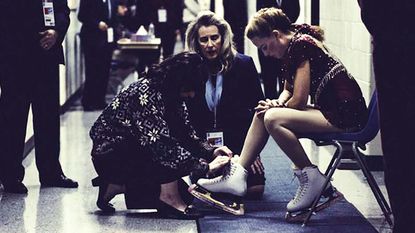 (Image credit: TIFF)
When I told friends I was seeing Margot Robbie's new Tonya Harding movie at the Toronto International Film Festival this year, I usually got one question back: But who is playing Nancy Kerrigan?
There's a reason I couldn't immediately answer. "The incident," as it's known, of course figures into I, Tonya—but, like Tonya herself, the film doesn't really give a shit about Nancy Kerrigan, or how she endured the trauma of her now-iconic leg injury. Nope, this is The Tonya Harding Show, and Robbie portrays her with an appropriately DGAF attitude.
There's a good chance you know the basics of Tonya Harding's saga, and I, Tonya isn't looking to provide some shocking revelation about whether the disgraced figure skater was really involved in the hit on Kerrigan (watch the video above for more on that viral moment). The film maintains that the truth is largely unknowable, while also implying that, sure, Tonya was aware that her husband and his douchebag friends were up to something, but she certainly didn't condone that something.
So if you're looking to see Tonya as a) the mastermind of the attack, or b) a complete innocent—you won't be satisfied. You also won't be satisfied if you're hoping this movie is a feminist analysis that paints Tonya in a revisionist light. Mostly, the film just finds perverse humor in the whole situation.
RELATED STORY
An opening title card explains that what you're about to see is based on "irony free" and "wildly contradictory accounts" before introducing a documentary-style, fourth-wall breaking moment in which Tonya and the bizarre characters in her orbit narrate the action around them. It's something of an odd choice considering you can just watch the excellent 30 for 30 documentary The Price of Gold (featuring the real life Tonya) for the real thing. Director Craig Gillespie and screenwriter Steven Rogers approach the story as something out of the Coen brothers' playbook, highlighting the incompetency and insanity of the situation. The Kerrigan section, for example, plays like a comedy of errors—you can't help but bury your head in your hands out of mortification.
But the prevailing question I, Tonya tries to answer is who is Tonya Harding, really? Apparently, at least in this movie, she's a person who desperately wants to be loved. Yeah, she's also a rule-flouting prodigy who will put out a cigarette with her skate—but it's the love theme that gets reiterated over and over again. When she lands that incredible triple axel in 1991, she relishes in the glory of it. She sees skating as the path to achieve adoration, because adoration is completely absent in her personal life.
To this point, I, Tonya doesn't shy away from showing how its protagonist is both a product and victim of physical and emotional abuse at the hands of her husband and mother. The film tries to argue that Tonya was both a literal and metaphorical punching bag, and at one point—in the fray of media frenzy over Kerrigan—Tonya compares the vitriol she endured from the public to the violence she experienced in her private life. "You're all my attackers too," she says to the audience.
So, are we supposed to feel...bad? During an Q&A after the premiere at TIFF, Robbie explained she didn't want to spend much time with Harding at the risk of feeling too much empathy for her. And the movie certainly doesn't ask us to feel sorry for her. Tonya doesn't want your pity. She wants your love.
Follow Marie Claire on F (opens in new tab)acebook (opens in new tab) for the latest celeb news, beauty tips, fascinating reads, livestream video, and more.