Is The Economy Making You Fat?
Watch out—bad times can take a toll on your good looks. The ugly truth, by the numbers . . .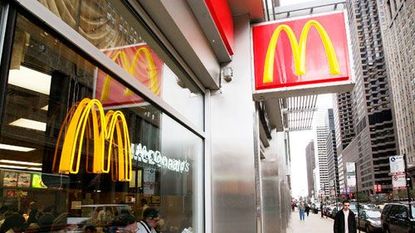 (Image credit: S. Olson)
Marie Claire Newsletter
Celebrity news, beauty, fashion advice, and fascinating features, delivered straight to your inbox!
Thank you for signing up to Marie Claire. You will receive a verification email shortly.
There was a problem. Please refresh the page and try again.
Got the Recession Blues? Pass the Fries!
SUPERSIZE ME: Thanks to deals like the McDonald's Dollar Menu and Wendy's THREEconomics, a cheeseburger is cheaper than a grapefruit. "People are stressed, and they're tempted into eating poorly," says Beth Kobliner, the author of Get a Financial Life. Indeed, almost half of Americans reported eating unhealthy foods or overeating in order to manage stress in 2008, according to the American Psychological Association. (At least you're not alone.)
GOOBERS, PLEASE: Candy sales tend to go up in downturns, and this time is no different: Nestle's profits jumped nearly 11 percent in 2008, while Cadbury's spiked 30 percent. You know what that means for your face: Bring on the Oxy-10.
CRUNCHING NUMBERS, NOT ABS: Gyms are usually fairly recession-proof, says Rosemary Lavery of the International Health, Racquet & Sportsclub Association. But alas, memberships were flat in 2008, after posting the steepest decline in a decade the year before, down by 1.2 million to 41.5 million. Good-bye, flat tummy.
HELLO, OCTOPLEX: The film industry is on a surprising upswing, with ticket sales up 12.1 percent to $2.2 billion this year, according to Media by Numbers, a box-office tracking company. In other words, we're all sitting around on our butts, gaping at a screen, eating a bucket of popcorn the size of our heads.
MAXED OUT ON PLASTIC (SURGERY): Fifty-three percent of cosmetic surgeons say business has slowed in the recession, according to a survey by the American Society for Aesthetic Plastic Surgery. But hey--at least smiling's still free!
ONE BRIGHT SPOT: Our choppers are looking better than ever. Dentists had higher profit margins than any other industry in 2008, according to Sageworks, an industry-analysis firm. Why? People are racing to the chair before they lose their health insurance.
BIG FAT PROFITS

People are flocking to cheap comfort food, with McDonald's almost doubling its earnings in 2008, taking in a hefty $4.3 billion, up from $2.4 billion in 2007.
Celebrity news, beauty, fashion advice, and fascinating features, delivered straight to your inbox!
Abigail Pesta is an award-winning investigative journalist who writes for major publications around the world. She is the author of The Girls: An All-American Town, a Predatory Doctor, and the Untold Story of the Gymnasts Who Brought Him Down.