Stephanie Cutter: "I Know How to Throw a Punch"
Behind the buttery highlights and geek glasses is one of the fiercest strategists in politics. Meet the Obama campaign's head rumor-killer, message-crafter, and human bulldozer.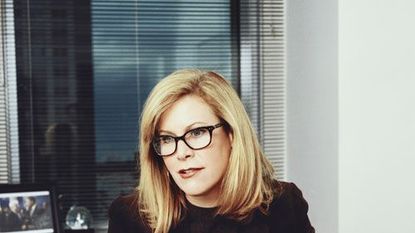 (Image credit: Ryan Pfluger)
There are moments on the campaign trail when everything goes wrong. An attack takes the candidate unawares. One adviser is on a plane and unreachable, while two others are feuding about whether to ignore the charge or beat it back. Meanwhile, the press is demanding answers and sounding alarms. The campaign is in free fall.
It's for just these moments that a campaign keeps an enforcer on hand: someone fearless and unflappable, someone who will step up, take charge, and, if needed, take the blame. For President Barack Obama, that someone is Stephanie Cutter.
Cutter, 43, a deputy campaign manager for Obama-Biden 2012, has been with the Obamas since 2008, when she started out as Michelle's chief of staff, and is one of the most respected communications strategists in Washington. "Politics gets me out of bed in the morning," she tells Marie Claire at her office in Obama's Chicago re-election headquarters. "It's what really interests me. I'm a competitor, but I also feel like I'm contributing, whether it's working on health-care policy in the White House or out here in Chicago."
Having just moved out from Washington a week before, she is already knee-deep in the hour-to-hour mini crises that define campaign life. She doesn't get home to her newly rented apartment until 9 or 10 p.m. (Cutter is unmarried; her dog, a rescue named Sammy, has a dog walker.) She grabs a few hours' sleep, rises at 5 a.m., and gets in a quick workout. Then it all starts again.
Asked how she's made it to the highest ranks of politics — in 2012, still a boys' club packed with locker-room personalities — Cutter demures. "I have no idea how it happened," she says with a little laugh. "I know I worked hard." (An associate, on the other hand, knows exactly how she did it: "She's a bulldozer when she needs to be.")
Cutter grew up in a politically active family in Raynham, Massachusetts, where she and her two brothers were treated as equals. "My brother got a .22 for his 12th birthday; I got a .22. He got a hunting knife; I got a hunting knife," Cutter says. Her attraction to public service goes back as long as she can remember. In high school, she canvassed the lunchroom for donations for the famine in Ethiopia. She graduated from Smith College, where she was also politically active. (Her college pal Julianna Smoot is one of two other deputy campaign managers for Obama.)
After graduating, Cutter marched into the offices of New York Governor Mario Cuomo, an idol of hers who was considering a presidential run of his own, and cold-pitched his staff on hiring her. "And that was my first job: answering his phones," she says. Soon she was promoted to speechwriter, and when Cuomo bowed out of the 1992 presidential race, she was snapped up by Bill Clinton's campaign. Afterward, she worked as a spokeswoman at the Environmental Protection Agency — which at the time was under assault from then Speaker of the House Newt Gingrich — and eventually worked her way up to deputy communications director at the White House, where she handled President Clinton's daily message.
Her darkest time in politics was during the 2004 presidential election. She'd been working as Senator Ted Kennedy's communications director when Senator John Kerry lured her away to be the deputy manager of his presidential campaign. She poured herself into the job, working around the clock, only to watch as Kerry's campaign foundered under attacks on his war record — the "swiftboating" that has since become a synonym for smear campaign. It was the first truly viral phenomenon in politics, and try as they might, Cutter and her team couldn't manage to beat back the onslaught.
"I know how to throw a punch," Cutter says. "But I've never seen anything like that."
Cutter and the other staff members felt exhausted and defeated when Kerry lost by 2.5 percent. Upon returning to D.C., her cell phone rang. It was Kennedy. He told her not to give up on politics and asked if she wanted her old job back. She accepted. Two months later, Kennedy appeared before the Senate and called for immediate withdrawal from Iraq — a position then considered political suicide. "Ted Kennedy didn't care," Cutter says. "And that renewed my hope in the process — that you could stand up and talk about what you believe in."
LIKE THE MENTORS she admires, she's unwilling to lower her standards just to make things easier — results come first. She's known as one of the toughest taskmasters in politics. During the 2008 presidential battle, there was a day in September when things got particularly ugly. Obama called John McCain's campaign platform "lipstick on a pig" — which the McCain campaign then charged was a sexist shot at Sarah Palin. It was a food fight perfectly suited to become a cable-news blowup. Someone had to step in and shut it down.
With characteristic frankness, Cutter went on television to remind viewers that McCain himself had stood by while a supporter called Hillary Clinton "a bitch." Harsh, yes — but the McCain camp immediately backed down. Crisis averted.
Colleagues say it's Cutter's unrelenting intensity, along with her level head and focus on mission above self, that endeared her to a president who makes no secret of his high expectations. "If I'm demanding, he's more demanding," she says of Obama. "If I'm exact, he's more exacting."
When Kennedy died in 2009, Cutter lost her "anchor in the political world." But he'd left her with the tools and convictions to thrive in the brutal world of politics. "He taught me to stand up and do what you believe in, regardless of what other people think," she says. "If you do that, things always seem to work out. You might have to take some hits along the way, but you'll feel better about what you do. Ultimately, that's why I'm hired. Because I tell it like it is."
Cutter's top five get-ahead rules
1. Work for someone you admire. "I've been very fortunate to work for great people — so even when the political process gets ugly, I find inspiration in the people around me."
2. Work for what you believe in. "There's nothing harder than going on TV and saying something that you don't believe. I don't do that anymore."
3. Be energized by defeat. After a losing campaign, "we dig in and start working."
4. Don't focus on your next job. "It'll come to you — but only if you're doing what you're doing right then and there really well. You can sense [people who are focused on what's next], and it generally doesn't make for a good member of the team."
5. Stay in fighting shape. Cutter works out at 5 a.m. every day. "I get it out of the way first thing in the morning, because I know if I wait, it doesn't happen."
Celebrity news, beauty, fashion advice, and fascinating features, delivered straight to your inbox!