The Kite Makers of Kabul
Afghanistan kite makers - Female Kite Makers in Afghanistan - Kites in Kabul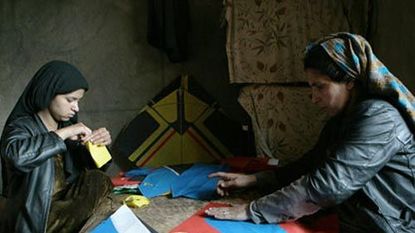 (Image credit: Jean Chung)
In The Kite Runner, the film adaptation of Khaled Hosseini's best-selling path-to-manhood tale, it's the creations of renowned local kite maker Noor Agha that fill the sky. Banned during Taliban rule, kite flying — and the more combative kite dueling — is once again Afghanistan's national passion, so Agha's business was already booming. But when DreamWorks came calling, he had to recruit the women in his family to learn this traditionally male craft.
They all work together in one room. That includes both his wives: Marzia, who makes the bold graphics of each kite into completely unique patchwork patterns, and Farida, who completes the tails and imprints Agha's name and signature scorpion image.
The two wives, working and raising their combined 11 children, are the collaboration that holds the whole kite-making operation together — maybe even more than the family's trademark secret glue.
Celebrity news, beauty, fashion advice, and fascinating features, delivered straight to your inbox!