Why You Should Care That Fast Food Workers Worldwide Are On Strike
Hope you didn't plan on having a Big Mac for lunch today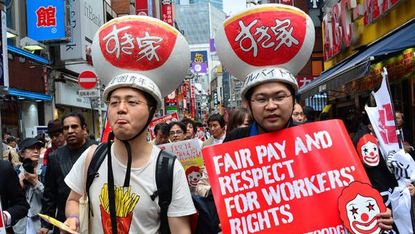 (Image credit: Getty)
Fast food workers in 150 cities in the U.S. and some 33 countries worldwide are striking on May 15 to call for increased wages and other workers' rights. Here's everything you need to know.
Why today?
The day is symbolic as workers in the U.S. are pushing for increasing the minimum wage for fast food workers to $15 an hour. The first fast food workers strike took place in New York City November 2012 when 200 workers walked off the job at 30 restaurants throughout the city. Last year, 100 cities joined in, including Boston, Chicago, Denver, Houston, Los Angeles and Memphis. This year, cities that have yet to see a fast food protest, will strike, including Philadelphia, Sacramento, Miami, and Orlando will join in. There will also be protests in cities including Buenos Aires, Geneva, Dublin, Casablanca, and even Karachi, Pakistan.
How much do they make now?
The median pay for fast food workers is about $9 an hour, which amounts to about $18,500 a year. That's less than the poverty income threshold level of $23,000 for a family of four, according to CNN Money. According to the organizing group in New York City, called Fast Food Forward, NYC-based workers earn just $7.25 an hour.
But that's OK, right? I thought fast food workers were all high school kids—what do they need the money for?
Actually that's a common misconception. The vast majority of fast food workers are adults, many of whom have children to support.
Why should we care?
Income inequality in the U.S., or the gap between the rich and the poor, is at the highest levels we've seen since 1928. Fast food is an industry where the divide is most visible. According to Fast Food Forward, a fast food CEO makes more money every day than the average fast food worker. "Fast food is not only the fastest growing industry in the country, it's also the lowest paying industry in the country, and it has the broadest gap between what the workers and the CEOs make," Kendall Fells, the organizing director at Fast Food Forward told VICE News. "What kind of country are we about to have when these are all the jobs that are available to our kids?" Overall, the industry brings in some $200 billion a year. The sentiment of the protests is that more of those profits should be passed along to the workers.
How does this impact women?
I'm glad you asked: Nearly two-thirds of the lowest-paid workers in the U.S. are female. That means if the minimum wage is increased, more than 15 million women would get a raise.
Is there anything we can do after May 15 has come and gone?
Yes. President Obama is pushing to increase the federal minimum wage to $10.10 an hour, so you can throw your support behind that effort, which would improve the lives of all low-wage earners, not just fast food workers. But, as Dana Liebelson wrote in Marie Claire's May issue, change is unlikely at the federal level, and so the real action is happening on a state-by-state basis. Minimum-wage workers in at least 17 states and the District of Columbia will see their paychecks increase this year either because of recently passed laws or because their wages are set to increase with inflation. An additional eight states will consider pay hikes later in 2014. Most of the new laws start with an initial increase of 50 cents to $1, and steadily increase over the next few years. New York, for example, raised its wage from $7.25 to $8 on December 31, but the wage won't max out until the end of 2015, when it will reach $9. In Washington, D.C., the minimum wage will rise to $11.50 by 2016— surpassing the federal proposal, which is also the case in San Francisco and counties in Maryland and New Mexico.
But what if I want a Big Mac today?
Some locations may still be open despite the rallies and sit-ins, but even so, show your support for the workers and at least wait until tomorrow. (Unless you live in Italy, which for some reason will be protesting on May 16 instead of today.)
Celebrity news, beauty, fashion advice, and fascinating features, delivered straight to your inbox!
Kayla Webley Adler is the Deputy Editor of ELLE magazine. She edits cover stories, profiles, and narrative features on politics, culture, crime, and social trends. Previously, she worked as the Features Director at Marie Claire magazine and as a Staff Writer at TIME magazine.