Are Raven and SK From 'Love Is Blind' Still Together Now?
Here's an update on the couple's status after 'After the Altar.'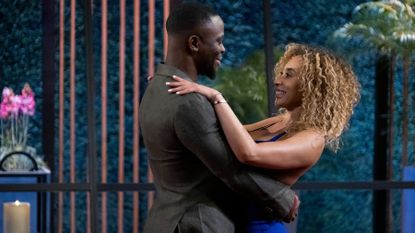 (Image credit: Netflix)
Two of the cast members who got engaged in the third season of Love Is Blind had more of a slow-burn connection. Though she had an early spark with Bartise Bowden, 29-year-old Pilates instructor Raven Ross ultimately fell in love with—and got engaged to—Sikiru "SK" Alagbada, with SK proposing at the end of the second episode. "I really want to thank you for letting me love you the Raven way," SK said, before taking a deep breath and proposing. Raven took a moment to think about it—she paced around the pod and turned to face the wall—before she returned to SK and replied, "Yes, sir! Yes, I will."
"It's more than mind-blowing...Something's coming up," Raven said to the camera thereafter. "Maybe it's love, but it might also be vomit. That's me. But I'm also really happy."
Yet things remained a little awkward between the couple—understandably, given the fact they just met and just got engaged—for the majority of the season's first four episodes. Along with the rest of the engaged cast, the couple traveled to Malibu to spend time together, where Raven said in an on-camera interview that she was struggling to connect the SK she knew in the pods with the SK she knew in person. "I'm definitely struggling with attaching the two," she said, concluding, "Does he still like me like he liked me in the pods?"
There was also the lingering issue of Bartise, whose connection with Raven was a focal point of the first two episodes. Bartise, of course, ultimately "chose" Nancy to propose to, but when he met Raven, he started second-guessing his decision. "Raven's like the typical girl that I would go after in the real world," he told Nancy (!), "She's hot as sh*t...I literally cried because of you and Raven. Nancy and Raven. I was like, F***."
Spoilers for Love Is Blind season 3 ahead. That cliffhanger was promptly solved in the second weekly drop, when Raven shut down Bartise's attempts at flirting and said that she made the right decision with SK. She pointed out that Bartise didn't have as much interest in pod-Raven, and that she wasn't interested in him at all. She was interested in SK, as the couple had gotten closer over the getaway. Once they arrived back in Dallas, they seemed much closer.
Then came the real-world issues surrounding the marriage. While SK's family was welcoming of Raven (including his super-sweet mom), Raven's family wouldn't be able to make it to the wedding. The pair also had very different views on their future living situation; Raven didn't want to change her lifestyle after getting married, which meant no relocating to California with SK for grad school. She also wanted him to contribute to her rent in Dallas while he was a student (which is admittedly a lot to ask because, again, he'll be a student).
Did Raven and SK get married?
Netflix dropped the third batch of episodes on Nov. 2 (8-10), starting off the five wedding ceremonies with Raven and SK's. Ahead of the ceremony, Raven is excited for the big day and appears to be on cloud nine; it's no surprise when she confirms later in the show that she planned to say yes. SK seems more shaken as he and his family prepare for the event, though his mom is very supportive of both him and Raven.
When they make it down the aisle, both Raven and SK say heartfelt vows before the time comes to make their decision. SK goes first, and he says...I don't. "We have a very unique and complex set of circumstances. I feel like today is not the best time for us to do this," he tells Raven, as she begins tearing up and leaves the venue while still keeping a smile on her face.
In his interview afterwards, SK goes into more detail about what kept him from saying yes. He brings up the many "unanswered questions" between the two, and mentions her strong stance on not relocating with him to California, as well as his concern about her family not attending the wedding. In the end, he says, "I think I would rather lose her than be in a marriage with her where I will feel lots of shortcomings every day."
In an interview with People, Raven said that she was "really shocked" by SK's decision.
"I feel like the whole time, I was definitely not portrayed as an emotional person. So it was probably shocking for everyone to see me be such a crybaby," she told the outlet.
"But it was a really emotional day," she continued. "I definitely was unprepared. We had gone through this whole experience. I was definitely on cloud nine after our build-up of having a great relationship, so I was a little shocked."
As for SK, he revealed to the outlet that he had hoped to find a partner who would travel with him, especially since he anticipated that in the future, they "could have a possibility of having to move somewhere else, maybe with kids even."
"For me, it was a big deal because I knew that love should lead everywhere, wherever you're going. I don't think we had enough time to be able to get there," he said. "And also, for her to trust me, right? It's been 10 days since we'd known each other and telling someone that you just met in 10 days to leave their own dreams and come pursue your own dreams, it's got to take a lot of gut to be able to do that. And I just don't think we were there yet."
Are Raven and SK still together?
At the Love Is Blind reunion, Rave and SK revealed that they were still dating, and had made their relationship work long-distance as SK attended grad school. But just days later, in the midst of TikTok allegations that SK had dated other women while also dating Raven, the two revealed via Instagram that they'd broken up.
"We are saddened to announce that we have decided to go our separate ways," read a statement they both posted to their Instagram Stories. "Due to on-going legal proceedings surrounding these allegations, we cannot provide additional details and ask that you please respect our privacy during this hard time. Thank you for following our love story and believing in us. This journey has forever shaped our lives and we are so grateful for everyone who has been a part of it. Your love and support means everything."
What happened on 'After the Altar'?
Netflix released the Love Is Blind reunion special last week, giving us a snapshot at each of the season 3 pairs' lives at the time. Now, After the Altar isn't known for giving the most up-to-date look at the couples. By the time the season 2 special aired, both of the remaining couples (Iyanna and Jarette, and Danielle and Nick) had already split up. Based on some Insta-snooping (including these pics of Bartise and Nancy wearing outfits very similar to what we saw in the show), the Alexa birthday/one-year wedding anniversary party we saw in the special was filmed around August 2022, ahead of season 3's premiere and reunion that October and early November.
Throughout the three episodes, Raven and SK are very much still dating, with SK spending his summer break from school in Dallas. The couple talk throughout the special about how they've spent the past year traveling back and forth visiting each other, with Raven admitting that she's willing to live somewhere other at Dallas. However, their major storyline is SK's plan to re-propose to Raven, and the show follows him as he gets his brother's advice, shops for a ring, and does a dramatic rooftop proposal, to which Raven says yes.
The show then cuts to a disclaimer reading, "A few months later the engagement ended." Raven gets to give her reaction in a seemingly last-minute confessional, where she discusses the end of the relationship through tears.
"Since then, a lot has changed," she says of the time since the proposal. "My world is completely different because SK cheated on me and now our relationship is over."
"I really was so invested in the person that everyone saw and everyone loved," she added. "That's the person I saw and I loved every day too. To see everything that has happened since then is so hard. Because that was not the person that I thought that I was with. I cannot imagine opening up to someone like I opened up to SK."
Celebrity news, beauty, fashion advice, and fascinating features, delivered straight to your inbox!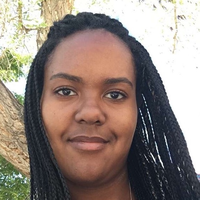 Contributing Culture Editor
Quinci LeGardye is a Contributing Culture Editor who covers TV, movies, Korean entertainment, books, and pop culture. When she isn't writing or checking Twitter, she's probably watching the latest K-drama or giving a concert performance in her car.