Are Xander and Yoly Together After 'The Ultimatum: Queer Love'?
Did the pair find love after joining the show with their original partners?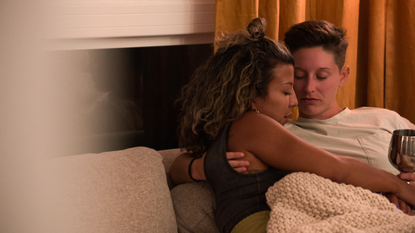 (Image credit: Courtesy of Netflix)
Marie Claire Newsletter
Celebrity news, beauty, fashion advice, and fascinating features, delivered straight to your inbox!
Thank you for signing up to Marie Claire. You will receive a verification email shortly.
There was a problem. Please refresh the page and try again.
One of the most complicated dynamics on season 2 of The Ultimatum: Queer Love is a good old-fashioned love square. Xander Boger and Yoly Rojas both arrived on the Netflix reality hit after hitting rough patches with their long-term partners, and the two ultimatum givers quickly hit it off when they began looking for a trial spouse among the cast. They fell deeply in love during their three-week trial marriage, and even when Yoly went back to her initial partner Mal Wright and Xander to Vanessa Papa, Xander and Yoly were still head over heels for each other. Every viewer's question heading into the June 6 finale was whether Xander and Yoly would leave together or remain loyal to Mal and Vanessa.
Now that the finale and reunion are streaming on Netflix, read on for what we know about where Yoly and Xander stand today.
What happened during the finale?
Yoly and Mal went first on the finale's decision day, after they spent three weeks living together following their separate trial marriages. While Yoly admitted up front that she had fallen in love with Xander and was grieving the end of that relationship, Mal wanted to stay together and work it out. When they meet on the big day, Mal proposes to Yoly, and Yoly says yes (albeit in a roundabout way). Yoly later explains that she needs to see things through with Mal, even though she says, "I'm not in love with Mal the same way I'm in love with Xander."
When it's Xander and Vanessa's turn, the girlfriends of four years have a very polite, teary breakup. While Vanessa wants to commit to Xander after experiencing how it felt to lose her, Xander acknowledges that the two are not on the same page and says that she needs time to work on herself.
Later on, Xander and Yoly have their moment together. After Xander shares that she broke up with Vanessa and would like to give a relationship with Yoly a shot, Yoly admits that she said yes to Mal's proposal. They both leave the conversation obviously heartbroken.
What happened during the reunion?
Many months after the season was filmed in the summer of 2021, the entire cast and host JoAnna Garcia Swisher (who, TBH, was a breath of fresh air this season), tapped the reunion last January. Many things happened in the interim, but most importantly for the season's love square: Yoly and Mal broke up, and Xander and Vanessa had not gotten back together (phew). Yoly and Mal explained that they ended up splitting within two weeks of being engaged, with Mal calling them "happily broken up" and opening up about how betrayed they felt after watching the season and seeing the full truth of how Xander and Yoly's trial marriage went. (They also made a comment about how the show displays that Yoly doesn't have a history of being honest, which, ouch.)
As for Xander and Yoly, they confirmed that they were both still single at the time of the reunion, with Xander especially spending the time making progress in therapy. They did admit that they met up when they both attended Coachella, and at some point there was discussion of Yoly visiting Xander in Hawaii, but that trip apparently didn't happen.
Are Yoly and Xander together now?
Yoly and Xander have not gotten together in the months between the reunion's taping and its airing. The pair recently told Today that it doesn't seem likely that they would get together, with Yoly saying she's "unsure," and Xander indicating that she wants to leave her relationships with both Yoly and Vanessa in the past.
"I'm there for [Vanessa], same with Yoly," Xander said. "They both have very special places in my heart. They helped me learn and grow in a lot of ways, which I'm very appreciative for." However, that chapter of Xander's life is over, with her adding, "I don't think that they're two people that I would hang out with necessarily."
Yoly also pointed out that their geographical distance—Xander still lives in Hawaii while Yoly's based in Chicago—plays a role, saying the situation might be "different" if Xander lived closer.
The pair opened up about their Coachella interaction, confirming that nothing happened between them at the time.
"It was almost like the ship had kind of sailed," Xander told the outlet, pointing out that they were both just out of their long-term relationships. "We're both also (in) very different periods of our life at that time... So I think the whole combination of things … the timeline wasn't matching."
While Xander's still single and thriving, it appears that Yoly may be in the middle of a new romance. Per Cosmopolitan UK, the stylist posted a since-deleted TikTok with a mystery person, featuring the caption, "When bae didn't buy your coffee this morning." As of today, Yoly hasn't confirmed or denied whether she's with someone new.
Celebrity news, beauty, fashion advice, and fascinating features, delivered straight to your inbox!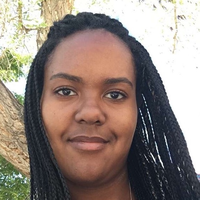 Contributing Culture Editor
Quinci LeGardye is a Contributing Culture Editor who covers TV, movies, Korean entertainment, books, and pop culture. When she isn't writing or checking Twitter, she's probably watching the latest K-drama or giving a concert performance in her car.