'The Ultimatum: Queer Love' Cast: Your Guide
Get to know the new couples issuing—and receiving—ultimatums.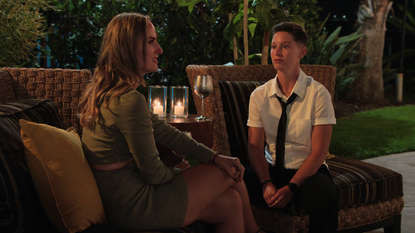 (Image credit: Courtesy of Netflix)
Marie Claire Newsletter
Celebrity news, beauty, fashion advice, and fascinating features, delivered straight to your inbox!
Thank you for signing up to Marie Claire. You will receive a verification email shortly.
There was a problem. Please refresh the page and try again.
Netflix's reality series The Ultimatum is back for another season, this time bringing same-sex couples into the show's dramatic concept. Subtitled Queer Love, this season has an all-LGBTQ+ cast, following five relationships on the brink where one person is ready for marriage and the other has doubts. For anyone who missed the intense first installment of The Ultimatum: Each participant temporarily breaks up with their significant other and chooses a new partner from among the cast to have a three-week trial marriage. After living with a new person and getting a new perspective on what they want out of life and marriage, they all go back to their original partners and live together for another three-week period with the new knowledge. At the end, they all decide whether to leave engaged to their original partner; single; or maybe dating a new person.
So far The Ultimatum: Queer Love has been noticeably more mature and less innately chaotic as its predecessor, but it's still full of drama and complicated relationship dynamics. It was filmed in San Diego, CA, all the way back between September and November 2021, with the cast reuniting for film the reunion special more than a year later in January 2023. Ahead of the finale and reunion airing this Thursday, read on to learn more about the cast and their journeys on the show so far.
Raelyn and Lexi
Ultimatum Giver: Lexi (she/her), 25, Capricorn
Instagram: @lexicgoldberg; TikTok: @lexicgoldberg
Ultimatum Receiver: Rae's (she/her), 27, Cancer
Instagram: @raelyn_cs; TikTok: @raelyn_cs
Lexi Goldberg and Rae Cheung-Sutton have been dating for over three years, after connecting on Bumble and meeting in person during a night out in West Hollywood. While consultant Lexi is "ready 130%" to spend the rest of her life with Rae, the software engineer isn't sure about marriage, as she's still in the soul-searching stage of her life and tends to overanalyze things. The Ultimatum experience becomes tricky for the couple when they both become interested in Vanessa, going on several dates with her at the beginning of the show.
However, during one date, Lexi takes an instant dislike to Vanessa after hearing more about her mindset during the process. Lexi immediately writes Vanessa off, but she becomes worried that Vanessa and Rae are still on good terms. Though Lexi shares her concerns, Rae and Vanessa end up pairing up for their trial marriage, while Lexi pairs with Mal. Even though they're apart, Lexi and Rae are tested during the trial marriage period when Rae has sex with Vanessa; the morning after, Rae immediately tells Lexi, and both of them are obviously troubled with what it means for their future together. After this, both Lexi and Rae go through the rest of their trial marriages, with Mal becoming emotional support for Lexi.
Once they're back together, both Lexi and Rae share their reservations about their relationship. At one point, Lexi admits that she doesn't feel as if Rae prioritizes her, and Lexi's parents share that they had similar concerns. On the final night before the finale, Rae tells Lexi that they're in a weird situation. "I feel back-against-the-wall and it's either making a decision or losing you. But there's like so many factors that kind of get in the way or, like, block me or make me second-guess things," she says.
Yoly and Mal
Ultimatum Giver: Yoly (she/her), 34, Leo (Gemini moon, Aries rising)
Instagram: @yolyredrum; TikTok: @yolyredrum
Ultimatum Receiver: Mal (she/her/they), 36, Virgo (Capricorn moon, Scorpio rising)
Instagram: @igobymal; TikTok: @igobymal_
Yoly Rojas and Mal Wright first met at Chicago Pride several years ago, and their friendship grew into a relationship that's outlasted a move to Seattle, a breakup, and a reconciliation. Now three years into their romance, fashion stylist Yoly is ready for Mal to "choose [her]" for a lifetime commitment. However, Mal wants to wait and build a stronger foundation when it comes to their finances before they decide to get married and start planning for children. Mal is also curious about why Yoly wants to commit to her specifically, since Yoly tends fall deep in love and go all-in with all of her relationships.
During the initial dating period, Mal hits it off with Lexi, while Yoly finds a quick spark with Xander. Both of the couples match up for their trial marriages, and they both build deep connections with their temporary partners. During the trial marriage, Mal learns more about what she wants from a relationship, and by the end she seems ready to marry Yoly. However, Yoly and Xander build an especially close bond, which goes on to surprise both Mal and Xander's initial partner Vanessa. Once they reconnect after three weeks apart, Mal expresses her concern that Yoly is mourning the end of her time with Xander, and the original couple's status is still in question heading into the finale.
Xander and Vanessa
Ultimatum Giver: Xander (she/her/they), 30, Gemini
Instagram: @xander.ology; TikTok: @xander.ology
Ultimatum Receiver: Vanessa (she/her), 30, Virgo
Instagram: @itsvanessapapa; TikTok: @itsvanessapapa
Vanessa Papa and Xander Boger first met in high school, when their teenage boyfriends were best friends. Since coming out and reconnecting years later, the Hawaii residents have been dating for four years and have never spent more than three days apart. Though physical therapist Xander is ready to start the next chapter of their lives together, and dreams of having a family, social media influencer Vanessa is worried about losing her freedom should they make a lifelong commitment. Vanessa's free-wheeling spirit comes out in full force during the dating period, where it becomes clear that she is more interested in sexual experiences than connecting with someone emotionally. Vanessa also says that she doesn't believe that Xander would ever love someone besides her, and her attitude gives Lexi pause and makes her wonder whether Vanessa is on the show for the right reasons.
Xander and Vanessa have very different experiences in their trial marriages. Xander builds very deep and real feelings for Yoly, with the pair having both physical and emotional intimacy and even saying "I love you" to one another. Even Xander's best friend notes that they seem very happy with Yoly. Meanwhile, Vanessa pushes for a physical relationship with Rae very quickly, and she has a very indifferent response to Rae when she feels bad about them hooking up. Also, during a night out with a group of contestants (including Lexi), Vanessa admits that she isn't interested in Rae beyond friendship.
By the time they reunite, Vanessa is enthusiastic about marrying Xander, and shares that she feels betrayed when she thinks about Xander's connection with Yoly. She even snoops on Xander's phone and confronts them when she sees that Xander has been messaging Yoly on Instagram. Meanwhile, Xander is mourning the end of her time with Yoly, and seems torn about who to choose heading into the finale.
Tiff and Mildred
Ultimatum Giver: Mildred (she/her), 33, Virgo
Instagram: @mildredbustillo; TikTok: @iammildredbustillo
Ultimatum Receiver: Tiff (they/them), 32, Aquarius (Pisces moon, Virgo rising)
Instagram: @tiff.der; TikTok: @tiff.der
Mildred Bustillo and Tiff Der met when Tiff slid into her DMs, around the time that Mildred was looking for her next relationship after a painful divorce. Since then, the couple of two years has built a home together that includes Mildred's teenage son, and Mildred's ready to enter the next stage of their relationship. However, Tiff has major reservations about the two of them getting married, given their constant fighting and ongoing communication issues.
Communication styles become a central part of both of the pair's trial marriages, when Mildred pairs with Aussie and Tiff pairs with Sam. Tiff and Sam have difficulty at first due to their different lifestyles, but they learn how to compromise and eventually get into a sweet friendship. Meanwhile, Mildred and Aussie end up having frequent arguments, in which Mildred embraces the confrontation and wants to talk (or yell) it out immediately while Aussie is more avoidant. After Aussie straight up leaves their apartment in the middle of one fight, Aussie leaves the trial marriage early, leaving Mildred feeling reminded of instances of abandonment throughout her life.
Once they reunite with Mildred, Tiff is more open to the idea of marriage, but they still have reservations as the couple has only had a short time to work through their issues. However, Mildred is still sure about wanting marriage; she tells Tiff during their last night before the final choice, "If that's something that is not enough for you, then maybe that means you're not the person I need to marry."
Sam and Aussie
Ultimatum Giver: Sam (she/her), 31, Aquarius (Aries moon, Sagittarius rising)
Instagram: @conscious.altruism
Ultimatum Receiver: Aussie (pronoun: Aussie), 42, Gemini (Scorpio moon, Cancer rising)
Instagram: @aussie_has_fomo
Sam Mark and Aussie Chau first met in an online social group for LGBTQ+ people during the pandemic, and they describe their immediate connection as like "something that you see in the movies." They've been together for the past year and a half, and Sam is ready to move to the next step with Aussie. However, the admittedly anxiety-prone, Australia-born Aussie would like to would rather live together for a longer amount of time (Aussie gives the example of "five years" on the show) before committing to marriage. While the couple's primary issue is communication, Sam tends to prioritize her partner's needs over her own, while Aussie is still processing some childhood trauma, and hadn't introduced Sam to Aussie's "pretty close-minded" family yet at the time of the ultimatum.
During the trial marriages, Sam learns a lot about her needs in a long-term partnership, while Aussie has a difficult time with Mildred (see above) and leaves the three-week trial early. Once the two are back together, Sam tells Aussie that she could not be married to Aussie and go through situations similar to when Aussie walked out on Mildred. In a preview clip for the finale, Sam says, "I don't know if Aussie is ready to be what I need for me."
Celebrity news, beauty, fashion advice, and fascinating features, delivered straight to your inbox!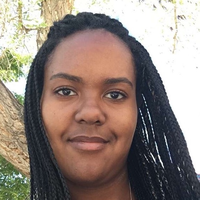 Contributing Culture Editor
Quinci LeGardye is a Contributing Culture Editor who covers TV, movies, Korean entertainment, books, and pop culture. When she isn't writing or checking Twitter, she's probably watching the latest K-drama or giving a concert performance in her car.