'Love Is Blind' Is Being Accused of Mistreatment By Past Contestants
Several contestants have spoken out about filming conditions, claiming that they were put through "emotional warfare."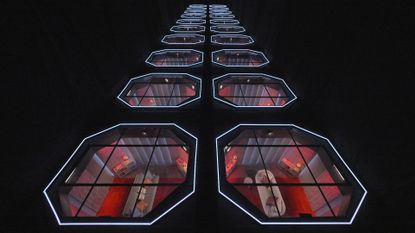 (Image credit: Netflix)
The production company behind Love Is Blind has been accused of gross mistreatment during production. In a new report from Business Insider, several former cast members, including former season 2 couple Danielle Ruhl and Nick Thompson, speak out about their experiences while appearing on the hit Netflix unscripted dating series, alleging that they were left physically and emotionally exhausted after grueling filming days, and were not provided adequate mental health support during or after filming.
In the Insider report, which was published on April 18, several contestants provided behind-the-scenes details of the initial phase of the series, in which cast members go through 10 days of blind dating within the show's infamous pods. Former cast members told the outlet that they endured up to 20-hour filming days on the windowless set, claiming that the production company, Kinetic Connect, "dictated when they could sleep and where and when they ate." Alcohol allegedly flowed freely during filming, with an anonymous production assistant on seasons two and three telling the outlet that producers frequently instructed PAs to top off cast members' alcoholic beverages. The productions assistant also claimed that PAs were not allowed to speak to contestants while escorting them around set or to the bathroom, saying of the tactic: "It's all about the isolation."
One cast member described the mental demands of filming as "emotional warfare," with the report stating that several sources said that, "during one-on-one interviews, producers preyed on contestants' anxieties, pushing them to divulge their deepest insecurities and traumas." Ruhl, who got engaged to and later married Thompson, told the outlet that she was dismayed when her insecurities with her weight and body image became a central storyline. The report also claims that three cast members who spoke with Insider recalled having panic attacks during filming.
Ruhl and Thompson both spoke with Insider about the mental struggles they faced as two of the installment's leads. Though Kinetic Connect has said that the series' casting process includes background checks and psychological evaluations, Ruhl told Insider that she believes in hindsight that she should not have been cleared to participate on the show, as she had disclosed her history of mental illness and that she had attempted suicide.
She also opened up about an emotional breakdown she had during her season's post-engagement trip to Mexico, recalling that she had a panic attack, hiding in the closet to ensure it wouldn't be filmed because she believed there were hidden cameras in the room. Per Insider, she recalled thinking at the time, "I cannot do this. I cannot mentally be on a TV show." Later that evening, she recalled telling producers that she didn't feel mentally stable enough to continue filming, revealing that she was having suicidal thoughts at the time, but she alleges that producers persuaded them to stay, assuring them they would be portrayed sympathetically in the season's storyline. The show "ultimately aired a scene suggesting Ruhl had a panic attack because she was upset about Thompson speaking to another woman at the cast party," per the outlet.
Multiple former contestants told Insider that they believed a therapist should've been available on the set, a practice that has been utilized by other unscripted shows. Some also told Insider that they reached out to production after having difficulties adjusting back to real life after filming, and claim that they did not receive sufficient help. Thompson says that when he and Ruhl started having marital problems, he asked a few people at the production company for help finding a couples therapist. "I literally begged for help, and I didn't get it," he told the outlet. "Like, I want to fix my marriage that you've thrust us into for profit. And it was nothing."
The report also reveals alleged details of the series' contract for cast members, which reportedly includes penalties for leaving the show early. "Contracts stipulate that cast members must pay $50,000 in damages to Kinetic Content if they leave the show early without producer approval, and that engaged couples are obligated to show up to their wedding even if they don't want to marry their partner," the article reads. The contract also allegedly includes a clause stating that married couples cannot get divorced until after their final episode airs. Per Thompson, when Ruhl filed for divorce a few weeks before season 2's 'After the Altar' special was scheduled to air, the only communication he got from Kinetic Connect was a phone call assuring him he wouldn't be sued for breach of contract.
Netflix did not respond to Insider's requests for comment at the time of writing. Kinetic Content provided a statement to the publication, which it also sent to Variety, Entertainment Weekly, and Rolling Stone, upon requests for comment. It reads: "The wellbeing of our participants is of paramount importance to Kinetic. We have rigorous protocols in place to care for each person before, during, and after filming."
Celebrity news, beauty, fashion advice, and fascinating features, delivered straight to your inbox!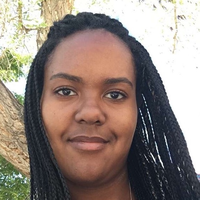 Contributing Culture Editor
Quinci LeGardye is a Contributing Culture Editor who covers TV, movies, Korean entertainment, books, and pop culture. When she isn't writing or checking Twitter, she's probably watching the latest K-drama or giving a concert performance in her car.