Are Nick and Danielle Still Together After 'Love Is Blind'?
Good news, incoming.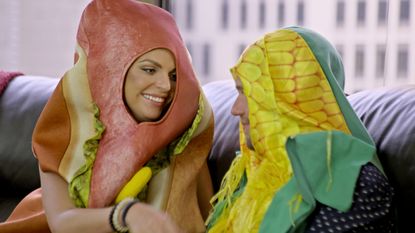 (Image credit: Netflix)
Amid the drama of the first episodes of season 2 of Love Is Blind—the love triangle that was Shaina, Shayne, and Natalie; the other love triangle of Jarrette, Mallory, and Iyanna—contestants Nick Thompson and Danielle Ruhl stood out for their low-key relationship and sweet connection. The two quickly bonded over similar childhoods and shared insecurities and got engaged at the end of the first episode, becoming the first couple to see each other in real life. "I'm ready to be married to him tomorrow," Danielle said in a confessional. "I am not going to let anything get in the way of this."
Still, Danielle and Nick had to navigate some tricky relationship territory in the weeks between the pods and their wedding day. Days after their engagement, during their trip to Mexico, Nick returned from a couples' mixer to find Danielle upset; she explained she'd felt triggered by the situation. When Nick asked if she trusted him, Danielle replied, "I don't trust anything right now."
The final episode—where we find out who says "yes" at the altar, and who doesn't—came out on February 25, 2022. Spoilers ahead.
So, did Danielle and Nick get married?
Yes, they did! The finale opens with a visibly nervous Nick and Danielle standing at the altar after Danielle said "I do" at the end of the ninth episode. Nick tells her—and everybody else—"I do. I have no question whatsoever that you are the person I'm supposed to be with. I'm glad that I found you, and I can't wait to spend the rest of my life being better together."
"Thank you," says an ecstatic Danielle, and the two are declared husband and wife and walk off unto the sunset (well, some very lovely fields).
"I'm a married man!" Nick says in a post-wedding confessional. "Very happy. Very excited. It was a game-time decision because I wasn't 100 percent sure that she was 100 percent sure—but it all worked out the way it's supposed to...We have a whole life of 50-something odd years together, and I can't wait."
Meanwhile, Danielle says in her own post-wedding confessional: "We care more about each other than we could ever express to anyone...I'm just so glad we came to the same conclusion." She adds: "I'm a wife. I have a husband...So love is blind, obviously!"
Are they still together now?
Yes! At the Love Is Blind reunion show, Danielle and Nick confirmed that they're still together and remain happily married. Danielle moved into Nick's home, and they gushed about their "blissful" relationship now—one they're actively seeking to protect with regular couples' therapy. In an interview with Us Weekly, Danielle said: "Him and I fell in love so quickly and because we both knew at the end of the day we wanted to stay together, we did feel so pressured to figure out what was the best route for us to take...That created this, like, pressure cooker environment that we felt like, 'Oh, my God, like what do we do?' And we both came to the conclusion, like, 'It's us, like, we're spending the rest of our lives together.' I just can't wait for people to see the relationship that we have now."
She also joked: "The Rock Band set's here, the costumes are here. He wears the costumes more than I do. We figured it all out. Compromise, compromise."