We Found The Best Summer Dresses You'll Practically Live In
Florals and pastels galore.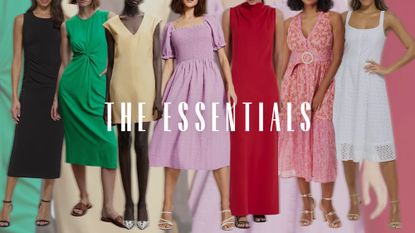 (Image credit: Future)
Welcome to The Essentials, our weekly series highlighting a must-have classic, key to building a timeless, pulled-together closet.
I'm dreaming of the day I can stow away my light layers—I love my trench, but I'm craving the carefree dressing of summer. Recently, I've been on the hunt for the best dresses out there. I want it all: floral, short, long, flowy, not so flowy—the list goes on. So naturally, my first step was to scour the internet. I found everything I want all in one place (if you can believe it), and that place is Macy's.
The multi-brand retailer is a fashion-person go-to for key wardrobe-building pieces, and this summer is no exception. I spotted a slew of dress styles from the cotton poplin dress I'm almost 100% sure will be on a weekly rotation in my wardrobe to floral pieces that make a statement. I sifted through to find the best (and affordable!) options out there that I think you would love, too.
When in doubt, opt for a cotton poplin. It will always look expensive no matter what price you paid and will stand the test of time.
Puff-Sleeve Cutout Midi Dress
If your wardrobe doesn't have this shade of mint yet, this is a great place to start.
Have this on hand for an impromptu garden party that may pop up on your summer agenda.
Lace Sleeveless Fit & Flare Dress
This eyelet option is a classic and will pair perfectly with this season's biggest trend: ballet flats.
The silhouette of this dress is classic, but what makes it interesting is the Kelly green.
Sleeveless Ruched-Side Midi Dress
I promise you'll never regret having multiple LBD's in your wardrobe come summer.
Ayla Sleeveless Midi Slip Dress
With a pair of strappy sandals, consider your outfit done for that summer wedding you're attending.
Celebrity news, beauty, fashion advice, and fascinating features, delivered straight to your inbox!