Why I'm Rejecting #Normcore
What happened to actually wanting to look good?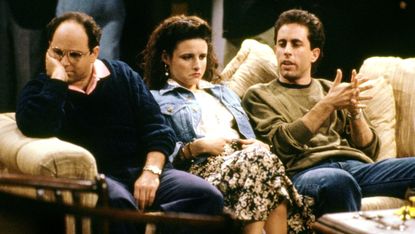 (Image credit: Getty Images)
When I was 15 I read a quote in a book about an Australian woman living in Paris. She said that in Paree (which to me at the time was the pinnacle of glamour, romance, and all the good things in life), a woman would never wear sweatpants out of the house, not even to buy bread, because it would be offensive to the baker. It must have stuck with me, because not one day goes by that I don't make an effort to be presentable when I leave my apartment. So with that, I'm not sad to say that I won't be joining the #normcore trend anytime soon.
Normcore is a way of dressing that, say, your next door neighbor's Dad or Jerry Seinfeld would, and was officially coined by the New York Times in February. It typically involves a pair of khaki pants, a plain T-shirt, and sneakers—but not fashion-y sneakers like Nike or Adidas Stan Smiths— just plain old sneakers that you've probably had kicking around for a while, and can also involve old sports slogan T-shirts. Since its emergence earlier in the year it has continued to dominate as a trend, appearing as stained sweat pants and old T-shirts in airport terminals, in lines at Starbucks, and on summer Fridays in offices. The essential fact is, as Elle.com also reported, it's not a new trend, nor is it really a trend at all. It's simply a way of dressing in your most comfortable 'house' clothes, and has been around for well, ever. It's only now after enough luxe sweat pants and couture sneakers have appeared on catwalks and street style stars during fashion weeks around the globe, that it seems acceptable to give up on dressing up. In its most base form, it's a way of saying, "I don't care what I'm wearing and clothes don't define me," and thus, here are some reasons I won't be adopting the trend:
1. No matter how much we may try and forget it, clothes do (even if they shouldn't), influence how people react to us, think of us, and form first opinions.
2. I really, really, really like clothes, and wearing lots of different ones.
3. The way you dress tells people, 'I care about myself!
4. I also love shoes … and bags … and jewelry!
5. What happened to good old dressing up?
All in all, while I don't expect everyone to act as if each day is a new opportunity to stage a fashion shoot, I'll certainly continue to treat my wardrobe—and fashion—as a way to express my personality. And, it's also really nice to hear 'I love your shoes!' from a stranger on the subway.
Related Links:

Mockingjay Trailer: You Know Things Are Bad When Effie Trinket Goes Normcore


7 Fashion Hacks from Tibi Founder Amy Smilovic


Wardrobe Essentials for any Budget

Image courtesy of Castle Rock Entertainment/Everett Collection
Celebrity news, beauty, fashion advice, and fascinating features, delivered straight to your inbox!