For Those Who Wear Only Black
Catherine Hageman loves her LBD as much as the next girl, but believes it's high time to add some patterns and color to your wardrobe.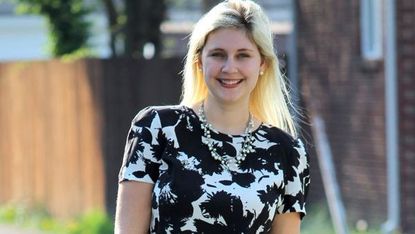 (Image credit: Archives)
Ever since Coco Chanel put the LBD on the map, black has been the ultimate everyday color. It is the clothing equivalent of chicken noodle soup — the fashion world's comfort food. It's hard to get black wrong, except by repeating it over and over again, something I see all too much in the corporate world. Black clothing becomes the fallback option.
Ladies, I get it. Black is a great color. It's easy. It's chic. It's flattering. It's professional. Don't get me wrong — I love knowing that when my entire closet fails me, my beloved LBD is just a hanger away. But, like chocolate chip cookie dough and neon, sometimes you can have too much of a good thing. There are many more colors in the rainbow, and they too deserve a beloved place in your wardrobe.
If you're one of those people who finds comfort in black, but you're ready to spruce things up a bit, I have two tips.
1. Look for patterns. (Black ones are okay!)

2. Focus on a pop of color.
Black and white is one of the most available color patterns, from stripes, to polka dots, to floral. Bonus: Prints look great under blazers.
Once you have a cute, patterned top, experiment with a pop of color. I love yellow or red with black — it's the exclamation point on an outfit. Red shoes can be worn with several different looks; they're a surprisingly great neutral.
Your black clothes will always be there, and they'll be better than ever when you add some patterns and color to them!
Catherine Hageman dispatches fashionista tendencies fit for a corporate career on Small Town, Big Wardrobe.
Celebrity news, beauty, fashion advice, and fascinating features, delivered straight to your inbox!