Mad for Mad Men Style
Like the rest of us, The Ray and the Ro are obsessed with Mad Men style. They show off their favorite ways to recreate the show's fashions with a modern twist.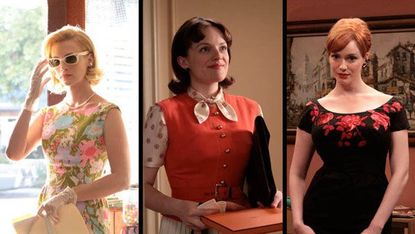 (Image credit: Archives)
Marie Claire Newsletter
Celebrity news, beauty, fashion advice, and fascinating features, delivered straight to your inbox!
Thank you for signing up to Marie Claire. You will receive a verification email shortly.
There was a problem. Please refresh the page and try again.
AMC's Mad Men hasn't just taken the TV industry by storm. It's also made a distinct mark on the fashion world. There is no hiding that Janie Bryant's brilliant '50s and '60s-inspired costumes for the show have influenced our favorite designers, and stores from New York to Paris. Of course, we've completely jumped on the Mad Men bandwagon, obsessing over everything from Joan Harris' updos to Betty Draper's stunning gowns. Here are our favorite Mad Men-inspired pieces!
Ray's Mad Men Picks: This season's costumes are edging slowly towards the doors of Studio 54. I simply loved the trapeze dress Megan Draper wore as she sang a memorable rendition of "Zou Bisou Bisou" — it was a sexy change from the more traditional looks often seen on the series. Proenza Schouler's geometric shapes are a fun spin on '60s-style attire, and would look great with a chunky, vintage Chanel necklace for round of Old-Fashioneds with the ladies.
1. Proenza Schouler Geometric Printed Sweater, $1029 2. Chanel Vintage Pendant Necklace, $2,280 3. Notte by Marchesa Bateau Neck Chiffon Dress, $467
Ro's Mad Men Picks: I want to steer away from full-skirted dresses, and focus on one of my favorite looks from the show, which is '50s menswear-inspired. I loved when the women began wearing narrow pants for an added a masculine touch, and these A.L.C Cropped Skinny Pants are my top choice for the ultimate Mad Men-driven look. In an intoxicating sea foam green, they embody the decade's fondness for bright colors.
1. ALDO Journot Lady Bag, $72 2. Marc by Marc Jacobs Hot Dot Silk Blouse, $230 3. A.L.C Jaspar Cropped Skinny Pants, $425
Best friends and blogging partners Roberta Oglakchya and Rachel Hurn-Maloney founded The Ray and the Ro to show off stylish looks, share their wishlists, and break down runway fashion.
Celebrity news, beauty, fashion advice, and fascinating features, delivered straight to your inbox!