11 Amazing Facts About the 'Cinderella' Dress
Lily ate lots of soup in that gown.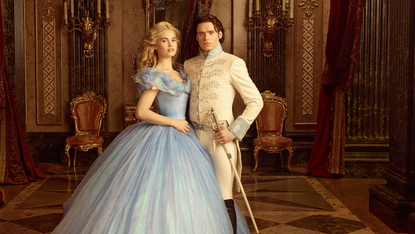 (Image credit: Disney)
In an interview with the Daily Mail (opens in new tab), Cinderella costume designer Sandy Powell revealed some fascinating secrets about that epic gown. Like...
There are eight versions of the dress, and they're all different. "One was 2 inches shorter and a couple were 4 inches for the times when Lily had to run; another had holes cut in the sides of the skirt for harness work." It took 4,000 hours to make all eight versions.
Director Kenneth Branagh said that Lily ate soup in the dress so she didn't go daft. We believe that's English for "going slightly insane from lack of food"?
Lily James said she wasn't photoshopped and that she was squeezed in within an inch of her life. She added that the bigness of the skirt made her waist appear smaller.
Helena Bonham-Carter, who played Cinderella's fairy godmother, gave Lily advice on getting into the dress; telling her to breathe out when she's putting it on so her waist would be as tiny as possible.
The top layer of the gown is silk crepeline, a very lightweight, fine silk. The layers underneath are made up of a synthetic called yumissima, an incredibly light (and very expensive!) material which floats when thrown in the air.
If Lily had to go to the bathroom with the dress on, they gave her a mini camping portable potty to slip under her dress.
The designers aren't allowed to say how much it cost to make the dresses but estimates put it at about $12,000 each.
The corset and the crinoline (skirt cage) are made out of steel.
The trickiest thing Lily had to do in the dress was dance with the prince; he kept tripping on it. (Which, duh.)
There is three miles of thread in the hems and 250 meters of fabric in each dress.
It took Lily 20 minutes to get the dress on. Which is surprisingly less time than we would've imagined considering everything involved...
You should also check out:
14 Times Lily James Was Cinderella in Real Life (opens in new tab)
Lily James Responds to Those Waist-Shrinking Rumors from 'Cinderella' (opens in new tab)
10 Times Celebrities Channeled Disney Princesses on the Red Carpet (opens in new tab)
I write on Fox's THE GREAT NORTH. Before that, I wrote and edited for Cosmopolitan (opens in new tab) magazine and the Jezebel (opens in new tab) blog. My writing has also appeared in the New York Times, The New Yorker, Esquire, VICE, Marie Claire, McSweeney's, California Sunday, BUST, Elle, Village Voice, Harper's Bazaar, LA Weekly, Eater, Fast Company, Mic, Atlas Obscura, and more. I co-host/co-produce a comedy/storytelling (opens in new tab) show on the first Friday of every month at Stories in LA. I have a degree in Film and TV from NYU's Tisch School of the Arts.