50 Times Celebrities Channeled Disney Princesses on the Red Carpet
The only thing that's missing is a tribe of singing woodland creatures.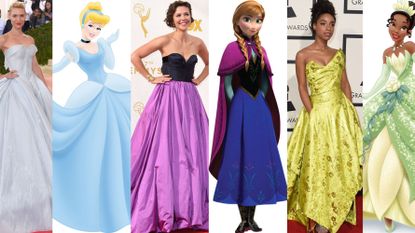 (Image credit: Getty Images)
From Belle's bright yellow tufted number to Tiana's green layered look, Disney princesses—and the dresses they wore—are inescapably iconic. Ahead, 50 times your favorite stars paid homage (intentionally or not) to their silver-screen cartoon counterparts.
1/50
Dakota Fanning
From the puffy sleeves and braided empire waist to the tulle skirt and lilac hue, Dakota Fanning expertly channeled Rapunzel at the 2020 Golden Globes. The actress' ball gown was by Dior Haute Couture and made by Maria Grazia Chiuri.
2/50
Gina Rodriguez
Thanks to its flowing silhouette and pleated skirt, the ice blue Reem Acra gown Gina Rodriguez wore to the Golden Globes in 2019 gave us serious Frozen vibes. The dress had a crystal-embellished décolletage that Princess Elsa would approve of.

3/50
Lea Michele
The strapless neckline? The sheer midriff panel? We could easily see Aladdin's Princess Jasmine donning the floor-length Alex Perry gown Lea Michele rocked on the red carpet in 2019.
4/50
Catherine Zeta-Jones
It looks like Catherine Zeta-Jones drew inspiration from under the sea for her 2019 Golden Globes dress. The actress arrived in a satin emerald Elie Saab gown with a thigh-high slit and cascading train.
5/50
Emmy Rossum
Emmy Rossum's Monique Lhuillier tulle ball gown, which she wore to the 2019 Golden Globes, was in the perfect shade of Aurora pink. From the full skirt to the sweetheart neckline, it's hard not to draw comparisons to Sleeping Beauty.
6/50
Claire Danes
Claire Danes's figure-hugging Valentino sheath dress resembled the Roman design that Hercules' Meg rocked.
7/50
Michelle Yeoh
The two-tone Shiatzy Chen gown Michelle Yeoh wore to the Golden Globes in 2019 resembled Ariel's floor-length gown from The Little Mermaid. The Crazy Rich Asians star topped it with some princess-worthy sparklers.
8/50
Blake Lively
Blake Lively stunned in a blue sequin gown by Atelier Versace. From the embellishments and hue to the chiffon fabric and delicate train, it's clear the A-list actress stole some style cues from Frozen's Princess Elsa.
9/50
Kirsten Dunst
Kirsten Dunst could certainly be a guest in Beauty and the Beast in her Maison Margiela Couture gown. From the cold shoulder ruffled sleeves to the elegant yellow hue, Dunst's dress is a dead ringer for Belle's.
10/50
Petra NěmcováPetra Němcová didn't wear this stunning Vice Domini gown on her wedding day like Cinderella did, but the gown was strikingly resemblant of the princess' bridal look.
Petra Němcová didn't wear this stunning Vice Domini gown on her wedding day like Cinderella did, but the gown was strikingly resemblant of the princess' bridal look.
11/50
Blake Lively
It's possible that Blake Lively wants to be a Disney princess. The actress channeled another one of the famous heroines in 2016. This time, it was in a Cinderella-inspired Vivienne Westwood Couture gown.
12/50
13/50
Miranda Kerr
Miranda Kerr's Louis Vuitton two-piece ensemble, which she wrote to the Met Gala, resembled the colorblocked design and structured bodice of Mulan's traditional hanfu. The model even replicated her dark plum lip color.
14/50
Alessandra Ambrosio
The Zuhair Murad ball gown Alessandra Ambrosio wore to the Cannes Film Festival is what we'd imagine Princess Elsa would wear to the Oscars. The intricately embellished tulle skirt is strikingly similar to the ice-made design Elsa wears.
15/50
Nina Dobreva
Nina Dobrev channeled Belle from Beauty and the Beast in a gold embroidered Marchesa ball gown. The actress' tulle skirt even swayed like Princess Belle's did.
16/50
Allison Williams
There's no denying that Allison Williams in Peter Pilotto is eerily similar to Aurora's gown in Sleeping Beauty. While Aurora is known for her pink dress, she wears this sparkly blue number later in the film.
17/50
Anna Kendrick
Anna Kendrick looked like a princess in this Belle-yellow Stella McCartney gown. The actress even wore her brunette hair in soft curls, just like the Disney princess.
18/50
FKA Twigs
At the Met Gala, FKA Twigs's Atelier Versace gown resembled Pocahontas's outfit.
19/50
Claire Danes
Is there any doubt that Claire Danes was inspired by Cinderella at the Met Gala? The actress wore a strapless corseted Zac Posen ball gown in Cinderella blue. It glowed in the dark, so the actress could party long past midnight.
20/50
Kendall Jenner
Between the midriff cutout and the light blue beading, it's safe to say that Kendall Jenner was channeling Princess Jasmine from Aladdin in her Atelier Versace gown she wore to the Met Gala.
21/50
Blake Lively
Blake Lively once again looked like a Disney princess on the red carpet in her pink Burberry column gown that had a strong resemblance to Aurora's dress from Sleeping Beauty.
22/50
Lorde
Lorde's Met Gala gown resembled Princess Tiana's from The Princess and the Frog. The Valentino dress was fitted with a blush, green, and yellow ruffled tulle skirt.
23/50
Hailee Steinfeld
Hailee Steinfeld's H&M gown looked like it was lifted directly from Disney's Brave. The rich forest green silk paired with gold accents was strikingly similar to Princess Merida's iconic look.
24/50
Emma Roberts
Between the geometric pattern and purple coloring on Emma Roberts's Tory Burch gown, she looked like a real-life Meg from Hercules.
25/50
Naomi Watts
Naomi Watts glistened on the Academy Awards red carpet. The actress' beaded and sequin Armani Privé column gown resembled the princess' under-the-sea ensemble.
26/50
Heidi Klum
The purple hue on Heidi Klum's tulle gown is almost identical to Rapunzel's from Tangled. We're certain the model was inspired by the Disney princess with this look.
27/50
Cate Blanchett
Thanks to the green color and floral appliqué, Cate Blanchett's Armani Privé gown looks similar to Tiana's ball gown in The Princess and the Frog. The actress wore the stunning design to the Academy Awards in 2016.
28/50
Alicia Vikander
Alicia Vikander's ballon skirt ball gown at the 2016 Academy Awards was impossible not to compare to Belle's. The Louis Vuitton design was made in Belle's signature yellow and the actress even wore her hair like the princess.
29/50
Saoirse Ronan
This figure-hugging sheath gown Saoirse Ronan wore to the Academy Awards reminds us of Ariel's mermaid tail. The Calvin Klein Collection gown was a hit with fashion critics too.
30/50
Rachel McAdams
Rachel McAdams struck a fierce pose on the Academy Awards red carpet—one that made her August Getty Atelier gown look even more like Princess Merida's forest green velvet frock.
31/50
Lianne La Havas
There are a lot of similarities between Lianne La Havas's Vivienne Westwood gown and Tiana's in The Princess and the Frog—from the green hue to the floral skirt pattern. But the asymmetrical neckline makes them nearly identical.
32/50
January Jones
January Jones put a twist on Ariel's tail in this Ulyana Sergeenko jumpsuit. From the identical color to the scalloped neckline, you have to wonder if Jones is vying for a role under the sea.
33/50
Kiernan Shipka
Few attempt to replicate Snow White's whimsical ensemble, but Kiernan Shipka did just that in 2015. The actress arrived at the Emmys in a Dior Couture embroidered mini dress that reminded us of the princess' yellow peasant skirt.
34/50
Maggie Gyllenhaal
Maggie Gyllenhaal nailed Princess Anna's color palette at the Emmy Awards in her black and violet Oscar de la Renta ball gown. All that's missing is the cape.
35/50
Bella Thorne
Bella Thorne wore a light green figure-hugging dress by Maria Lucia Hohan that reminded us of Tinker Bell from Peter Pan. Between the bustier top to the thigh-high slit, the actress looked just like the famous pixie.
36/50
Lily James
Even though Lily James played Cinderella, her illusion neckline Elie Saab Couture gown screamed Aurora. This look says "happily ever after," does it not?
37/50
Kim Kardashian
Kim Kardashian channeled Princess Jasmine's fiery look with this two-piece Altuzarra set. The reality star took the look to the next level with gold jewelry and bangles.
38/50
Elle Fanning
In an ideal world, we'd cast Elle Fanning as Princess Elsa in a live-action version of Frozen. Based on how much she looks like the princess in this Elie Saab Couture gown, we bet she'd be up for the role.

39/50
Cate Blanchett
The deep V-neck, empire waist, and billowing colorblocked sleeves make Cate Blanchett's Alexander McQueen silk gown strikingly similar to Mulan's hanfu.
40/50
Bar Refaeli
With delicate chiffon and an elaborate beaded neckpiece, Bar Refaeli's Alberta Ferretti sheath gown looks a lot like Meg's. The model outdid the Hercules star with gorgeous Chopard drop earrings.
41/50
Lupita Nyong'o
Lupita Nyong'o had a Cinderella moment at the Academy Awards in 2014. Not only did she take home the Oscar, but she looked exactly like the Disney princess in a blue chiffon Prada design.
42/50
Rihanna
Rihanna's Giambattista Valli gown may have a slightly fuller skirt than Aurora's, but thanks to the pink hue and strapless neckline, the singer and beauty mogul looked just like the princess.
43/50
Emma Stone
Between the green color and the lace detailing, Emma Stone's Dolce & Gabbana sheath dress served up major Ariel vibes. It doesn't hurt that the actress wore her auburn hair tousled, just like the mermaid's, either.
44/50
Eva Mendes
Eva Mendes's stunning turquoise statement necklace reminded us of the necklace Pocahontas wore in the Disney film.
45/50
Camilla Belle
Camilla Belle has the Snow White pose down, and her fashion is reminiscent too. The actress channeled the princess in an Altuzarra peasant top and dark ruffled pencil skirt.
46/50
Katie Holmes
Katie Holmes looked ready to dine at the castle at the Met Gala in 2014. The actress wore a Belle-inspired Marchesa ball gown with her hair in loose curls.
47/50
Keira Knightley
Keira Knightley took a cue from Rapunzel at the Pride & Prejudice premiere in 2005 in a purple Matthew Williamson gown fitted with a gold sequin empire waist and pleated chiffon skirt.
48/50
Kerry Washington
Kerry Washington stunned in an Escada gown in Princess Jasmine's signature blue color. The cutout midriff detail reminds us of the princess' two-piece set.
49/50
Olivia Munn
From the deep V-neck to the empire waist and long sleeves, Olivia Munn's DVF dress is similar to the design of Mulan's hanfu.
50/50
Zooey Deschanel
Zooey Deschanel exudes Disney princess vibes in a frosty blue Reem Acra ball gown. Honestly, we're pretty sure Princess Elsa would wear this look too.
Mara is a freelance writer and editor specializing in culture, politics, wellness, and the intersection between them, whose print and digital work has appeared in Marie Claire, Women's Health, Cosmopolitan, Airbnb Mag, Prevention, and more. She's a Fordham University graduate who also has a degree in Italian Studies, so naturally she's always daydreaming about focaccia.