Designers Norma Kamali and Becca McCharen-Tran Talk Body-Positive Fashion
Designers Norma Kamali and Becca McCharen-Tran talk about fashion and feminism and creating body-positive clothing.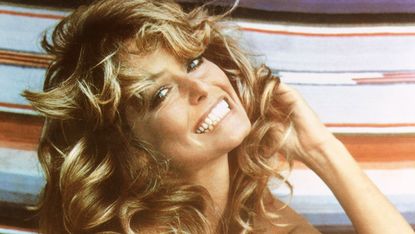 (Image credit: www.thefarrahfawcettfoundation.org)
The mother of modern swimwear, 71-year-old design innovator Norma Kamali has been revolutionizing fashion with her body-celebrating bathing suits (see left), sleeping bag coats, and sportswear-as-ready-to-wear since opening her first boutique in New York City in 1968. Rising star Becca McCharen-Tran, the 33-year-old founder of architectural bodywear label Chromat, which launched in 2010, is making her own waves with pieces that cater to all sizes and gender identities. Here, the two trailblazers come together to talk body politics, feminism, and the future of fashion.

NORMA KAMALI: How did you go from studying architecture at the University of Virginia to creating clothes?
BECCA McCHAREN-TRAN: Chromat started as a fun side project. Designing a building is like looking at lines on the body—shoulder seams, arms, legs. You're connecting points. We started with bustier tops and bondage gear, but evolved into swimwear because it represents our ethos: making women feel empowered in their bodies while wearing something exposing.
NK: I was sort of forced into it. I wanted to be a painter, but my mother reminded me I had to pay rent so I focused on fashion illustration. I designed bathing suits from my little shop, then after one landed on a magazine cover I had to start making more. My stuff wasn't typical at that time, and I don't think buyers thought it was salable. What inspired your spring collection?
BMT: Fall was about survival during political upheaval, so for spring we felt the urge to cling to rocks, feel grounded, and practice self-care. We looked at zen gardens, salt baths, and healing crystals. We felt a volcanic energy—things are about to burst, but new land is forming.
NK: Swim is a crowded space. How do you differentiate yourself?
BMT: Growing up, I saw only one way to be beautiful: Be skinny. I had an eating disorder. I was depressed. I want Chromat to stand out by celebrating different ideas of beauty and showing people that they don't have to fit into a specific body mold.
NK: When I launched my Stop Objectification campaign five years ago, encouraging women to speak up about their experiences, I began tracing the root of my own self-esteem issues. I believe they've come from being objectified as a female business owner. It's so important for us to now tell these difficult stories with the #MeToo movement. I've lived through several feminist movements and there are always loud voices and lots of energy, then we hit a wall. My fear is that it will happen again this time.
BMT: Why do you think they hit a wall in the past?

NK: Taking on feminism while managing a family, kids, and career is difficult. Many women have to make a choice and leave the workforce. Men need to become advocates and play an equal part in helping raise children to create a power balance.
BMT: Toxic masculinity is so prevalent in our culture. We teach daughters to "be careful around guys," but don't teach sons to "be a good person around girls."
NK: Men feel like their power is being taken away. These guys at a restaurant recently were taken aback when I insisted on opening the door for them. They're used to asking the girls out and opening the doors.
BMT: The subject of diversity is more on the forefront now versus when I started in 2010. How has women's fashion changed since you entered the industry, and where do you see it going?
NK: Fashion changes faster now than it did before, but it's always been connected emotionally and socially to what's going on. I think clothes are going to have to be more inventive and intelligent: generate energy, regulate body temperature, help someone float. The big move forward will be thinking about what clothes do for us—the design around it will be secondary.
BMT: As more women design for women, do you think they'll implement more functionality in garments? You can't run in high heels—they're debilitating!
NK: Sneakers are becoming popular because women want to be able to do anything. Think about all the women that had to run down stairs on 9/11. Women feel that heels give them power, but they ended up taking away their power that day. Clothes that give us power, not take it away, are the future.
BMT: Because I'm gay, I never think about the male gaze. People talk about how sexy Chromat's clothes are, but I don't see them through that lens. Thinking about power in garments becomes totally different when you're not just concerned with generating a feeling for men.
NK: What was the first thing you ever designed?

BMT: Barbie clothes … ironically.
NK: Ha! For me, it was a pair of velvet patchwork hot pants. I had to sew myself into them because I didn't know how to do zippers at the time.
BMT: What's your sign?

NK: I'm a Cancer, the maternal nurturer. I'm not a mother in the traditional sense, but I mentor and nurture students and am fascinated by kids.
BMT: I'm a Gemini, so I like to be introverted and have time alone every day.
NK: I meditate daily, even if it means sneaking into the bathroom in my studio and sitting on the toilet seat with the lights off. I also started doing acupuncture as a facelift, because I'm not into a lot of the other stuff people do.
BMT: I'm also a big believer in meditation. I use the Meditation Studio app on my phone. When my to-do list seems never-ending, the only thing that shuts down my brain at night is listening to guided meditations and ocean sounds.
NK: We are so overstimulated, especially with social media. Do you find it exhausting or empowering?
BMT: I love it, but I'm rare. A lot of my friends deleted it because they're couldn't stop comparing themselves to others. I'm obsessed with following dancers on Instagram, especially Mela Murder (@melamurder). She and her husband (who does lots of popping and locking, which I find fascinating) dance with their newborn baby.
NK: I know you're fascinated by movement and dance. Do you ever dream of doing something else?
BMT: I've always loved NASA and learning about deep space (my wife Christine and I geeked out and bought space outfits at the space station in Huntsville, Alabama, during a road trip after our wedding), but I weirdly fantasize about a second career in poodle grooming, even though I've never even owned a pet! You?
NK: I think I could've been a good journalist.
BMT: What do you want your legacy to be?
NK: As you grow, you more clearly realize your purpose. I believe women trust me, and I want to help improve their lives. Right now, I'm really interested in abortion rights and finding ways for women to have more choices. What attracts me to you is that as a strong voice for gender fluidity and equality, you're also driven by a higher message. That's never been more important.
This article appears in the May issue of Marie Claire, on newsstands April 24.
RELATED STORY