Jared Leto Is a Gucci Jesus at the 2018 Met Gala
Iconic.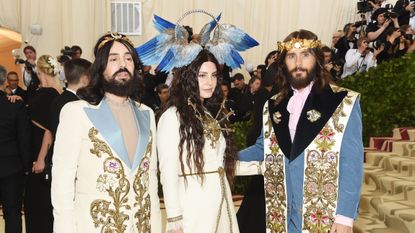 (Image credit: Getty Images)
Tonight, Jared Leto embraced his Jesus-like facial hair for his Met Gala look by dressing as, well, Jesus, basically:
He choose a powder blue Gucci velvet suit and a gold crown, and looks tremendous—peak Jared Leto, really.
He walked the red carpet with Gucci creative director Alessandro Michele and singer Lana Del Rey, who wore a very elaborate Gucci number, which included a halo made of birds, heart pendant of swords, and opera glasses with eyes in them.
As one Twitter user pointed out, the eyes are a nod to Saint Lucy, who, according to one legend gouged her own eyes out to discourage a potential suitor who admired them.
The three are on point for the Heavenly Bodies theme:
Twitter gave Leto and the gang major props for fully embracing the spirit of the event.