5 Accessory Trends You'll See Everywhere This Year
Marie Claire editor Julia Gall details which accessory trends are about to be seen everywhere.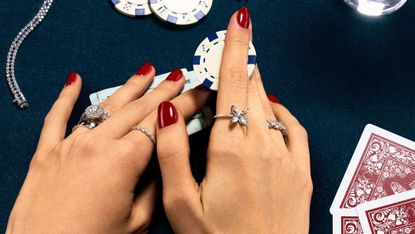 (Image credit: Claire Benoist)
As an accessories editor, I have a lot to pay attention to. There are so many categories (bags, jewelry, shoes...) and a months-long span to study how trends that first appeared on a runway develop. The pieces you see debuted at fashion week can morph by the time they hit store shelves, and both are equally important.
When thinking of a new year, I find it helpful to consider what mood we're in culturally and socially—and what women are really going to want to wear. From there, it's all about finding the best pieces. For me, the real fun is seeing trends come to life on the street and noticing how women interpret and work them into their everyday style. Here are the biggest accessory trends you can expect to see this year and how to wear them.
1- Boho Nouveau
Touches of velvet, bold purple, and carpet prints mixed with edgy leather boots make for a more street-smart bohemian vibe: Think a little more Zoe Kravitz than Stevie Nicks. Jangly chains with gold paillette charms and rings in stackable chevron and feather motifs add to the eclectic, nonchalant mood of this trend.
Shop the Boho Nouveau Trend
2- Modern Femininity
The new day-to-night look is a fresh take on classic femininity. Pastel, satin, and the retro, structured bag make a major comeback. Pile on heavy duty diamonds in floral shapes for a bold look that updates your grandmother's go-tos. I'm also never mad at a stunning solitaire ring and a glossy manicure.
Shop the Modern Femininity Trend
3- Luxe Utilitarian
Taking a cue from Rosie the Riveter, 2019's utility trend means we'll be ready for anything. Canvas fabrics, jumpsuits, and multi-pocket belt bags promote functionality in dressing. Beveled edges and strong, geometric lines are the key players in this toughened-up jewelry. Take it to full speed by stacking different shapes of rings together.
Shop the Luxe Utilitarian Trend
4- Bold Professional
The boardroom doesn't have to mean being boring. Suiting takes center stage this season with a variety of updates, including interesting prints and unexpected colors like burgundy (which is just as versatile as classic navy or gray). Be worth your weight in gold with heavy statement pieces in bold shapes; a sturdy watch is a statement piece that also helps keep you on track.
Shop the Bold Professional Trend
5- Surfer Chic
Come spring, everyone will want to be on permanent vacation mode with delicious summertime staples like nostalgic tie-dye and casual straw details. Mix a punchy Hawaiian print or board short silhouette with heels to take the trend to the next level.
Layered bracelets and mixed metals with splashes of ocean blue are thematic and fit into the collectible approach of summertime jewelry stacking (and don't need to be all puka shells—luxe stones take things up a notch).
Shop the Surfer Chic Trend
Styled by Adrienne Faroute
Julia Gall is the former Style Director at Marie Claire, covering all things fashion, as well as styling tips, wardrobe upkeep and sustainability. Check her out at @juliasgall.