5 Easy Ways to Use Your Wallet to Create Real Change
Activism doesn't have to be overwhelming.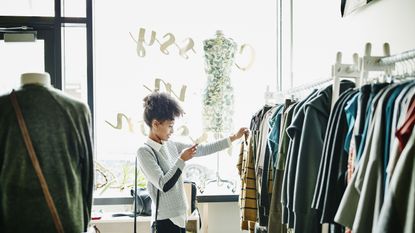 (Image credit: Thomas Barwick)
Government shutdown. Climate change. Student loans. Sometimes it can seem like the world is spinning out of control and there's nothing to do but quit your job and join the Peace Corps (or quit your job and spend your days hiding out on the couch, eating ice cream, and watching animal videos on Instagram). In reality, most of us can't actually stop working and completely bail on our lives, nor do we want to. But we also shouldn't feel helpless. We can make a difference in people's lives merely by tweaking one of the things most of us do every day: shopping.
Conscious consumerism may sound too good to be true, but your wallet is an untapped super power. Paying attention to what we buy, where we buy it, and who makes the products we purchase can hugely impact the lives of people around the world.
Finding out who makes your stuff (and how) and where to donate all the items that didn't spark joy post–Marie Kondo cleanse is becoming less complicated. There are many pro-social businesses and nonprofits in the U.S. and abroad working tirelessly to lift people up—and it's easier than ever to support them.
Here, fives ways to get started:
Give really good gifts—as in, ones that support women.
Even if your New Year's resolutions included big-time budgeting, chances are you'll still be springing for a wedding, baby, or birthday gift this year. Choose a present that brings joy to the recipient but also to the women who made it. For housewarming presents, I love White Field Farm candles, poured by human trafficking survivors in New York. For baby gifts, check out FORAI (Friends of Refugees and Immigrants), a nonprofit that sells the cutest onesies, all of which help the artisans sustain sewing micro-businesses. And for birthdays, I choose Anchal Project's chic and affordable coin purses and bandanas, designed by the two sisters who run the cooperative, sewn by vulnerable women in India.
Donate your old prom or bridesmaid dresses.
Donate your old prom or bridesmaid dresses.
Your best friend promised you'd love your bridesmaid dress so much, you'd wear it again. Instead, it's wearing out its welcome in the back of your closet (next to your old prom dress, perhaps). Pass it on to a high school senior who needs a formal gown but lacks the funds for one. Beccascloset.org has chapters around the country and gifts dresses to girls who have shown leadership in their community.
Spring clean your closet for a cause.
As you let go of sartorial clutter, you can also help raise funds for the AIDS Healthcare Foundation. Out of the Closet, a nonprofit thrift store in more than a dozen cities across the U.S., donates 96 cents of every dollar it earns to the Foundation, which serves as the largest provider of HIV/AIDS medical care in the U.S.

Make your brunch plans...with impact in mind.
Pro-social bakeries and restaurants are popping up across the nation with the purpose of employing people in need of a second chance. In LA, Homegirl Cafe serves up fresh guacamole and tasty tacos prepared by men and women entering or reentering the workforce after leaving a gang or being incarcerated. In New York, Harlem's Hot Bread Kitchen churns out gooey grilled cheese sandwiches while helping at-risk women become (literal) breadwinners. Tampa's Inside the Box Cafe offers deli-style sandwiches that fight hunger and homeless in the area. Can't patronize any of these locations in person? Order goodies online from Together We Bake or Dog Tag Bakery, both social enterprises that deliver chocolate cookies your desk-mates will love.
Eat more chocolate (as if you need an excuse).
Cacao has one of the worst labor records of any agricultural product, but more than 100 new bean-to-bar chocolate companies in the U.S. are changing that. Today's chocolate entrepreneurs are forming good relationships with decently-paid cacao farmers in Central and South America. They also work to help farmers improve their technique and yield, and get certifications like Fair Trade and Organic that help increase profits and protect the planet. Some of my favorites are Amano, Dandelion, Raaka, and Endangered Species Chocolate. With Valentine's Day quickly approaching, the only responsible thing to do is sample them all!
Jane Mosbacher Morris is the author of Buy the Change You Want to See: Use Your Purchasing Power to Make the World a Better Place. She is also the Founder and CEO of TO THE MARKET, a company that connects businesses and consumers to ethically made products.
For more stories like this, including celebrity news, beauty and fashion advice, savvy political commentary, and fascinating features, sign up for theMarie Claire newsletter.
RELATED STORY
Celebrity news, beauty, fashion advice, and fascinating features, delivered straight to your inbox!