The 12 Forward Thinkers Changing Style and Sustainability
Washington may be bailing on the planet, but the fashion industry isn't.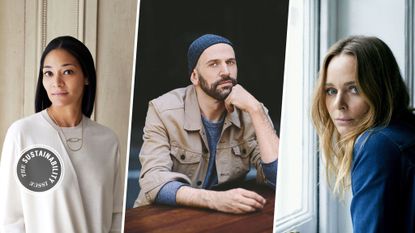 (Image credit: Courtesy)
These people, from all different industries, all have one thing in common: They're at the forefront of style and sustainability, and want to be part of the solution. They're retrofitting factories and building stores that rely on clean energy and emit less of the carbon contributing to global warming. They're transforming discarded plastics choking our oceans and waterways into jeans and sneakers. They're developing innovations that reduce waste, recycling materials, and leading by the example of their personal choices. Trends in fashion may come and go, but taking care and being mindful of the environment is one trend that defies all seasons.
Here, the trailblazers we highlight in our first-ever sustainability issue, on newsstands now.
The Original: Yvon Chouinard
Because he sided with the planet long before it was trendy to do so.
PROFESSION: Founder, Patagonia.
ECO CRED: Founded in 1973, Patagonia has racked up major firsts in its steady march toward sustainability. First to switch all of its cotton clothing to organic in 1996 (and heavily invest in regenerative agriculture, working with farmers and scientists to develop technologies that rebuild topsoil and capture carbon in the earth for over 20 years). First clothing line to make fleece using recycled bottles. First to pledge 1 percent of annual sales (as an "Earth tax") to grassroots organizations, for upwards of $82 million in grants and in-kind donations to date.
OFFICE SPACE: Under Chouinard's stewardship, the company scrupulously measured the eco-impacts of articles of its clothing in The Footprint Chronicles on its website; converted its Ventura, California, headquarters to new solar-powered smart-grid energy systems; started the Worn Wear initiative, which repairs clothes so they can be used longer; and launched a Drive-Less program that rewards employees who carpool, take public transit, or bike, skateboard, etc., to work with a yearly stipend. Last year, staffers drove 798,900 fewer single-driver miles, cutting CO2 emissions by 589,900 pounds and saving 30,400 gallons of fuel.
The Torchbearer: Nadja Swarovski
Because family values include renewable energy.
PROFESSION: Executive board member, Swarovski.
ECO CRED: "We've been using hydropower at our headquarters in the Tyrolean Alps since 1907," says Nadja Swarovski, who heads up the 10-year-old Atelier Swarovski at the Austrian jewelry house that's been in her family for five generations. Today, 70 percent of the water the company uses is recycled—and it has also developed a Waterschool program that has taught nearly half a million children about conservation and sanitation (the most recently opened outpost is on the Mississippi River); introduced technologies like lead-free crystal; and become a principal sponsor of the Copenhagen Fashion Summit, the world's premier fashion-sustainability conference.
WHAT'S NEXT: "We're committed to helping the next generation of creatives to find sustainable solutions," she says. To that end, the brand supported the Youth Fashion Summit in May, where students drafted a "fashion resolution" for the company to present this year to the United Nations. Swarovski adds: "We must remember that we're all in this together."
The Transformer: Monique Péan
Because she makes trash into covetable treasure.
PROFESSION: Jewelry designer.
ECO CRED: Since switching careers in 2006, the former Goldman Sachs analyst hasmade it her mission to change the perception that luxury and sustainability are mutually exclusive. "Mining enough gold for a simple wedding band produces over 20 tons of waste," Péan explains. So from the start, she's designed with the planet in mind, from using environmentally friendly packaging and printing to working with sustainable materials, including recycled gold and platinum, conflict- and environmental-devastation free precious stones, repurposed diamonds, and fossils.
GONE GLOBAL: The designer has worked with artisans from Guatemala, Peru, French Polynesia, and the Arctic Circle to source sustainable materials per fair-trade guidelines and has partnered with the organization charity: water, donating proceeds from the sale of each piece to provide clean drinking water to communities around the world.
The Activist: Livia Firth
Because she walks the walk.
PROFESSION: Founder, environmental and ethical consulting firm Eco-Age.
ECO CRED: Flick through Firth's Instagram feed and you'll see her dressed in recycled, upcycled, vintage, worn-out clothes. Images of a 25-year-old Max Mara coat she spent a year saving up for and an "old Kami Organic jacket you saw me wearing millions of times over the years" make repeat appearances between posts of fast fashion exposés, the Eco-Age team test-driving Tesla's Model X, and articles on the basic right to earn a living wage. (FYI: In her Instagram captions, GOT stands for "Global Organic Textiles," not Game of Thrones.) The eco-evangelist, and wife of actor Colin Firth, has been shopping her closet for major events since 2009, when she started the Green Carpet Challenge: Firth has shown up to the Oscars in a dress reclaimed from the remnants of 11 other garments, and she's stepped out at the Cannes Film Festival in pastel-hued shifts her mother bought in the late 1960s. Her efforts have led to sustainable product standards and the 2015 documentary The True Cost (which she executive-produced).
SUSTAINABLE SWAP: Her new favorite material is Piñatex, an all-natural leather alternative made from pineapple leaves. (Its fibers are the by-product of pineapple harvests in the Philippines, requiring no extra water, pesticides, or fertilizers.) She recently wore a Piñatex ensemble created by the indie Italian designer Laura Strambi.
The Change Agent: Frank Henke
Because he has incorporated sustainability into corporate culture.
PROFESSION: Global vice president of social and environmental affairs, Adidas Group.
ECO CRED: Adidas is killing it with DryDye (a waterless garment-dyeing technology) and zero-waste fabric innovations like PrimeKnit (making shoe uppers from one piece instead of multiple pieces), and plans to be 99 percent PFC-free this year (PFCs are chemicals potentially hazardous to humans). It partnered with environmental nonprofit Parley for the Oceans, and together they've mastered the art of making shoes from plastics (11 million bottles' worth) recovered from the sea. Another recent initiative: giving 700 families access to clean water with the help of partner SOS Children's Villages in Aleppo, Syria.
STORE CREDIT: In 2016, Adidas banned plastic bags in all its stores, a move that eliminates approximately 70 million such bags annually. The company is also rolling out a global product-takeback recycling program, hitting stores in five major cities later this year.
Anisa Kamadoli Costa, The Conservationist
Because she is a defender of land and water.
PROFESSION: Chief sustainability officer, Tiffany & Co., and chairman, The Tiffany & Co. Foundation.
BLUE SKIES: As a kid, the "lifelong lover of water" traveled to her mom's hometown on the Indian coast of the Arabian Sea and saw a shoreline reeling from pollution and environmental devastation. In 2002, Tiffany & Co. cut coral from its jewelry and home collections: "We didn't have any traceability on any of our red and pink coral, so we just stopped. Period," she says. Her favorite color, no surprise, is blue—though she's proud to have turned the iconic robin's-egghued Tiffany box "green"; the company's paper-based packaging contains 89 percent recycled materials.
POWER PLAYS: "Anyone can make grants on their own, but there's great power when you come together," says Kamadoli Costa, who's led Tiffany & Co. to lobby against new gold and copper mines being built in places such as Yellowstone National Park and Alaska's Bristol Bay. "When we talked to the local community, scientists, and NGOs in Alaska, we heard resoundingly that they valued the ecosystem and long-term economy of the salmon fishermen more than the money. We felt it was important to speak out, even if we don't mine there." Other battle cries? The brand's highly publicized (and futile) New York Times ad in May, urging President Donald Trump to uphold the Paris Agreement; participation in the Kimberley Process (ending the supply of blood diamonds); and commitment to reach net-zero greenhouse-gas emissions by 2050.
STORE CREDIT: Of its 205 U.S. stores, 105 use LED bulbs.
The Powerhouse: François-Henri Pinault
Because he believes environmental stewardship is good for business.
PROFESSION: Chairman and CEO, Kering.
ECO CRED: As head of Kering, the French global luxury group that includes Stella McCartney, Bottega Veneta, Gucci, Alexander McQueen, and Saint Laurent, Pinault has tackled ambitious benchmarks for sourcing and supporting supplier sustainability: He's set on ensuring that traceability of key raw materials reaches 95 percent by next year and aims to halve carbon emissions by 2025. In 2014, the company worked with the Natural Resources Defense Council's Clean by Design program, rolling it out across 24 of its textile mill suppliers. Each mill underwent a resource efficiency audit, and today Kering has implemented more than 150 energy- and water-efficiency improvements, with an average of a 12 percent reduction in CO 2 emissions per textile mill.
TRUE LUXURY: "I am convinced that sustainability can redefine the way we do business," he says. "Sustainability is not just a responsibility—it's an opportunity. And it's a powerful driver of innovation, and it's the only way to answer many of the major issues we face in the 21st century. To me, sustainability is inherent to luxury; a luxury product must be perfect in all aspects, and ethically and responsibly produced."
Tyson Toussant, The Innovator
photographed by Jeremy Bales

Because he is cleaning up our oceans.
PROFESSION: Cofounder, Bionic Yarn.
STEM THE TIDE: More than 165 tons of plastic is clogging up our oceans, and without new restrictions and reforms, it's projected that there could be more plastic than fish in our waters by 2050. (At least 8 million tons of plastic ends up in the oceans each year, roughly equivalent to a garbage truck's worth getting dumped every minute.) In 2009, Toussant teamed up with musician Pharrell Williams on a groundbreaking new type of fabric made with recovered plastic—takeout food containers, bags, soda bottles, you name it—pulled from our shores. The threads have been used to create high-performance gear for Moncler, G-Star Raw for the Oceans, and O'Neill, as well as reclaimed evening dresses for H&M's Conscious Exclusive collection. "It's difficult to navigate the world of fashion by putting your actions ahead of your claims," Toussant explains, "but we're constantly trying to build a solid foundation for what we hope becomes the new standard in material production."
The Fixer: Hannah Jones
Because she turned around the practices of a corporate giant.
PROFESSION: Chief sustainability officer and vice president of the Innovation Accelerator, Nike Inc.
BACKSTORY: Since arriving in 1998, Jones has taken Nike from a brand synonymous with sweatshop scandals and unfair wages to an industry leader in responsible innovation and sustainability. "My journey really began on the back foot," says the English-born Jones about the corporate crisis she inherited. "In hindsight, that was probably one of the greatest gifts we've ever been given." With the brand's reputation at risk, she set an immediate company-wide turnaround into motion: Nike needed to radically transform the way it made shoes.
ECO CRED: Under her watch, the Nike team has launched globe-changing technologies like Flyknit (a micro-engineering breakthrough leading to 60 percent waste reduction), has set aggressive targets for 2020 across its entire supply chain, and aims to use 100 percent renewable energy. "Our overall moon shot is to double our business and halve our impact," she explains, adding that 71 percent of the company's apparel and footwear now contains recycled materials. "If we can convince people to buy a product from the planet's perspective, sustainability can become the new normal."
The Evangelist: Emma Watson
Because she has turned her public platform green.
PROFESSION: Actress.
ECO CRED:A force behind fair-trade brand People Tree and a UN Women Global Goodwill Ambassador, Watson has dedicated herself to conscientious clothing—be it rocking the Met Ball with a monochromatic Calvin Klein five-piece dress made from recycled plastic bottles or wearing exclusively sustainable fashion from Shanghai to Los Angeles during Beauty and the Beast's promo blitz. She chronicles her environmentally friendly red-carpet choices on @The_Press_Tour on Instagram, which has nearly half a million followers.
WHAT'S NEXT: The star is making it a point to draw attention to more female designers with her wardrobe, from Stella McCartney and Gabriela Hearst to Filippa K and Dior's Maria Grazia Chiuri. And she recently teamed up with ethical line Zady on a capsule collection of all-natural and nontoxic pieces for the modern working woman.
The Natural: Stella McCartney
Because she has made eco fashion something to aspire to.
PROFESSION: Fashion designer.
ECO CRED: Since starting her eponymous non-leather fashion line in 2001, the designer (who grew up in part on an organic farm) has turned sustainable fashion from crunchy to chic. Today, 53 percent of her spring 2017 collection is sustainably and ethically sourced, and she's enlisted a team that audits the environmental profit and loss (EP&L) of each move her company makes. She's also collaborated with Adidas (and created her own vegan pair of Stan Smiths) and just partnered with Parley for the Oceans to use fabric made from plastic recovered from the ocean.
FASHION FORWARD: "We owe it to ourselves and the industry to do more—because it's not only about designing clothes or accessories anymore, and we must think beyond that," she explains. "When we start each season, we ask ourselves: How can we do this in a more sustainable, responsible, and environmental way, without compromising on design? In any other design industry—cars, architecture, technology—everything is being modernized, and I strongly believe that fashion, even if you are dipping into its history for inspiration at times, can be modernized in the approach we all take. It's about the future of our world and how we can help impact that."
STORE CREDIT: Her London store is run on wind power; others are powered by solar energy or partially by green energy.
The Maverick: Paul Dillinger
Because he considers water and energy conservation a group effort and responsibility.
PROFESSION: Vice president of global product innovation, Levi Strauss & Co.
ECO CRED: Dillinger presided over collections of products made of 20 percent postconsumer waste and, since then, the Wellthread collections, which incorporate sustainability throughout each step of development and use fabrics that are 100 percent recyclable. His team has reduced the use of pesticides and chemicals in all cotton production and has outfitted mills with different finishing techniques, which reduce the amount of water used in denim dyeing and manufacturing by up to 96 percent. And instead of keeping the program under wraps, Levi's makes its discoveries available to brands that want to reduce their water footprint.
CHOICE WORDS: "At a recent academic conference, a colleague cited a survey that asked women, 'Would you rather wear ethical fashion or be sexy?'" recalls Dillinger. "To me, this question is absurd: By allowing 'sexy'—or 'stylish,' 'cute'—to occupy a morally neutral position on the same continuum as 'ethical fashion,' we fail to confront the actual choice. The real alternative to ethical fashion is unethical fashion, and 'cute vs. ugly' notwithstanding, that's your real choice when you go shopping."
STORE CREDIT: To address the 24 billion pounds of used clothing ending up in U.S. landfills, the company lets customers drop off unwanted clothes(any brand) at Levi's stores, where they will be repurposed or recycled.
To see more, pick up our sustainability issue, on newsstands now. Inspired to take action? Join us and the Natural Resources Defense Council to protect the planet—donate at hearstforhumanity.com/mceco.
Celebrity news, beauty, fashion advice, and fascinating features, delivered straight to your inbox!