ISKO—the Manufacturer Behind Reformation & Madewell—Is Developing Sustainable Denim
If we're going to be forever in blue jeans, we need to change some things about the way we make them.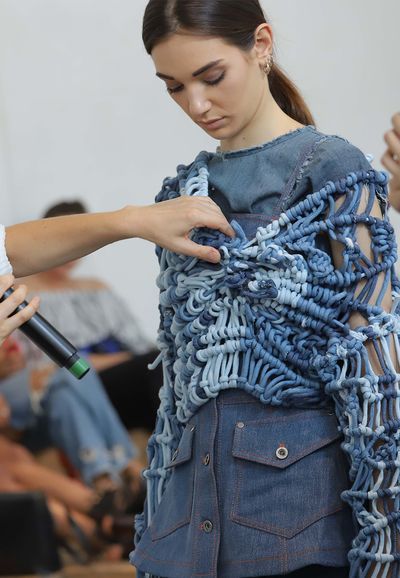 (Image credit: Courtesy of company)
Jeans have become synonymous with modern fashion: A fabric once reserved for coal miners has transcended time, space, and Brooke Shields to find its way into weekend looks and office-appropriate ensembles alike. And our obsession with denim has reached new heights: Americans purchase 450 million pairs of jeans per year. That means, on average, we all own 7 pairs of jeans. (I, admittedly, counted 10 in my drawer. I'm not proud.)
But America's favorite fabric is not without controversy (and, no, I'm not talking about jorts). Denim is most often made from cotton, a crop that, according to recent research, requires 1,500 gallons of water to grow just 1.5 pounds-worth. That classic "blue jean" wash? It's a result, in part, of synthetic indigo dye, which contains harmful chemicals. The more metal elements, like buttons and zippers, are incorporated, the harder it becomes to recycle the material—meaning yesterday's trendy bell bottoms are piling up in landfills across the globe. The impact of the massive denim production industry is difficult to scale, but it's safe to say it's reached epidemic proportions—and the issues don't end once the jeans arrive in your closet. On average, every pair of jeans is washed 50–75 times, taking a massive energy toll and wasting water. (PSA: Wearing jeans up to 10 times before washing could reduce energy usage by 77 percent.)
One of the world's largest denim manufactures, ISKO, is trying to change the scary stats by weaving sustainability into everything they do. While you might not recognize their name, you will know the brands the company works with, including Reformation, Madewell, and Ksenia Schnaider (plus, a few high-end designers that the company can't disclose). And, they're actually responsible for the rise of the jegging, a fabric they developed. ISKO produces more than 300 million yards of fabric per year—enough to circle the earth more than seven times (on average, denim mills produce just 30 million).
The company is hoping to lead the way for responsible supply chains in the fashion community. "I'd say we are a pioneer in responsible innovation within the fashion industry," says Rosey Cortazzi, global marketing director for ISKO. So how exactly are they paving the road to green jeans?
Much of the magic happens inside ISKO's Turkey–based research and development facility, the first government-certified textile research center. It's where the team dreams up cutting-edge fabrics with eco-consciousness always at the forefront. "We're inventors," says Cortazzi. And what they are inventing is pretty next-level: The company's Earth Fit collection, their most responsible line of fabric, is made of raw materials including organic and recycled cotton and polyester made from recycles PET bottles.
But it's not a one-and-done line, says Cortazzi, who claims sustainability is "really rooted in the DNA of the company." That's why they are building upon the innovation of Earth Fit to develop additional sustainable practices. They recently launched Vulcano, a process that gives fabric a natural-looking finish via laser instead of water, reducing usage. And ISKO is working on developing wearable technology for both denim and athleisure fabrics.
"We have the technology called Recall which actually prevents what we call baggy knee syndrome," says Cortazzi. The technology helps jeans snap back into shape after stretching out so that you don't have to wash and dry them to get them back to size (remember that 75 washes stat?).
To make sure they never waver in their dedication to Mother Nature, ISKO is committed to outside verification. "There's so much greenwashing out there," says Cortazzi. "Everything that we do has been verified by a third party."
For ISKO, it's not just about one buzzy collection that they can push out the press. They are considering sustainability throughout their entire manufacturing process. "We're looking at chemicals. We're looking at the dye. We're looking at energy. We're looking at the whole circle."

For more stories like this, including celebrity news, beauty and fashion advice, savvy political commentary, and fascinating features, sign up for the Marie Claire newsletter.
Celebrity news, beauty, fashion advice, and fascinating features, delivered straight to your inbox!
Megan DiTrolio is the editor of features and special projects at Marie Claire, where she oversees all career coverage and writes and edits stories on women's issues, politics, cultural trends, and more. In addition to editing feature stories, she programs Marie Claire's annual Power Trip conference and Marie Claire's Getting Down To Business Instagram Live franchise.