Small Business Spotlight: Celeb-Beloved Clothing Brand Tia Adeola
The company started in a college dorm room.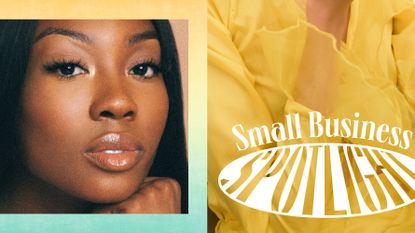 (Image credit: Tia Adeola)
Women running their own companies? We love to see it. In our monthly series Small Business Spotlight, we chat with independent fashion entrepreneurs about their journey to be-your-own-boss status. Here, tips for raising funds, developing a marketing strategy, navigating social media, and more—straight from women who have done it themselves.
You might call Nigerian-born Teni "Tia" Adeola's aesthetic, "Renaissance fair, but make it fashion." The 23-year-old started her eponymous ready-to-wear label, Tia Adeola, in her college dorm room at The New School in New York City, where she studied art history and wrote her final paper on 16th century Spanish style dressing. And she's made it her mission to rewrite history for people of color using the renaissance period. "Black people are missing from these images," she says.

Her signature ruffle tops are the designer's modern interpretation of the past. Thanks to Instagram, Adeola's bold pieces attracted the attention of musician SZA, who performed at Coachella in a Tia Adeola skort set in 2018, putting Adeola on the fashion map. The designer, who was still in college then, recalls watching the skort set rapidly sell out, something she had never experienced before. "I didn't even have enough product to cater to what everyone wanted," she says. From there, her designs were spotted on Gigi Hadid, Dua Lipa, and Lizzo—all before her 2019 graduation.
As any small business owner knows, however, success can bring unwanted attention—in this case, knockoffs. Fast-fashion brands copied her designs, produced, then sold them quicker than she ever could. "I remember being a 19-year-old college sophomore, trying to figure out the fashion thing in New York, spending hours in the library going through archives, coming up with a concept only to see fast-fashion brands knock off my designs. It was devastating," Adeola says.
Now with a few years of experience under her belt—and a team of four women working for her—Adeola has a different outlook. "If people are copying you that means you are doing something right," she says. "I've learned that they can't do anything until you make your next move or until you design the next thing. So keep going, keep being innovative, and people always recognize true artistry."
The mentality helped Adeola push ahead when she faced yet another unforeseeable obstacle to her small business: the COVID-19 pandemic. The designer was visiting family in Lagos, Nigeria when the shutdowns started and was stuck there for approximately four months. She and her aunt, who has a factory there, got to work. The two trained a team of tailors to produce clothes and ruffle face masks, accomplishing one of Adeola's goals: to bring jobs back to her native country. (Prior to 2020, her designs were produced in Turkey and in the U.S.)
Although it's been just three years since her company was founded, Adeola has already experienced many of the ups and downs of running a small business and has plenty of wisdom to share.

"I ultimately want to be a luxury designer, have a fashion house, and have predominantly Black female staff who are well trained, well paid, and further expand my label into a whole empire."
Finding Funds 101
"If I am being 100-percent honest with you, I have just been winging it. I own my business fully and do not have investors. Projects like the face masks and basics I've launched on the Tia Adeola ecomm store have been doing well and help generate the profit needed to grow my brand. Until I am fully established, I am going to have to keep reinvesting in myself and my ideas."
Better Together
"Everyone is different, but I personally really believe in karma. In every industry there is always room for someone else to be great. You just wish the best for people and try to collaborate with your community and work with the people and other artists around you, which has worked so far for me."
Overcoming Obstacles
"I face a lot of difficulties because, not only am I a woman, I am a Black woman. I have to be very careful with a lot of the things I do, even just the way I speak to people who I work with and the people around me. If I don't like something, I have to make sure I say it politely.
[For example, when] another creative storms into the room and [says] 'I hate this, I don't want this,' I have to be a bit more polite. The second I snap, it's 'oh, she's an angry Black woman' or 'she's a diva.' Things like that I have to be aware of, but it doesn't really bother me anymore because I have learned to navigate it. I always try to remain honest and express myself to the fullest. I am very much aware of the space I'm in and how I can easily be portrayed as a certain image."
Social Currency
"Social media and the influence it has is amazing. I use it as a tool as to what to do next,
because at the end of the day, I have an audience and a target market that I want to keep. Through social media I can see what they are interested in and how they interact with my posts. But I don't like to overthink it, especially while I was in college, I used to wake up and post whatever I wanted.

I would take a dress I made, spread it out on the floor, post it, and people would love it. I think as an artist, be yourself and post images that you make out of passion. Since my brand has grown a lot more, I now have a social media manager. My social media manager is my best friend, who I met during my freshman year of college. We text each other about what to post, so it's very casual and authentic."
Shop Adeola's Favorite Pieces
RELATED STORIES
Marie Claire email subscribers get intel on fashion and beauty trends, hot-off-the-press celebrity news, and more. Sign up here.
Shelby Comroe is the Credits Editor and Fashion Assistant at Marie Claire covering all things fashion and giving credit where credit is due. Check her out @shelbycomroe on Instagram if buying designer handbags is your idea of a retirement plan!