Miu Miu Launches a New Collection of Vintage Upcycled Pieces
High fashion meets conscious consumerism.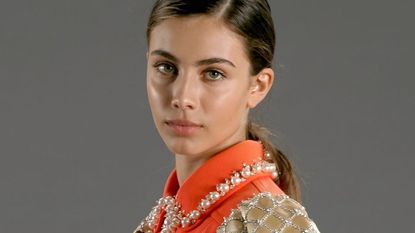 (Image credit: Courtesy of Miu Miu)
For the holiday season, Miu Miu is launching a different kind of collection—one made from refashioned vintage clothing. Upcycled By Miu Miu, which will be available exclusively at Miu Miu's 57th Street location, features 80 designs made from vintage pieces that have been upcycled.
The vintage garments are sourced from antique markets and thrift stores worldwide. (In terms of era, these pieces range from the '30s to the '70s.) From there, the team at Miu Miu added embellishments, stitchings, bows and paillettes, giving the items the brand's signature girly touch.
The collection made its debut October 10 on the Green Carpet Fashion Awards on actresses Elisa Visari and Chen Ren. Elisa's dress was made from a '60s pieces given added jewels and embellishments, while Chen Ren donned a '30s design with added crystal embroidery.
With this line, Miu Miu exemplifies how brands can help the planet without sacrificing their high fashion DNA. With more people trying to shop second-hand, this is a way that designers can start to infiltrate that market—by adding their creative touch to pieces that have already lived a colorful life. In the spirit of 2020, this is another way to help the greater good while increasing customer confidence in the brand. Designers take note.
Katie Attardo is the Accessories Editor at Marie Claire, covering all things fashion and jewelry-related.