Small Business Spotlight: Bephies Beauty Supply
Beth Birkett's online marketplace supports women BIPOC and LGBTQ+ entrepreneurs. (*Shopping now*)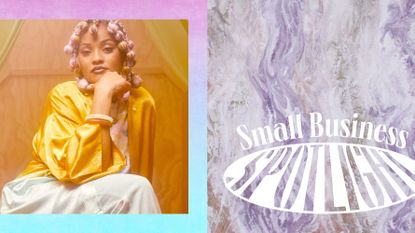 (Image credit: Design by Hanna Varady)
Women running their own companies? We love to see it. In our monthly series Small Business Spotlight, we chat with independent fashion entrepreneurs about their journey to be-your-own-boss status. Here, tips for raising funds, developing a marketing strategy, navigating social media, and more—straight from women who have done it themselves.
Beth Birkett is no stranger to the fashion industry: She is a costume designer, a creative director, the co-owner of the iconic Los Angeles streetwear store Union (opens in new tab) with her husband, Chris Gibbs, and the founder of Bephie, an ultra-cool women's streetwear line. Instead of baking bread when the COVID-19 pandemic hit, the fashion girl took a leap into yet another space: Beauty. She evolved Bephie into Bephies Beauty Supply, an online retailer that serves as an inclusive marketplace for clothing, beauty, house wares, and more, that supports the work of Black women and those in the LGBTQ+ community.
The inspiration for Bephies Beauty Supply was actually born from an unjust contradiction. "Being a Black woman, I am always changing my hair and obsessed with beauty supply stores," says Birkett. "The biggest [group of] consumers of beauty supply stores are typically Black women, yet they don't own them." The brand features Birkett's own items, including street-inspired clothes, scarves, bags, and pillows (many of which feature Anthurium flowers, a nod to Birkett's Caribbean roots), and also promotes brands from emerging BIPOC and LGBTQ+ entrepreneurs. At Bephies Beauty Supply, you can shop hand-painted marble press nails (a collaboration between BBS and Curet Nails, a small brand founded by nail artist Astrid Curet), items from BBS's own Marble, Stamp, and Scrunchie collections, an edge styling tool by Baby Tress, and a toner specifically designed for men, women, and nonbinary people of color.
As a woman whose paved her own way in the male-dominated streetwear world, launching a platform specifically for women of color was something Birkett has wanted to do for a long time. "Being a woman-led business in streetwear has been challenging," she says. "It's not that those brands don't exist, [it's because] there's not enough awareness and not enough people to cater to these women." She continues: "As a Black woman who has been in the streetwear business for a long time, I know what it's like to feel invisible, and how important and necessary representation for BIPOC women really is."
Here, she shares how she made Bephie a reality—and how you can manifest your dream company, too.
On Taking a Risk
"It is a big risk to start your own business, and a lot of the decisions you make aren't necessarily the most practical, especially when you're a small brand trying to get yourself out there. You might have to accept that you're not going to make a ton of money upfront. A lot of people aren't in that place to take the risk, especially when it comes to money. That's the difference between people of color who are starting their own businesses versus people with generational wealth that they can tap into. Venture capitalists don't typically jump at Black or brown businesses, especially women-led Black and brown businesses. [The reality is there's] a lot you have to do upfront, and it's risky, expensive, and hard, but it's worth it."
On the Hustle
"I had to take other jobs, which is part of the reason why it took me a while to solely focus on Bephie and then turn it into Bephies Beauty Supply. I've learned that it's about having just enough capital to be able to make things and make them of quality. A lot of my funding came from doing big jobs as a costume designer and stylist; I put almost everything I made back into the company."
On Supporting One Another
"The hardest part is people [not] taking you seriously. I am someone who has been silently on the forefront of the industry for years. People just don't understand the importance of seeing people like me, a Black woman, in this position of power.
I'm trying to create this space where we really want to promote women, women of color, and LBGTQ+ entrepreneurs. That's what I am most excited about, but it's also been the hardest thing. There is so much distrust among other women not really understanding, why are you helping me? [This is true] especially [for] women of color; there hasn't been a ton of support around women of color, collectively. So that's been the biggest challenge. I tend to gravitate towards [smaller brands because I] want to help them and encourage them to take risks. Typically, these women are holding it down on their own and they don't have any backups."
On the Importance of Working With a Diverse Team
"The girls we've brought on at Bephies are amazing, and all come from diverse backgrounds, which makes it so special. As a small brand, it's really humbling because there is no ego. You have to do everything. It falls on us as a team and we all share a common goal. Being a small team of course comes with its challenges, but it's also super rewarding because as we grow we grow together."

Shop Birkett's Picks Below
RELATED STORY
Shelby Comroe is the Credits Editor and Fashion Assistant at Marie Claire covering all things fashion and giving credit where credit is due. Check her out @shelbycomroe on Instagram if buying designer handbags is your idea of a retirement plan!