What I Wear to Work: Leah Lizarondo, Founder of Food Rescue Hero
The CEO dresses consciously to make change.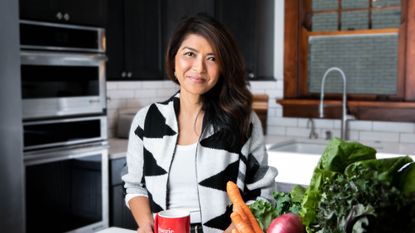 (Image credit: Laura Petrilla)
In a bi-weekly series, we're interviewing female executives, founders, CEOs—basically, boss ladies—on their "power suit" a.k.a. the outfit they wear every day for easy dressing to conquer whatever the job throws at them.
The pandemic has impacted nearly every aspect of our lives. Now, more than 50 million American face hunger, according to Feeding America—15 million more than reported in 2019. It's a staggering and scary stat, but thankfully numerous nonprofits and volunteers are springing into action to help those in need.
Food Rescue Hero is one of those groups. As its CEO and co-founder, Leah Lizarondo, describes it, Food Rescue Hero is a DoorDash for food surplus: A user downloads the Food Rescue Hero app and volunteers to pick up food surplus from grocery stores like Safeway, Giant, or Whole Foods, then delivers it directly to families or individuals struggling with food insecurity. The company launched in 2018 and is currently in 12 cities; from then to now, 20,000 drivers have delivered more than 40 million pounds of food, redirecting them from landfills (mitigating 12 million pounds of carbon emissions in the process) and using it instead to feed people in need.
In March, at the onset of the COVID-19 pandemic, Food Rescue Hero experienced the highest rate of downloads ever, likely due to nationwide layoffs and business (including, restaurant) closures. The company quickly mobilized, rescuing more than 16 million pounds of food. "I always tell my staff we could never foresee situations and crises like these, but this is the crisis that we were made for," she says. "It was really fulfilling for everyone that works at Food Rescue Hero and for all our partners to know that we can make real difference."
For Lizarondo, living (and dressing) consciously every day is just part of who she is as a person. Here, the Pittsburgh-based founder shares what she wears to take on the day and make change in her community and nationwide.
Her Morning Routine
It's certainly different in the pandemic. I typically wake up around 6 a.m. I let the puppy out, and I set out his water and food. For me, this is really the golden hour where I don't want anyone to bother me. I have three kids who are all in virtual school. But at this time, I just have my coffee. I open my New York Times app and I read the news. This is also the only time I allow myself to read the news because it just gets so distracting, so I try to limit my exposure. Then I meditate, walk the dog, and read and respond to emails and Slack.
Her Getting Dressed Process
In the beginning of the pandemic, it was such a novelty to just roll out in your pajamas, but what was happening was [I didn't] have a clear boundary between home and work. I really like that ritual of, Oh, I'm going to change. This is my workday and then, at the end of the day, I'm going to change out of those clothes and get ready for the evening. So I get dressed, but it's different every day. If I have a speaking engagement, I typically think about what I'm going to wear the day before. If not, it's like Groundhog Day; I only cycle through a few sets of clothes. What's interesting, though, is that everyone was talking about sweatpants at the beginning of the pandemic and I'm like, I don't own any sweatpants. Maybe I should start. I've still not bought sweats, but I do have track pants. There's a designer named Paolina Russo who makes amazing clothes from up-cycled fabrics. She has a collaboration with Adidas, and I have a couple of her Adidas track pants. You can dress them up or down.
Her Go-To Zoom Outfit:
For Zoom meetings, I have this old leather jacket that I love to wear. I also have a favorite local designer, Kiya Tomlin. She makes really comfortable clothes that make me feel put together. For jewelry, there's a local, woman-owned jewelry company called Studebaker Metals—I have a few of their pieces that I wear all the time, like a talisman ring. Whenever I wear it, it gives me symbolic confidence.
Three Words to Describe Her Personal Style:
Edgy, comfortable, and sustainable.
Something She Wears Every Day:
There's this company called First Mile that started in Pittsburgh. They employ people to harvest plastic bottles from landfills and then they turn them into chips, and then eventually into thread, and then eventually into fabric. Big clothing companies purchase [the fabric] to create sustainable clothing. I have this pair of Pumas that I have is made with fabric from the plastic bottles. I wear them almost every day. I try not to buy too many clothes that I don't need. Knowing that it's made from recycled plastic bottles and is renewed gives me some comfort.
The Piece that Makes Her Feel Powerful:
I have a necklace by Diane von Furstenberg. It's a little Carrie Bradshaw necklace, but instead of Carrie, it says, "In Charge." The reason I got it was because [von Furstenberg] hosted a pitch competition in New York City two years ago and I won. The necklace reminds me of that victorious moment. It gives me power whenever I wear it.
Shop Leah's Favorites:
RELATED STORIES
Celebrity news, beauty, fashion advice, and fascinating features, delivered straight to your inbox!
Megan DiTrolio is the editor of features and special projects at Marie Claire, where she oversees all career coverage and writes and edits stories on women's issues, politics, cultural trends, and more. In addition to editing feature stories, she programs Marie Claire's annual Power Trip conference and Marie Claire's Getting Down To Business Instagram Live franchise.