New Year's in Tulum 2012
Amanda Hearst explores the natural wonders of the Mexican beach town, Tulum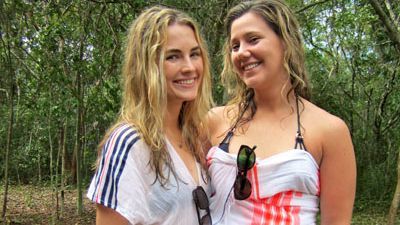 (Image credit: Archives)
Last year, I spent my New Year's in the Mexican beach town of Tulum and fell so in love with the place that I went again this year! Below are my recommendations for if — and hopefully when — you go there!
WHERE TO STAY
Personally, when I go to Tulum, I prefer to be near the action but not in the midst of it. That's why for the past two years I've opted to stay at Maya Tulum. It's very much a family hotel, so my friends and I were definitely the only singles there, but I like the intimate, relaxed vibe Maya Tulum offers. It also has a great beach (pictured above) with privacy, as most people stay farther inland on the peninsula. But for those of you looking for a bit more hustle and bustle la Miami Beach then go to Be Tulum. It's awesome for people-watching, the rooms are spacious with all the desired amenities (NOTE: Many hotels in Tulum do not have modern comforts such as mini bars and TVs), and it's well-situated among the hot bars and restaurants.
WHERE TO EAT
Tulum is filled with great places to eat and drink, and I came away with even more recommendations this year! The local celebrity spot is definitely Posada Margherita. This restaurant offers some of the best Italian food I've had (ironic that it's in Mexico, no?), and it was recommended to me by some Italian friends who definitely know their native cuisine. It can be hard to get a table there, but it's well worth it since the pastas are prepared fresh every day and the menu constantly changes depending on the fresh fish and produce available. For an Argentianian-style steak (yup, Tulum has great international fare!), head to Casa Banana. The mood there is more low-key, but the food is top-notch as are the margaritas! Other notables are Hemingway's for a sunset drink by the beach and El Tabano for a hearty breakfast.
(left: the sunset from Hemingway's bar; right: an appetizer at Posada Margherita's)
WHAT TO DO
Even though Tulum is relatively small, there is a ton to do in terms of tourism and outdoors activities. A lot of people talk about the ruins, the nature reserve, and the cenotes, although I only ended up going to the latter (sorry — I like my beach time when on vacation!). Cenotes are incredible lagoons of fresh water that can be found either below ground or above. They used to be the sources of fresh drinking water for the Mayans but today you can go and visit them with tour groups. I was lucky enough to have a friend who owns his own cents, so I visited and swam in two subterranean cenotes, one of which involved a 70-foot climb down (okay, I didn't actually swim in that one — it was too scary!). Otherwise, I was a big fan of the yoga at Maya Tulum. The hotel is actually famous for the instructors that it gets and the variety of practices it offers. Another fun activity is biking down to Hotel Coqui-Coqui and checking out the cool boutiques they have there, which offer one-of-a-kind beachwear from local as well as internationally established designers.
(a cenote in Tulum)


(me hiking out of the cenote, which was a bit of a climb in flip flops!)
Celebrity news, beauty, fashion advice, and fascinating features, delivered straight to your inbox!