Tibi Previews Spring 2014 Collection
Tibi gives MarieClaire.com an exclusive preview into their Spring 2014 collection and inspires us to take a road trip!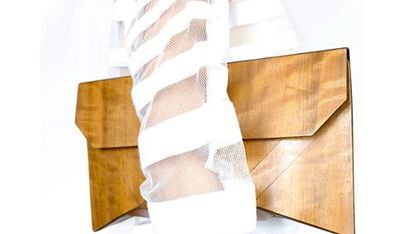 (Image credit: Courtesy of Tibi)

There's no denying that Tibi is one of our favorite labels around the office, so when we got a sneak peak of designer Amy Smilovic's Spring 2014 collection (as well as the hair and makeup!), we were more than excited. Inspired by road trips and travel, Smilovic's designs include the usual suspects; silky track pants, camisoles, and sheer panelling—not to mention some great dresses—all of which are perfect for a weekend brunch with friends, or a summer addition to your work wardrobe. "I was inspired by road tripping and travel, the bohemian life," explained Smilovic. "I also watched a great movie on hobo's, the homeless people that travelled around America in the '50s and left signs for fellow travelers to tell them where to stay or who would take them in, which I included as tattoos on the girls." These designs also filtered down to nails, where vertical and horizontal lines mimic the circle and line tattoo, which means 'On the Road.'
The show also marks the first time Tibi will include accessories on the runway. Wooden hats by Tete de Bois and wooden clutches by Tesler + Mendelovitch make a cool contrast to the bejeweled wedges and platform flats (we're pre-ordering a pair, stat!) paired with the looks. And while a wooden hat may not be on your must-buy-list, a wooden bangle or accessory is a great way to incorporate the same feeling into your look.
Continuing with the traveller theme, Smilovic worked with hair stylist Kevin Ryan and makeup artist Alice Lane to create a look that was a little disheveled and worn in. "I want the girls to look like they've been traveling around the country," she said. Hair was kept loose and slightly wavy, while a slight cat eye was created with pearlescent white shadow.
Check out our exclusive shots below!