Girl Crush: Clare Vivier
There are many reasons to love Clare Vivier's products, but when we chatted with the designer at her new store in New York's Nolita neighborhood, we fell a little bit in love with the woman herself.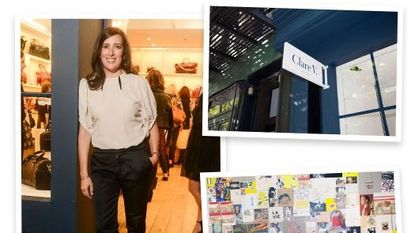 (Image credit: Courtesy of Clare Vivier)
There are few things that are a rite of passage for a girl: a first kiss, the first time you wear makeup, those very first pair of heels. But we're suggesting another first: owning a Clare Vivier clutch. After realizing that there weren't any chic or stylish bags to carry her laptop in, Clare Vivier did what any creative girl with a sewing machine would do: she created her own. "I knew how to sew, and I knew what I wanted, so I started making bags!"she revealed to us. "And when everyone started asking me for them I knew I could turn my creations into a business, so I found a manufacturer in LA that would produce them." The clutches soon became fashion girl must-haves. The combination of luxurious leathers in unexpected color combinations, practical sizes and a monogram service set Vivier's clutches apart from the competition, and have become the brand's signature piece.
Fast forward seven years, and Vivier is still making her mark. The designer has rebranded her label 'Clare V.,' jumped into the men's market with a collection of duffel bags, iPad cases and laptop clutches, "a lot of mens bags have too many pockets, almost a pocket for everything!, and my male friends were asking if I could make a bigger version of my duffel bag for them—which is very simple—so I did!," and last night opened a new store in New York's Nolita neighbourhood. Just like her bags, Vivier's store is full of character and personality. An inspiration wall is filled with snaps from Vivier's own wedding and vacations, as well as handwritten notes and dreamy images, "it's a visual representation of the Clare V. girl," said Vivier, while candles, jewels, hats and books from some of her favorite designers are scattered around the store.
The designer has also released a new bag style, The Madeleine (shown below, which we're currently obsessing over), and an adorable video starring actress Mamie Gummer. But what we love most about Vivier is the fun and playfulness the designer has infused into the brand. A perfect mix of classic, chic silhouettes, stunning leather and on-point colorways make Clare V. the essential label for any girl to tote her goods in. And who doesn't feel more special with a great bag to carry?
Shown above: Clare V.'s new Nolita store, a collection of clutches, and the 'Madeleine' tote (opens in new tab).