More Than Just a Pretty Face: A Day in the Life of a Model
From subways, castings, to tea, photographer Kathryn Wirsing shows us what it is like in the day in a life of model Laura Gavrilenko. Hint: it's not all glam and games!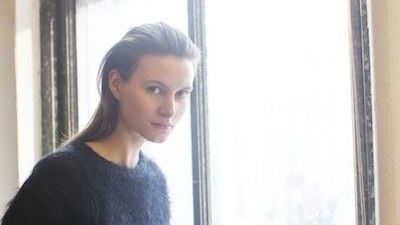 (Image credit: Courtesy of Kathryn Wirsing)
Marie Claire Newsletter
Celebrity news, beauty, fashion advice, and fascinating features, delivered straight to your inbox!
Thank you for signing up to Marie Claire. You will receive a verification email shortly.
There was a problem. Please refresh the page and try again.
Laura takes the subway back home
Where are you from? I'm from Belarus originally, but three years ago I moved Milan and I'm in Paris now.
Laura grabs coffee at one of her favorite places; Le pain Quotidien
How do you prepare for fashion week? It is already the life I live as a model, so I am used to early call times and I already eat healthy food.
Laura waits for meeting with booker
What work outs are you into? I find the mix of yoga, Tai Chi, and Pilates very interesting. It's great for the mind and body. I also do Full Barre, which is a ballet exercise to classical music. It is hard though and at first you suffer.
Laura sits with her booker, Sarah, to go over her portfolio. They talk about a recent test shoot that featured heavy makeup
What has been one of your worst casting experiences? Sometimes people are brutally honest, but you can't take it personally because it is just part of the job.
Portrait of Laura in Soul Artist Management offices with her comp card
What has been one of your best casting experiences? I like when the clients talk to you and ask about the story behind the photos you have brought in. It's nice when you discover you know people in common and when you have a conversation that goes beyond the standard questions.
Laura walks for casting directors and designers
What are you essential fashion week beauty supplies? I used a gentle scrub almost every day to help remove the heavy makeup that's been applied. Saunas are great too, if you go once or twice a week. And, drinking a lot of water is important.
A photographer snaps picture during casting
What's been your favorite show to walk in? About 2 years ago I was in Band of Outsiders. It was in Florence for Men's Fashion Week. I also love magazine shoots, like ones I've done with Marie Claire and ELLE. It's always a great experience and you have a wonderful team to work with. The clothes and the accessories are fun and the team is very creative so a lot more comes out then you would ever except.
Laura waiting to go into casting
You've worked with Celine? Yes, I did their print collection. The line was very clean so we did a lookbook and it was without any makeup and our hair down. It was very natural, simple, and pure.
Laura waiting in line at casting
During Fashion Week when you have so many hairstylist pulling and tugging on your hair what do you do to preserve it? I use masks and apricot oils are great. I always pay special attention to the ends.
Laura changing into heels during casting
What happens if your shoes are too big during a fashion show and you have to walk in them? It happens pretty often actually, because I have a size 8 and the standard at shows is a size 9. But as long as I'm not falling down I'm okay. I get used to feeling uncomfortable, whether it has to do with the shoes, clothing, makeup, or hair.
Details inside Soul Artist Management Agency office
What helps you get through fashion week? The energy that everyone has is amazing, it gives you a lot of motivation. And, the support of friends and family is extremely important.
Entrance into Soul Artist Management Agency
Are there secrets to having a good walk? Just walk with confidence, be yourself, bring energy, and relax.
Laura's comp card
What do you wear to castings? I wear simple clothes that show a nice silhouette. No bright colors--mostly black, gray, nude, and white. Something that would not be a distraction.
Portrait of Laura in the Soul Artist Management offices
What kind of music do you listen to? Classical, jazz, blues, indie, rock, funk, house.
Laura's accessories
Street Style Shot
Laura traveling to and from castings and fittings
Laura at Jed Root general casting
Celebrity news, beauty, fashion advice, and fascinating features, delivered straight to your inbox!
I'm Kathryn, a photographer and photo editor for MarieClaire.com. After falling in love with photography over 15 years ago I feel so lucky to have a job in which I can be creative and take pictures. It ain't work if you enjoy it right? I'm slightly obsessed with my cat Chloe, a good book, ballet, and all things chocolate. I do have to admit my guilt for making my fiancé stop all the time so I can snap a pic at every beautiful opportunity. And if we do meet I can pretty much guarantee all I'll be paying attention to is how to photograph you. Look at how pretty the light is falling…sorry what were you saying?