Apocalypse Chic: How Kick-Ass Gals Should Dress for a Zombie Attack
How do I dress for a zombie apocalypse?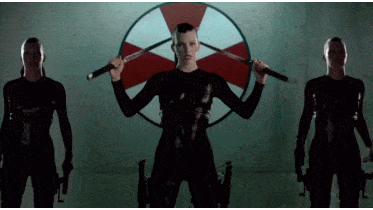 (Image credit: unknown)
Marie Claire Newsletter
Celebrity news, beauty, fashion advice, and fascinating features, delivered straight to your inbox!
Thank you for signing up to Marie Claire. You will receive a verification email shortly.
There was a problem. Please refresh the page and try again.
My idol, Alice (Milla Jovovich), in Resident Evil where she gives off some great Balmain military vibes and is ready to kick some zombie ass.
If there is one thing that I am prepared for it is the zombie apocalypse--live life on the edge battling rabid human-monsters and wearing leather pants all the time. Easy.
But I have a bone to pick (or an arm to chew off) with zombie movies: the clothes. I'm sorry, but why are you running around with no protection like one of those characters in a horror movie who tries to run away in her skivvies but ends up dead. You might as well let a frothing-at-the-mouth rabid zombie bite you now.
And because I'm an expert at zombies, I've compiled the ultimate apocalypse fashion guide. So when the world ends and you no longer have to wait for a dressing room on a Saturday at Saks or you find the Net-a-Porter warehouse sans GPS, you can navigate flesh-eating hell, in style and protected.
P.S. These are also perfect warm-weather transitional outfits for brunch, too.
The Tomboy
Lucky for you, you're day-to-day get up doesn't really have to change up your post-apocalypse life. You enjoy looking like a roughed-up female version of Darryl Dixon whether you are at work sitting in a cubicle or bashing in a zombie head with your steel toe boots. What are your wardrobe staples? Army-inspired jackets and bracelets that mirror Iron Man armor. And, The Row's leather stretch pants are hella easy to run in (plus breathable!).
Credits: 1. Current/Elliot Commander Jacket, $328; farfetch.com. 2. Helmut Lang Printed Jersey T, $125; net-a-porter.com. 3. The Row Moto-Stretch Leather Skinny Pants, $1,950; net-a-porter.com. 4. Kelly Wearstler Quatrain Cuff Bracelet, $895; editorialist.com. 5. Alexander Wang Prisma Skeletal Backpack, $1095; barneys.com. 6. Valentino Rockstud Camo Sneakers, $695; bergdorfgoodman.com.
The Badass
You are the coolest. You are an aspiration. You are Mila Jovovich on fashion steroids – you are the type of person that makes doomsday prepping look easy and not some weird "let's stock up on canned corn for the end of days." Your signature looks? Lots of spikes, metal, leather, and everything that would make someone look like you use the world as their runway, because since the world has ended, it now is.
Credits: 1. KTZ Leather Hat Mask, $415; luisaviaroma.com. 2. Alexander McQueen Skull Print T-Shirt, $279; farfetch.com. 3. Pierre Balmain Ribbed Skinny Jeans, $524, farfetch.com. 4. Burberry Brit Studded Jacket, $1,205; stylebop.com. 5. KTZ Chain Necklace, $428; luisaviaroma.com. 6. Ann Demeulemeester Silver Chain Ring, $799; luisaviaroma.com. 7. Pierre Hardy Motorcycle Boots, $1,295; barneys.com. 8. B Brian Atwood Leather Backpack, $350; neimanmarcus.com.
The Lazy Girl
Slip on, slip out. You can't be bothered with putting things on in real life nor in apocalyptic life. You are also the type of person that covers themselves in zombie blood to master some survival trickery instead of using an actual weapon. God bless, girl, and rock that jumpsuit.
Credits: 1. Elizabeth and James Sling Backpack, $545; net-a-porter.com. 2. Each X Other Jumpsuit, $1,920; net-a-porter.com. 3. Faith Connexion Jacket, $617; stylebop.com. 4. Pamela Love Pentagram Cuff, $280; pamelalovenyc.com. 5. Adidas Stan Smith Shoes, $75; adidas.com.
The Prepster
Unfortunately you're going to have to ditch the shift dresses and flowy tank tops because you WILL die. But you can still accessorize! Try a bold cuff. They always say, zombie teeth can't cut through DANNIJO jewelry.
Credits: 1. Vince Wool Jacket, $511; stylebop.com. 2. A.P.C. Striped Shirt, $130; avenue32.com. 3. Paige Edgemont Skinny Jeans, $260; net-a-porter.com. 4. DANNIJO Emmy Cuff, $447; lyst.com. 5. Cotu Classic, $65; superga.com. 6. Herschel Settlement Backpack, $54.99; herschel.com.
Celebrity news, beauty, fashion advice, and fascinating features, delivered straight to your inbox!
Hallie has worked in beauty editorial for ten years and has been editorial director at Byrdie since 2021. Previously, she was a senior editor at Byrdie since 2016. During her time at Byrdie, she's written hundreds of high-performing stories on skincare, wellness (including fitness, diet, mental health, body image, et al) makeup, and hair. She's a regular on set, helping to source inspiration for makeup and hair looks, as well as interviewing celebrities, models, and other notable women and men in the beauty space.
Before that, Hallie ran Marie Claire's social media and wrote beauty and culture stories for the site, and helped launch Time Inc.'s digital-only beauty brand, MIMI. After college, she contributed to Time Out New York's Shopping & Style section before landing her first beauty editor gig at Hearst's Real Beauty. Hallie's writing has also appeared in ELLE, Cosmopolitan, and InStyle. Hallie graduated with a BA in Communication Arts from the University of Wisconsin-Madison.