Tell the World You're Moving Up With a Wardrobe That Truly Stands Out
What's your style? Take your cues from these ultra-chic highfliers. Photographs by Adam Kremer | Fashion editor: Rae Boxer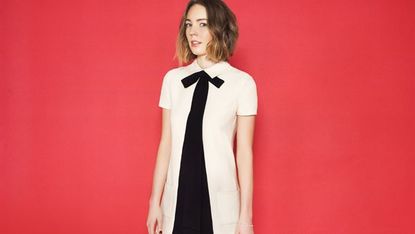 (Image credit: Adam Kremer)
For decades women have been told that to get ahead, they need to dress the part. But the era of the power suit is over. These days, personal style is everything, and nothing communicates confidence and vision more than a trademark look. We caught up with four media and tech all-stars, each renowned as much for her signature style as for her enviable career. Rocking it at work has never been this much fun.
CALVIN KLEIN COLLECTIONS Sleeveless tunic, $3,395; CALVIN KLEIN COLLECTIONS long-sleeve top (worn as dress), $795; BAND OF OUTSIDERS turtleneck, $375; HIROTAKA band ring, $1,700; TABITHA SIMMONS shoes, $845; PRABHAKAR'S OWN diamond ring.
"In my line of work, I have to stand out. I make a point of wearing something no one else has. My style is '80s alt rock meets 1960s politician's wife. It shows that I'm bold and not afraid to take risks."—Hitha Prabhakar, 34, retail and consumer spending analyst and frequent TV commentator
DOLCE & GABBANA dress, price upon request; RALPH LAUREN BLUE LABEL pants, $398.
"Style has evolved so much from when Marissa Mayer was climbing the tech ladder. The startup world changed its uniform. Creativity is one of the most important things you can convey." —Felicity Sargent, 27, founder and COO of Definer, an app that lets friends make up new words and phrases
LOUIS VUITTON Jacket, price upon request; LOUIS VUITTON skirt, $2,960; GUCCI striped top, $1,050; TASAKI COLLECTION BY THAKOON necklace, $4,400; TASAKI COLLECTION BY THAKOON pearl ring, $2,200; CHRISTOFLE link bracelet, $410; CHRISTIAN LOUBOUTIN shoes, $895; PRICKETT'S OWN stone ring & rope bracelet.
"I mostly represent myself in my business and don't change how I dress for anyone. My brand is always being slightly off-brand. I'll be underdressed for a fancy thing or overdressed for a trip to the grocery store." —Sarah Nicole Prickett, 28, editor-in-chief of Adult magazine
VALENTINO Dress, $3,490; TIFFANY & CO. bracelet, price upon request; AMERICAN APPAREL socks, $9; LOUIS VUITTON shoes, $1,360; FALTER'S OWN ring.
"I try to dress more polished than other women my age because there's a certain level of respect you give yourself in a leadership role. I wear sharp, clean lines that reflect my business style. I'm very straightforward, and I'm not afraid to challenge what was done before." —Kelsey Falter, 24, founder and CEO of PopTip, a market research firm that analyzes social media trends