13 Tips on How to Clean, Cut, and Care for Your Denim
We've got 99 problems, but denim ain't one.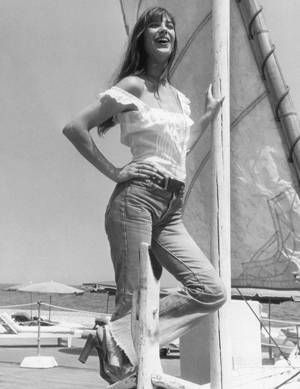 (Image credit: Getty Images)
Denim is an American staple that keeps on evolving, which is both a blessing and a curse.
On one hand, there's a million and one styles for us to choose from. On the other hand, there are so many factors to consider: the cuts, fit, fabrics, wash, and embellishments. And even when you find the perfect pair, or build an entire roster of different styles, you have to be mindful of the proper upkeep for each particular design. If you don't, you'll have to suffer the consequences, which could be anything from your dark wash dye bleeding your laundry to shrinking your skinny jeans.
With these denim conundrums in mind, we sought the expertise of Francine Rabinovich, founder of Denim Therapy (opens in new tab), to answer the burning questions we have about our favorite textile.
MarieClaire.com: Generally speaking, do you think that denim should be dry-cleaned or handwashed?

FR: The less you wash them, the better. Once you do, hand wash or gentle machine wash is fine. Just make sure not to put them in the dryer.
MC: How do you wash jeans with embellishment or wax coating?

FR: There can be no washing at all! If you need to get rid of odor, put them in a Ziploc bag and have them spend the night in the freezer.
MC: In terms of washing and caring for denim, what are the fundamental differences between dark wash denim and light denim?

FR: Dark denim should always be washed in cold water to preserve the color. You can be a bit more relaxed when it comes to lighter denim.
MC: How do you care for denim that's colored or printed?

FR: The less you wash them the better. To prevent dye transfer from jeans, you can wash them once inside out in hot water to run the color, and then wash them using half a cup of vinegar to set the color. However, some dye may still be left so just be careful and follow instructions on the label.
MC: What's the best way to break in jeans?

FR: Wearing them all the time!
MC: What advice do you have for taking jeans to get tailored?

FR: Plan ahead. If you are getting them hemmed, make sure you know which shoes you will most likely be wearing them with. For a resize, make sure jeans have been washed when you take the measurements.
MC: What advice do you have for cutting jeans into cut-off shorts?

FR: It's not as simple as it looks, but you can do the following. Put on the jeans and mark the desired length for your shorts. It's always better to go longer and then cut again if needed. Also, set them on a table and cut them diagonally with the long end at the inseam, flip them over, and do the same on the other side. If you still aren't sure you can do it, send them to us! We also have a quick video that explains how to do it:
MC: What are the most important factors to consider when deciding between cheap and expensive jeans?

FR: This is a tough one, but factors to consider are always fit and quality. Some expensive jeans may have a lot of stretch and have been extensively treated, which can compromise the quality of the fabric.
MC: How do you care for jeans that mix 'n' match fabrics (example: leather and denim)?

FR: Always follow the care instruction on the label.
MC: What's the minimum a shopper should invest in a new pair of jeans?

FR: There are great jeans at all price points! I've bought jeans for $20 that I've worn more than the most expensive ones. It's all a matter of budget and taste.
MC: What are the most notorious problems you find when people are repairing their jeans?

FR: Crotch problems.
MC: What tricks and techniques do you have for distressing jeans at home?

FR: Grab a pair of scissors, some sand paper, and go to town.
MC: What's the coolest thing you've done to decorate your jeans?

FR: I'm a purist when it comes to denim, but I have a pair that I stonewashed and came out pretty cool!
Lauren is the former beauty editor at Marie Claire. She love to while away the hours at coffee shops, hunt for vintage clothes, and bask in the rough-and-tumble beauty of NYC. She firmly believes that solitude can be a luxury if you've got the right soundtrack—that being the Rolling Stones, of course.